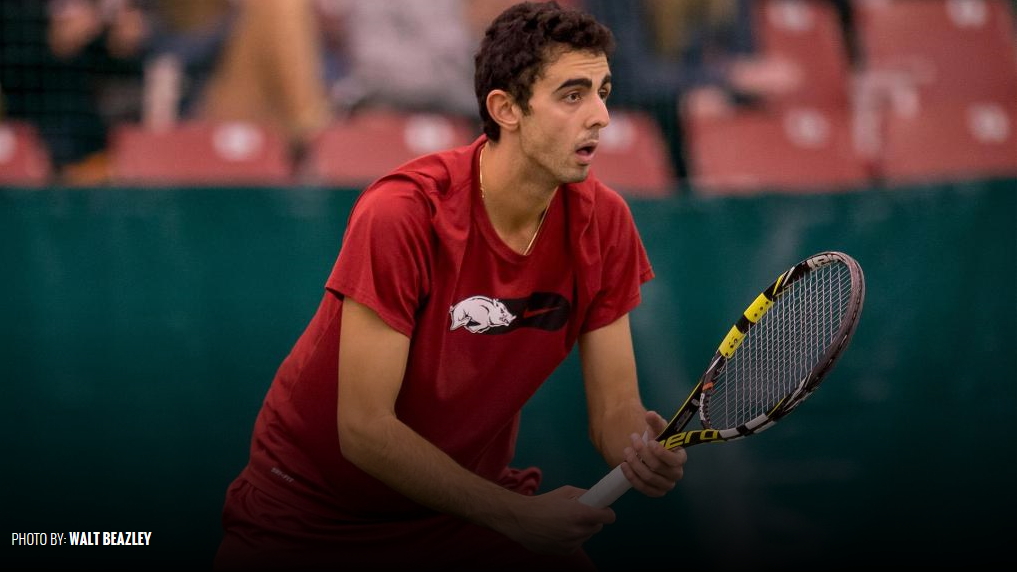 @RazorbackMTEN Opens Conference Play Against No. 16 Vanderbilt
FAYETTEVILLE, Ark. – Arkansas men's tennis (10-4) opens Southeastern Conference play when it hosts No. 16 Vanderbilt at the Dills Indoor Tennis Center at 2 p.m., CT on Friday.
Admission is free and open to the public. The match will take place on the indoor courts at the George M. Billingsley Tennis Center, located at 1503 Nettleship Street, Fayetteville, AR 72701. Free pizza will be available to fans as supplies lasts.
LAST TIME OUT:
Despite losing the doubles point, the University of Arkansas men's tennis team was able to win singles matches in the No. 1, 4, 5 and 6 positions to ultimately defeat SMU 4-2 at the Dills Indoor Tennis Center on Saturday.
Claiming the first Arkansas victory of the day was junior Santiago Munoz. After falling 1-6 in the first set, Munoz beat Arkadijs Slobodkins 7-5, 6-1 in the second and third sets to win the No. 5 match. Next, playing in the No. 1 position, junior Giammarco Micolani netted a 7-6 (7-4), 6-0 win over Arturs Kazijevs.
Battling through three sets, freshman David Herrerias bettered Charles Nettlefold 6-2, 2-6, 6-4 in the No. 6 spot. Clinching the match for the Razorbacks was junior William Albanese. Losing the first set 6-3, Albanese pushed Nate Lammons to a third set after winning the second 6-3. In a heated tiebreak, Albanese won 7-6 (11-9), solidifying the victory for Arkansas.
QUICK HITS:
– Arkansas is riding a five-match win streak going into Friday's action.
– Playing primarily in the No. 6 spot, freshman David Herrerias has won six consecutive singles matches. The Castro Urdiales, Spain native's 6-2, 2-6, 6-4 win over SMU's Charles Nettlefold proved key in the Razorbacks' victory against the Mustangs and his 8-2 dual record is the best on the team.
– After struggling in the beginning of dual play, junior Giammarco Micolani has won five matches in a row in the No. 1 position. Most notably, Micolani defeated then-No. 98 ranked Jakob Sude (now 92) of Oklahoma State 6-4, 6-7 (4), 10-8 on Feb. 8.
– Micolani has also seen success in doubles play. The Lecce, Italy native and senior Jovan Parlic have played their way to a 5-1 record in the No. 2 spot.
A LOOK AT NO. 16 VANDERBILT (9-2):
Vanderbilt men's tennis comes off of a successful 2-0 weekend on the road. The then-No. 23 Commodores first defeated the Minnesota Gophers 4-3 on Friday in Cambridge, Massachusetts. On Saturday, Vanderbilt went on to edge No. 25 Harvard 4-3.
After last weekend's accomplishments on the court, the Commodores rose from No. 23 to No. 16 in the ITA team rankings released on Tuesday. Vanderbilt also made its presence felt in the singles and doubles rankings. Owning a 7-0 record in dual play, the Commodore duo of Gonzales Austin and Rhys Johnson came in a No. 1. In singles, Austin was ranked No. 9. The senior currently owns a 10-0 record, with five of those wins coming over ranked opponents.
LIVE STATS:
Follow Friday's action HERE
For more information on Arkansas men's tennis, follow @RazorbackMTEN on Twitter.