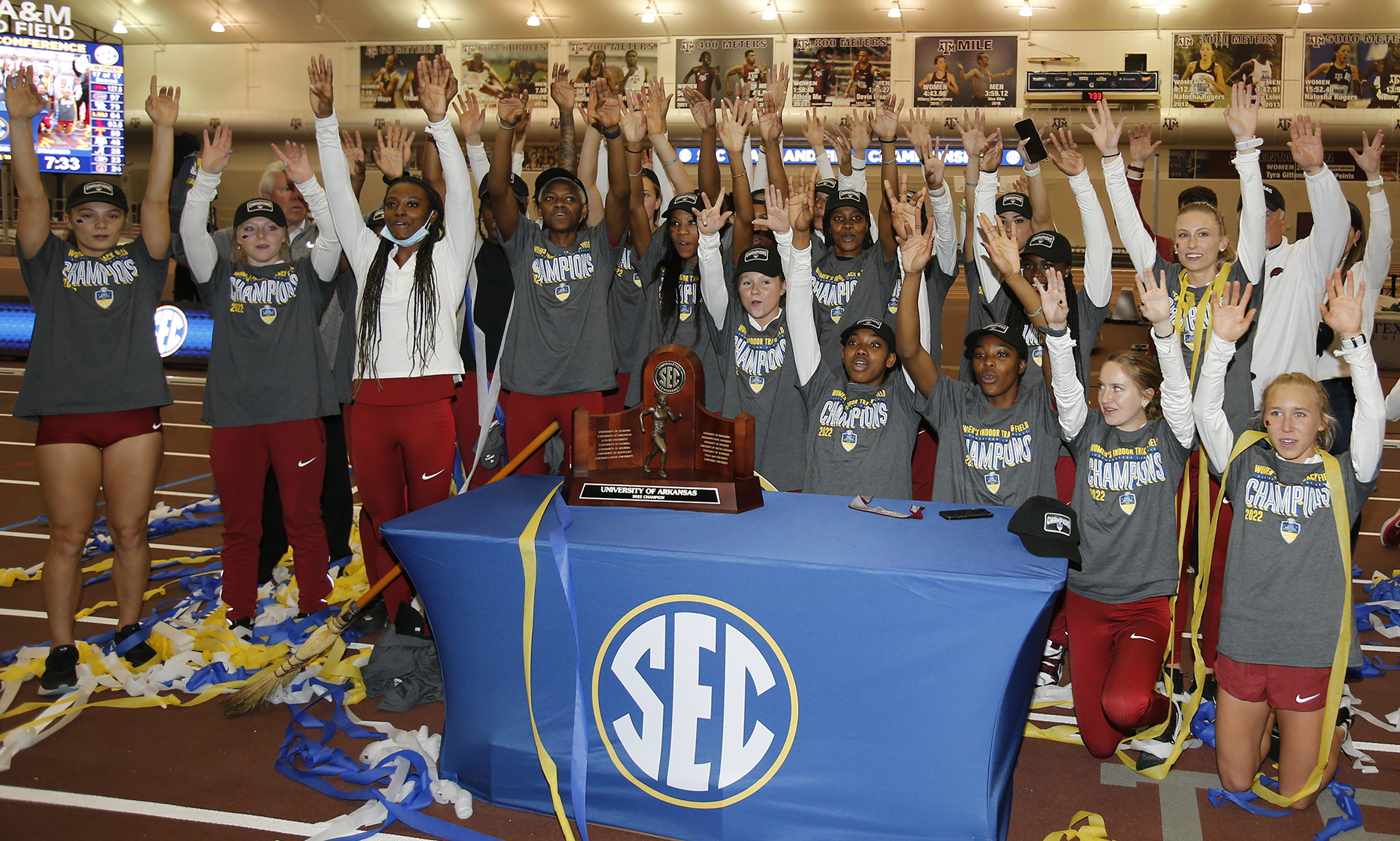 Razorbacks claim 2021-22 Program of the Year honor
NEW ORLEANS – For the first time in program history Arkansas women's track and field earned USTFCCCA's Terry Crawford Women's Division I Program of the Year award.
The prestigious accolade, awarded since 2009, recognizes the top program for the 2021-22 season based on team results during the NCAA cross country, indoor and outdoor track and field championships.
"The icing on the cake is program of the year, which is the cumulation of hard work, discipline, and national championship performances throughout all three seasons," noted Arkansas women's head coach Lance Harter. "One of our team goals, overall, through the year, with cross country, indoor and outdoor seasons, is to be program of the year.
"We always want to make the podium (top four) and we missed it by a point this year at NCAA Outdoor. Our kids did a fantastic job, though, as we walked away with 10 athletes who were first-team All-America."
This year Arkansas bettered BYU by 1.5 points for the award, 18 to 19.5. Last season the Cougars claimed the honor with an 18 to 26 advantage over the Razorbacks.
Arkansas totaled 18 points this season as they placed eighth in NCAA Cross Country, fourth at NCAA Indoor, and sixth at NCAA Outdoor. BYU finished second in cross country, eighth indoors and tied for ninth outdoors.
The top five programs included Colorado (25.5), NC State (27.5), and Ole Miss (36).
"BYU won it last year and they have a fantastic team and program," stated Harter. "We've finished either second or third regularly. Now, finally, we get a chance to be on top of the rung."
Prior to claiming the Program of the Year honor this season, the Razorbacks were runner-up three times (2020-21, 2015-16, 2014-15) and finished third on four occasions (2018-19, 2016-17, 2013-14, 2012-13).
"Our men's team has won the John McDonnell Men's Program of the Year a few times, and on the women's side we've always wanted to emulate that," said Harter. "So, we're super excited that finally came true.
"I've been at this business a long time, and this is a very special moment in my own personal career but especially for the University of Arkansas."
Arkansas becomes just the fourth women's program to achieve the accolade following Oregon (10 times), Stanford, and BYU.