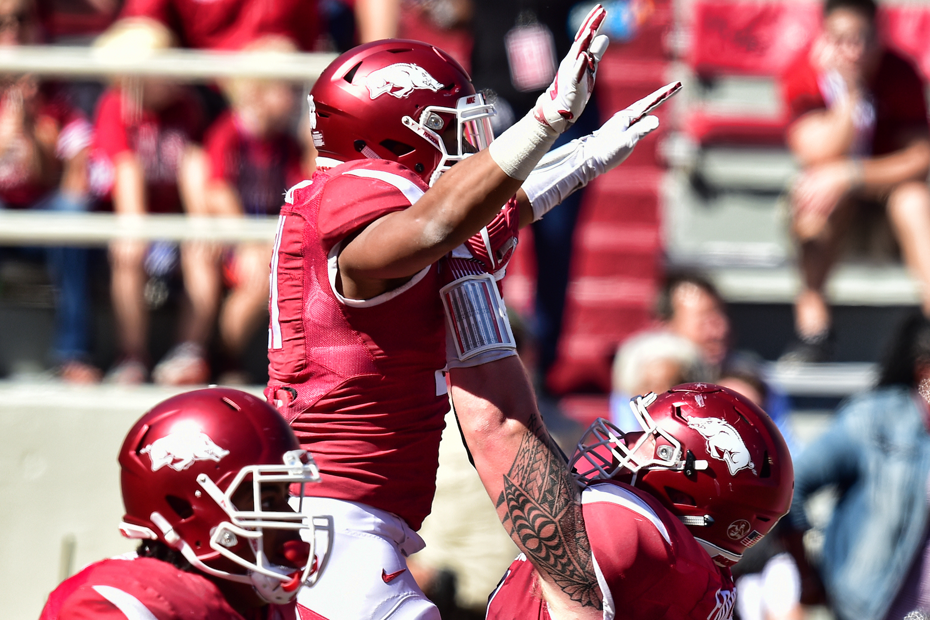 Razorbacks Cruise Past New Mexico State
Arkansas' offense put together a dominant performance that included three touchdowns through the air and on the ground to cruise past New Mexico State 42-24 Saturday afternoon in Razorback Stadium.
Final Score: Arkansas 42 – New Mexico State 24
Q1: 11:15
2nd & 9
Arkansas 7 – New Mexico State 0
Arkansas' first drive of the day went 80-yards on nine plays capped off by a 38-yard touchdown pass from Austin Allen to sophomore Deon Stewart. The reception was the longest of Stewart's career and marked his second touchdown of the season. It was a career day for Stewart, who finished with four receptions and 71 yards.
Q1: 3:44
1st & 10
Arkansas 7 – New Mexico State 0
Senior Kevin Richardson intercepted his first pass of the season off of a deflection from redshirt freshman Grant Morgan to keep New Mexico State out of the endzone in the first quarter. It was Richardson's first interception since November 21, 2016 against Mississippi State.
Q1: 0:01
2nd & Goal
Arkansas 14 – New Mexico State 0 
With time running out in the first quarter, sophomore Devwah Whaley capped an 80-yard eight play drive with a touchdown from 3-yards out to give the Razorbacks a 14-0 lead. It was Whaley's first touchdown since week 1 against Florida A&M. Whaley tallied 119 yards on the ground against the Aggies for his first 100-yard rushing performance of the season.
Q2: 8:52
3rd & 11
Arkansas 21 – New Mexico State 0
For the third-consecutive game, junior Jonathan Nance split double coverage to score off a 31-yard touchdown pass from Austin Allen. It is the third long touchdown from Allen in as many games for Nance, after scoring on a 49-yard touchdown against TCU and a 44-yard touchdown against Texas A&M. It was one of six receptions for Nance, who finished with 58 receiving yards.
Q2: 1:47
1st & Goal
Arkansas 28 – New Mexico State 7
A penalty against the New Mexico State defense gave the Razorbacks the ball at the two-yard line and freshman Chase Hayden barreled his was into the endzone on the next play for his first touchdown of the afternoon.
Q3: 2:35
3rd & Goal
Arkansas 35 – New Mexico State 17
Jonathan Nance's second touchdown of the day came late in the third quarter off a three-yard pass from Austin Allen. Nance's two touchdowns are the most for an Arkansas receiver since Keon Hatcher had two against Mississippi State November 21, 2016.
Q3: 2:20
Kickoff
Arkansas 35 – New Mexico State 17
Redshirt Freshman Micahh Smith forced a fumble on the kickoff following Nance's touchdown and was recovered by De'Vion Warren to give Arkansas the ball at the Aggies 22-yard line.
Q4: 15:00
2nd & Goal
Arkansas 42 – New Mexico State 17
The first play of the fourth quarter saw Chase Hayden score from 1-yard out to give Arkansas a commanding 42-17 lead. It was the second touchdown of the game and the first multi-touchdown game of Hayden's young career.