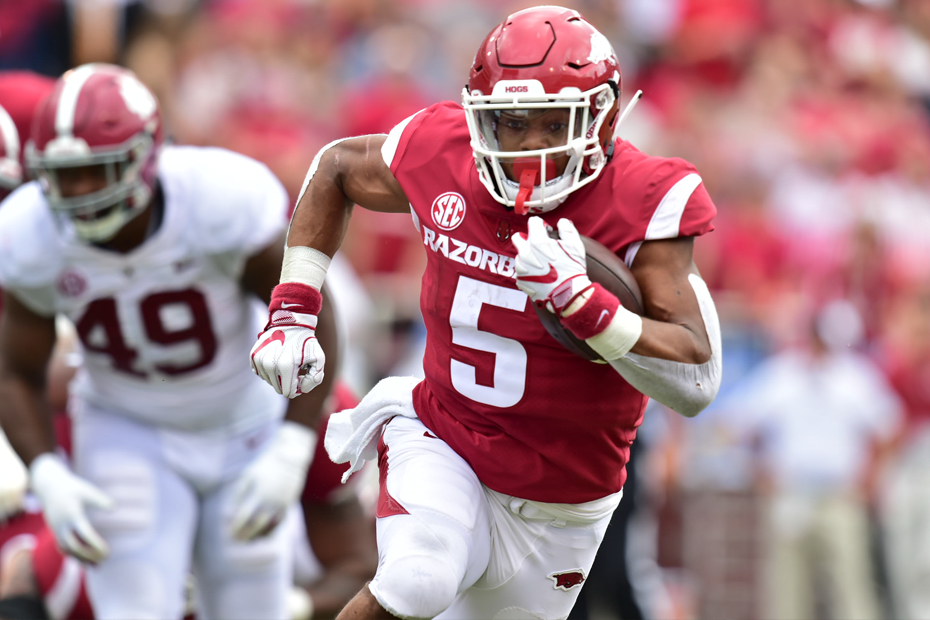 Razorbacks Fall to Alabama in SEC Home Opener
FAYETTEVILLE, Ark.- In Arkansas' first home SEC game of the season, the Razorbacks (1-5, 0-3 SEC) fell 65-31 to No. 1 Alabama (6-0, 3-0 SEC). Sophomore Rakeem Boyd rushed for 102 yards, the first time a Razorback has rushed for 100+ yards against Alabama since Darren McFadden in 2007.
Big Plays
Alabama 21 – Arkansas 7
Ty Storey threw an 8-yard pass to Cheyenne O'Grady to put the Razorbacks on the board. The touchdown was O'Grady's first of the season and fourth of his career.
Alabama 21 – Arkansas 7
The Razorback defense made a big 4th-down stop, the second 4th-down conversion Alabama has attempted and the first the Tide has failed to convert.
Alabama 28 – Arkansas 14
Cole Kelley threw a 3-yard touchdown to Cheyenne O'Grady, his second of the game. This is the most points Alabama has allowed in the first half.
Alabama 48 – Arkansas 17
Connor Limpert made a 41-yard field goal, his first of the game, and is now 8-for-11 in field goal attempts.
Alabama 58 – Arkansas 24
Ty Storey threw a 17-yard pass to De'Vion Warren, the first time this season Alabama has allowed more than 23 points in a game.
Alabama 65 – Arkansas 31
In the final score of the game, Cole Kelley rushed for a 1-yard touchdown. The drive, beginning at the 22-yard line, was set up by a 78-yard punt return from De'Vion Warren.