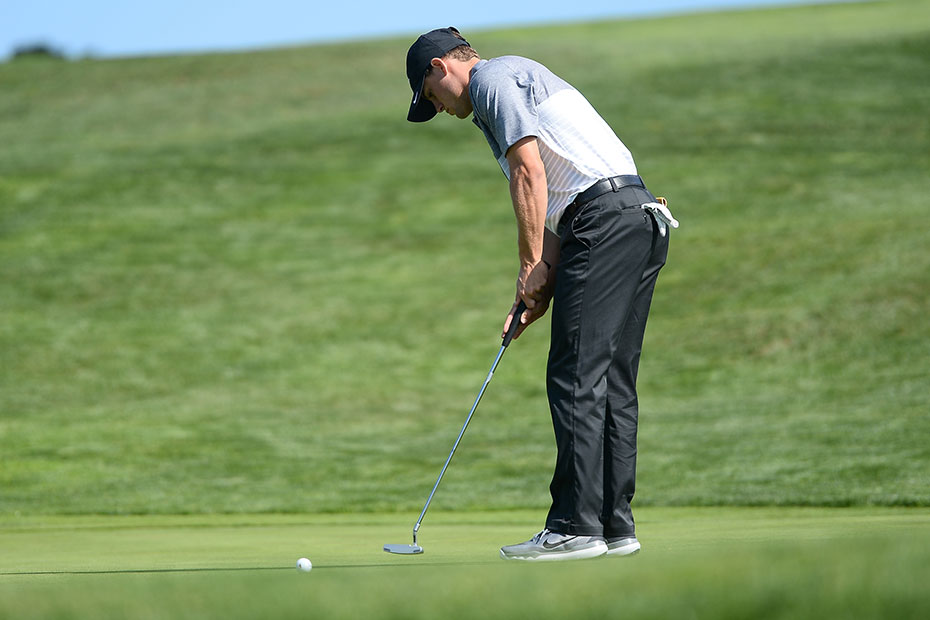 Razorbacks Finish Tied For Ninth In Florida
PALM CITY, Fla. – The Arkansas men's golf team moved up two spots on the final day of the Valspar Collegiate Invitational to finish tied for ninth in the loaded field at the Floridian National Golf Club.
On another tough day for scoring, the Razorbacks posted one of the low scores of the final round to finish tied for ninth with Clemson with rounds of 298-297-286 – 881 (+29). Arkansas defeated five teams ranked in the top 50 in the country, including No. 5 Florida State and No. 7 Florida.
The eighth-ranked Texas Longhorns won the championship at three-over, while No. 22 LSU (+8), No. 29 Texas A&M (+19), No. 13 Oklahoma State (+19), No. 18 South Carolina (+22) and No. 3 Illinois (+22) rounded out the top five.
For the second straight week, Nicolas Echavarria carded a low number in the final round to lead the team, this time stringing together five birdies to post a two-under 69 and finish T-12th at 73-74-69 – 216. He has consecutive top 20 finishes and is four-under in his last two events.
Taylor Moore backed up his one-over 72 Monday afternoon with a final round 72 to finish T-23rd at 75-72-72 – 219 (+6). He has posted 13 straight counting scores and is 18-under over his last 10 rounds.
Charles Kim followed in T-36th place with rounds of 74-75-73 – 222 (+9), saving his best round for the finale with three birdies to shoot one-over on each side. Kolton Crawford and Alec Tahy finished deadlocked for 55th overall at 13-over, as Crawford posted rounds of 78-76-72 – 226, while Tahy carded 76-77-73 – 226.
Playing as an individual, Alvaro Ortiz finished T-12th overall with 71-72-73 – 216 (+3), marking the highest finisher among the eight individuals competing in the event. He finished the tournament tied for 11th in the field in par four scoring at one-over.
Arkansas led the field in par three scoring for the event at seven-over, four strokes better than second place South Carolina. The Razorbacks also ranked second in total pars with 169 and sixth in par four scoring.
Moore continues to dominate par fives, finishing second in the field at three-under, while Tahy tied for fifth in par three scoring at even par.
Arkansas returns to the course on April 2-3, traveling to Bryan, Texas to take part in the Aggie Invitational. Rounds one and two will be played on the first day, followed by the third round on day two at Traditions Club.
For more information on Arkansas men's golf, follow @RazorbackMGolf on Twitter.
@RazorbackMGolf Lineup

| Place | Player | Score |
| --- | --- | --- |
| T12. | Nicolas Echavarria | 73-74-69 – 216 (+3) |
| T23. | Taylor Moore | 75-72-72 – 219 (+6) |
| T36. | Charles Kim | 74-75-73 – 222 (+9) |
| T55. | Kolton Crawford | 78-76-72 – 226 (+13) |
| T55. | Alec Tahy | 76-77-73 – 226 (+13) |
| T12. | Alvaro Ortiz (IND) | 71-72-73 – 216 (+3) |
Valspar Collegiate Invitational Results

| Place | Team | Score |
| --- | --- | --- |
| 1. | No. 8 Texas | 283-287-285 – 855 (+3) |
| 2. | No. 22 LSU | 286-295-279 – 860 (+8) |
| T3. | No. 29 Texas A&M | 294-290-287 – 871 (+19) |
| T3. | No. 13 Oklahoma State | 295-288-288 – 871 (+19) |
| T5. | No. 18 South Carolina | 294-298-282 – 874 (+22) |
| T5. | No. 3 Illinois | 295-295-284 – 874 (+22) |
| 7. | No. 36 Houston | 301-289-288 – 878 (+26) |
| 8. | No. 17 South Florida | 296-289-295 – 880 (+28) |
| T9. | No. 23 Arkansas | 298-297-286 – 881 (+29) |
| T9. | No. 11 Clemson | 293-295-293 – 881 (+29) |
| 11 | No. 5 Florida State | 288-304-290 – 882 (+30) |
| 12 | No. 48 Kent State | 294-302-294 – 890 (+38) |
| 13 | No. 38 Memphis | 289-316-395 – 900 (+48) |
| 14 | No. 45 Georgia Tech | 307-293-306 – 906 (+54) |
| 15 | No. 7 Florida | 309-302-298 – 909 (+57) |