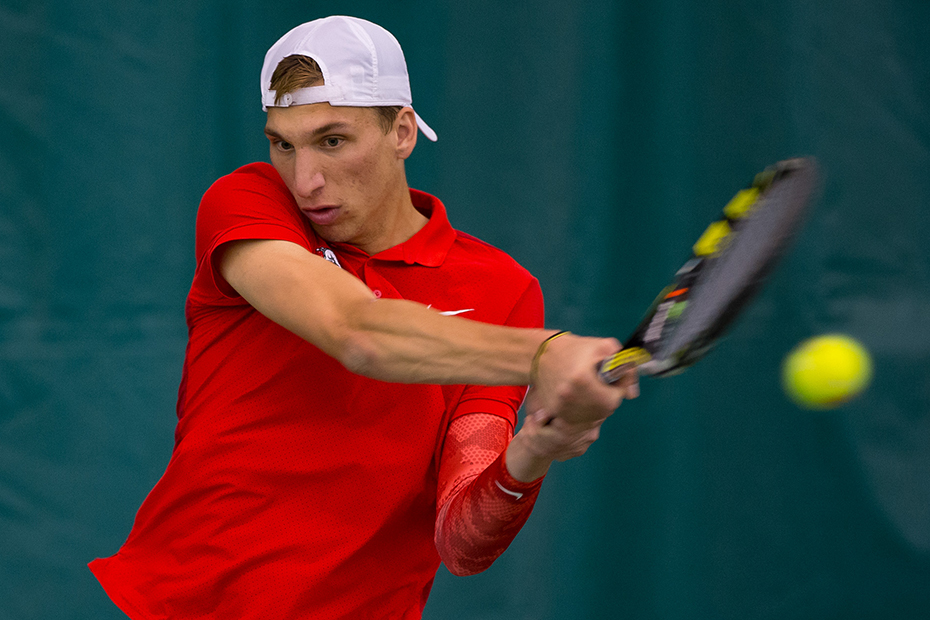 Razorbacks Host Ole Miss on Easter Sunday
FAYETTEVILLE, Ark. — Coming off a midweek victory over No. 19 Texas, the Arkansas men's tennis team returns home for an SEC match against Ole Miss. The No. 21 Razorbacks are 15-4 on the season and will look to improve upon their 4-2 conference record when they line up against the Rebels on Sunday, March 27 at 1 p.m.
"Ole Miss has been among the best programs in the country for decades," head coach Andy Jackson said. "It will be another demanding match for us and a great opportunity to build a resume towards hosting an NCAA Regional.
"Playing against great competition is really helping us get better. Fans who can make it out tomorrow will see a real SEC battle."
Against the Longhorns, it took until the sixth singles match to decide the team result. With the score tied 3-3, David Herrerias defeated Julian Zlobinsky by a score of 7-6 (3), 2-6, 6-2 in three sets to grab the clinching point as Arkansas escaped Austin, Texas, with a 4-3 win.
Herrerias and Giammarco Micolani each boast a five-match winning streak in singles, as Micolani notched a 6-3, 6-2 victory over Texas' Rodrigo Banzer at the No. 4 spot. Meanwhile, Jose Salazar has won five of his last six singles matches to vault to No. 114 in the nation. At No. 30, Mike Redlicki is the Razorbacks' top ranked player and boasts an 11-3 record at the leadoff spot in the lineup.
Ole Miss counters with No. 87 Stefan Lindmark and No. 104 Gustav Hansson in singles, while the No. 41 doubles pair of Zvonimir Babic and Filip Kraljevic will line up against the No. 16 duo of Micolani and Redlicki.
There will be free pizza, popcorn, Keurig products and Pepsi soft drinks available for all Arkansas fans to come to support the team at Billingsley Tennis Center. The first 50 fans will receive free Arkansas visors, and there will be a tennis ball/Easter egg hunt for prizes.
For more information on Razorback men's tennis, please follow @RazorbackMTEN on Twitter.