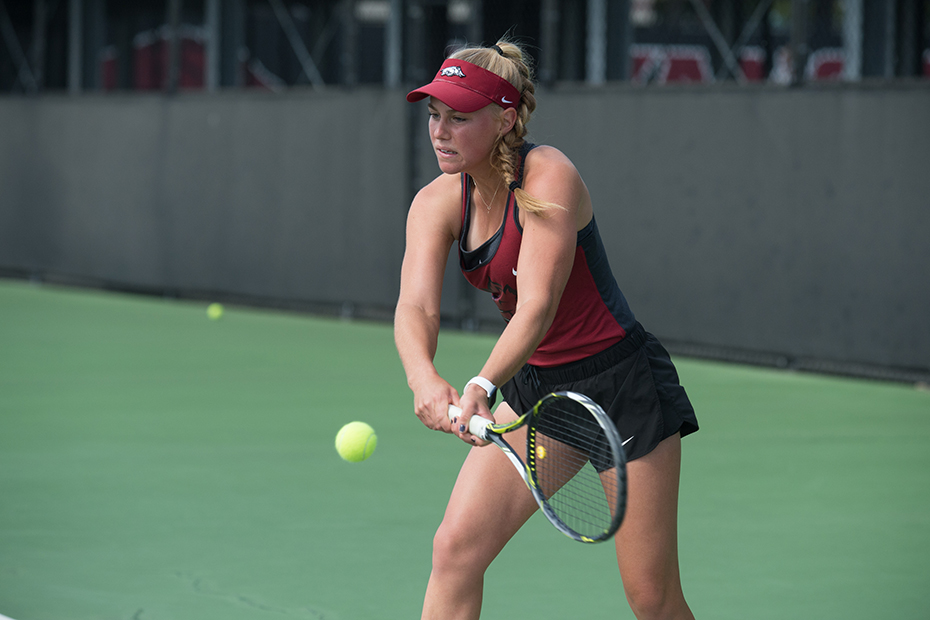 Razorbacks Open 2019 With Doubleheader Sweep
KENNESAW, Ga.- The Arkansas women's tennis team opened its 2019 campaign with a road sweep of Kennesaw State Friday afternoon.
Weather delayed the doubleheader, as rain from the night before caused the courts to be too wet to play. As a result, the first match consisted of only singles play.
The Hogs got off to a solid start, taking four matches in straight sets. Following the fourth victory, the match was suspended due to the clinch.
Martina Zerulo earned the first point for the Razorbacks with a 6-1, 6-0 victory over Lara Mehlsam at the No. 2 position. Laura Rijkers put Arkansas up 2-0 at the No. 4 position, while Miruna Tudor put the team within one. Tatum Rice clinched the match at the No. 1 position, earning a 6-3, 6-1 victory over Juliana Castellanos.
The second match included doubles play, with Arkansas clinching the point at the No. 1 position. Thea Rice and Miruna Tudor defeated Mehlsam and Brenna Reilly 6-1 at the No. 3 position before Tatum Rice and Zerulo earned a 6-2 victory.
In singles play, Tatum Rice picked up the first win for the Hogs with a 6-2, 6-1 defeat of Mehlsam. The Owls earned their lone point of the day at the No. 6 position, as Prabakar fell 6-2, 6-0. Alter clinched at the No. 3 position with a  7-6 (4), 6-1 win over Kendall Nash.
The Hogs will return to the Hill this weekend, hosting Saint Louis Sunday at 5 p.m.
For more information on Razorback Women's Tennis, follow @RazorbackWTEN on Twitter.
Match One | Arkansas 4, Kennesaw State 0
Singles Results – Order of Finish (2,4,6,1)
1. Tatum Rice (ARK) def. Juliana Castellanos (KSU) 6-3, 6-1
2. Martina Zerulo (ARK) def. Lara Mehlsam (KSU) 6-1, 6-0
3. Aspen Jarrett (KSU) vs. Lauren Alter (ARK) 4-6, 4-2, unfinished
4. Laura Rijkers (ARK) def. Kendall Nash (KSU) 6-1, 6-3
5. Zoe Wende (KSU) vs. Thea Rice (ARK) 3-6, 3-5, unfinished
6. Miruna Tudor (ARK) def. Brenna Reilly (KSU) 6-4, 6-1
Match Two | Arkansas 4, Kennesaw State 1
Doubles Results – Order of Finish (3,1)
1. Tatum Rice/Martina Zerulo (ARK) def. Juliana Castellanos/Zoe Wende (KSU) 6-2
2. Kendall Nash/Aspen Jarrett (KSU) vs. Lauren Alter/Laura Rijkers (ARK) 2-4, unfinished
3. Thea Rice/Miruna Tudor (ARK) def. Brenna Reilly/Lara Mehlsam (KSU) 6-1
Singles Results – Order of Finish (1,2,6,3,5)
1. Tatum Rice (ARK) def. Lara Mehlsam (KSU) 6-2, 6-1
2. Martina Zerulo (ARK) def. Juliana Castellanos (KSU) 6-0, 6-1
3. Lauren Alter (ARK) def. Kendall Nash (KSU) 7-6 (7-4), 6-1
4. Aspen Jarrett (KSU) vs. Laura Rijkers (ARK) 6-7 (4-7), unfinished
5. Thea Rice (ARK) def. Brenna Reilly (KSU) 6-4, 6-3
6. Zoe Wende (KSU) def. Shwetha Prabakar (ARK) 6-2, 6-0