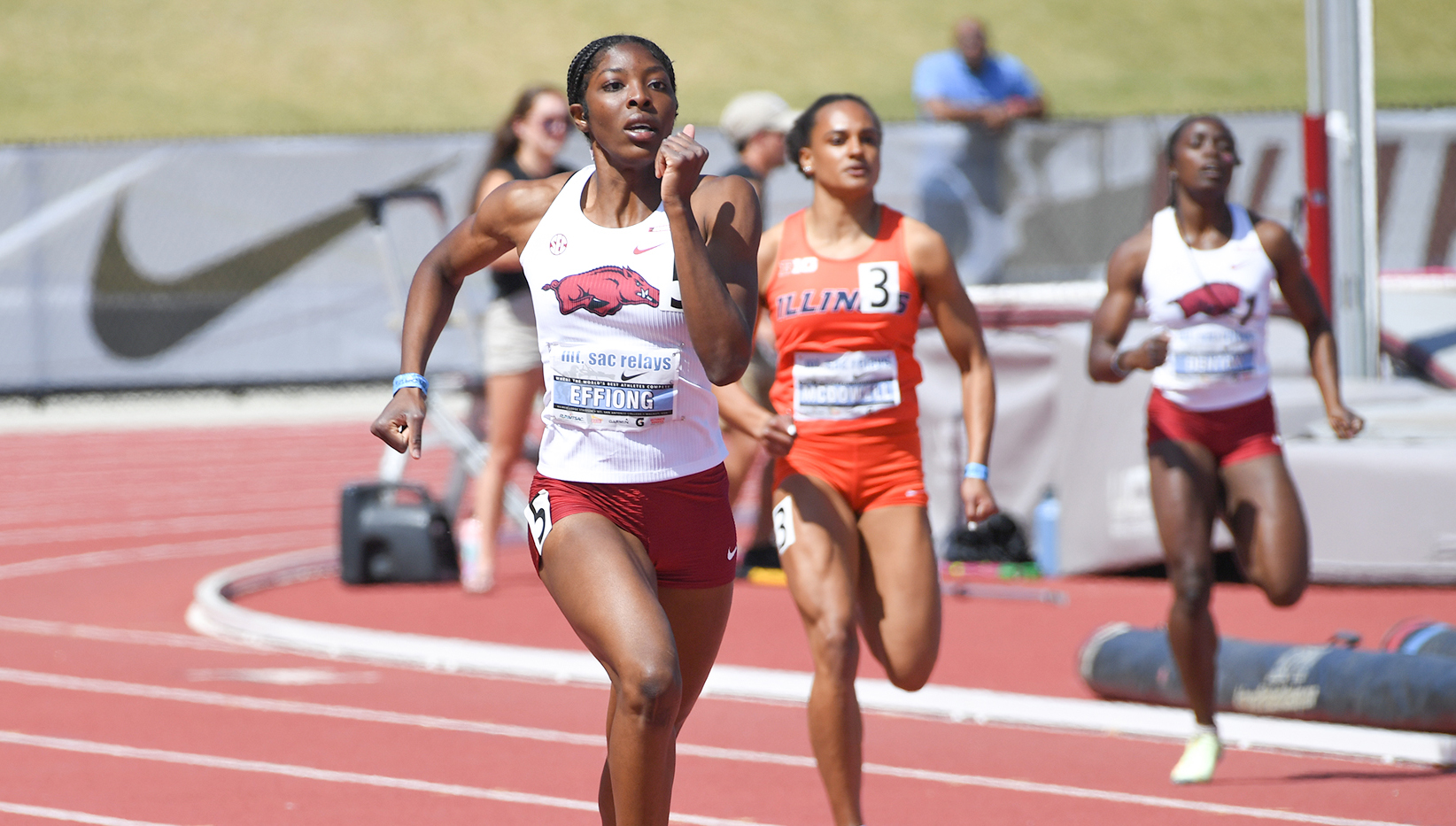 Razorbacks produce three leading efforts in LSU Invitational
BATON ROUGE – Arkansas generated three leading efforts during the LSU Invitational held Saturday at Bernie Moore Stadium. Amanda Fassold won the pole vault while Rosey Effiong and Britton Wilson were the top collegians and second overall in the 400m and 400m hurdles.
Fassold cleared 14-1.75 (4.31) to better the pole vault field with teammate Kaitlyn Banas tying for second place with an outdoor career best 13-7.75 (4.16) clearance.
Fassold trailed Banas and Olivia Buntin of Texas at 13-7.75 (4.06) as she needed a third attempt to clear. Banas and Buntin went clean with first attempt clearances at the first four bars. The tide turned at 14-1.75 when Fassold made the bar on her second attempt, while Banas and Buntin were unable to clear it.
Mackenzie Hayward placed fifth, also clearing 13-7.75 on her third try. Elien Vekemans, vaulting in competition for the first time since NCAA Indoor, make 13-1.75 (4.01) to place seventh.
Effiong set a career best of 51.66 as runner-up, and top collegian, in the 400m, finishing behind a 51.00 from professional Kendall Ellis. Effiong's effort moves her to No. 6 on the UA all-time list.
Wilson ran 56.63 in the 400m hurdles, finishing behind LSU alum Cassandra Tate, who won in 55.65. Brooke Jaworski of Texas placed third in 57.76.
Arkansas posted a 3:30.09 as runner-up in the 4 x 400 relay, with Texas winning in a stadium record of 3:25.64. The Razorback line-up included Morgan Burks-Magee, Effiong, Ashanti Denton (53.86), and Wilson (52.29). Finishing behind Arkansas was Alabama in 3:34.28.
Wilson also produced a 52.47 in finishing sixth overall in the 400m. Burks-Magee placed ninth in 52.94 while Denton clocked a career best 53.65 to place 12th overall.
Facing an elite field of sprinters in the 100m and 200m, Jada Baylark finished fourth in the 200m with a 22.92 (0.2 wind) and placed fifth in her section and ninth overall with an 11.25 (2.0). Baylark was just off her career best of 22.86 in the 200m.
LSU's Favour Ofili, the collegiate record holder at 200m, won the 100m section in 10.93 for the top time overall. Professional Jenna Prandini claimed the 200m in 22.45.
Effiong won another section of the 200m in 23.00 (1.6 wind) to place seventh overall and moved to No. 7 on the UA all-time list.
Quinn Owen finished fifth in the 800m with a career best of 2:05.88.
In the 100m hurdles, the tandem of Yoveinny Mota and Jayla Holllis clocked times of 13.21 and 13.24 (1.6 wind) to place fifth and sixth.