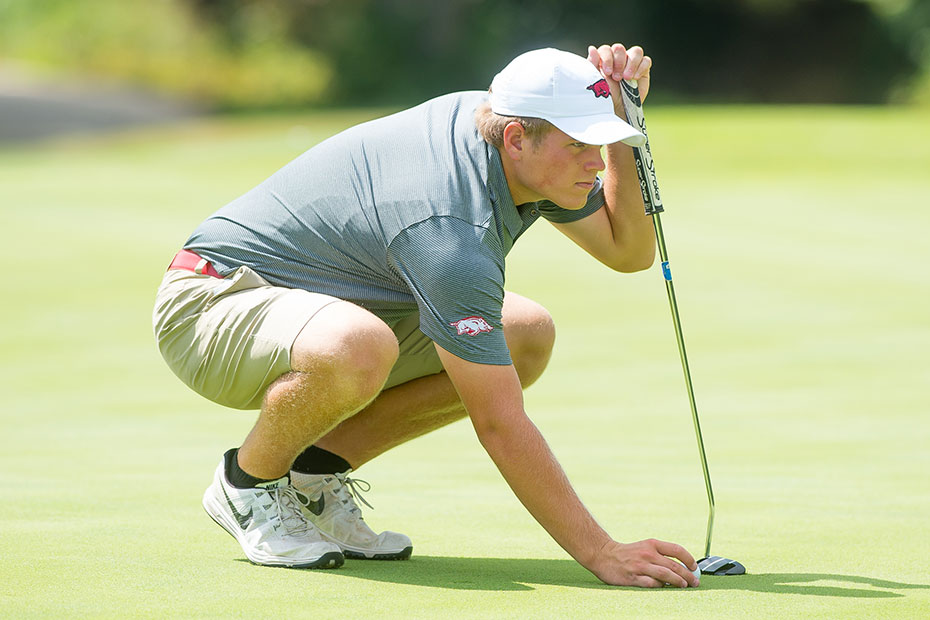 Razorbacks Return to Cabo
FAYETTEVILLE – Arkansas will travel south of the border but be on familiar ground as the Razorbacks play in the ninth annual Querencia Cabo Collegiate, March 3-5.
The 14-team, 54-hole tournament will be played over three days at the Querencia Golf Club (par 71/6,928 yards) in San Jose del Cabo, Mexico.
Top-ranked Oklahoma State headlines the 13-team field that features 11 programs ranked among the nation's top 50. This marks the fourth time Arkansas has faced the Cowboys this season and the third straight tournament this spring Arkansas has played with at least nine teams ranked among the nation's top 50.
Arkansas regularly serves as a co-host at the event and won the first two Querencia Cabo Collegiate championships – shooting a 1o-under par 854 in the fall of 2010 and 21-under 831 in the fall of 2011. In addition to team wins, Jamie Marshall was an individual medalist in 2010 and Sebastian Cappelan won the 2011 tournament. The Razorbacks have played in eight of the nine previous events.
William Buhl shot a career-low 66 in the final round of the 2017 Cabo Collegiate and tied for 19th. Luis Garza likes the second day of the event as he carded a 69 in the second round as a freshman and shot a 68 last season. Mason Overstreet has posted a 68 at Cabo.
The 9th Annual Querencia Cabo Collegiate
Schedule: March 3-5| 54 holes (18 holes each day)
Course: Querencia Golf Club – San Jose del Cabo, Mexico
Yardage: 6,928 – Par 71
Razorback Lineup
(1) William Buhl (Jr.)
(2) Mason Overstreet (Jr.)
(3) Luis Garza (Jr.)
(4) Julian Perico (Fr.)
(5) Tyson Reeder (Jr.)
The Field
#14 Alabama
#32 Arkansas
#50 Arizona
#9 Arizona State
#36 Baylor
#27 Florida State
Houston
#12 LSU
#48 Mississippi
#1 Oklahoma State
Rice
#19 Texas A&M
#3 Vanderbilt
For more information on Arkansas Men's Golf, follow @RazorbackMGolf on Twitter.