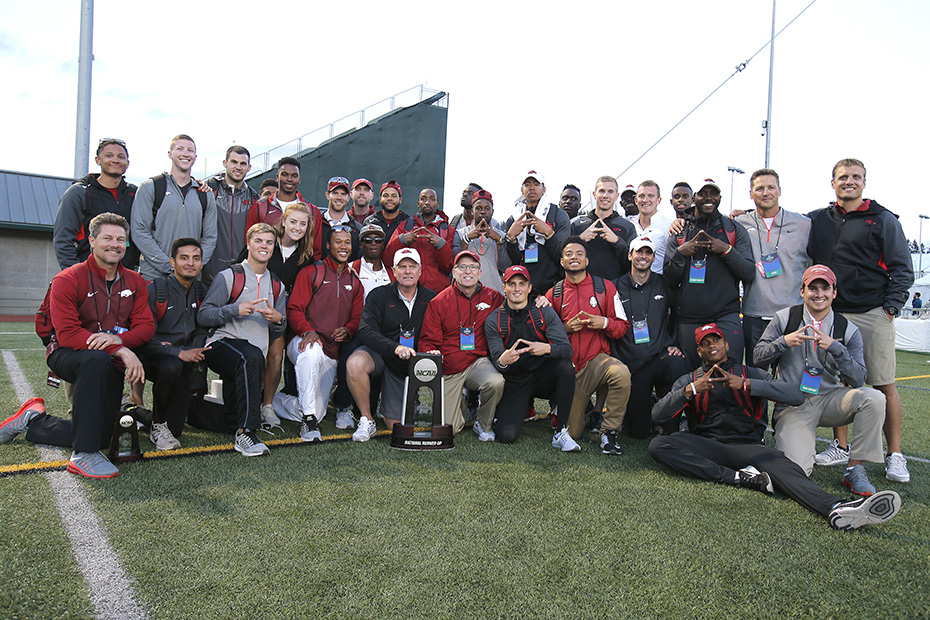 Razorbacks Runner-Ups In Season Finale
EUGENE, Ore. – The final day of 2016 NCAA Outdoor Track and Field Championship saw Arkansas men's track and field team cap its year at Hayward Field as one of the three best programs in the nation for the third time in four years.
The Razorback men finished the outdoor season up three spots from their No. 5 ranking as the NCAA national runner-ups with a score of 56 points, narrowly edged out by Southeastern Conference rival Florida who won the national title by a six point margin.
Of the top-five institutions represented at the outdoor national meet, four hailed from the SEC.
NCAATF Score Breakdown
• Total Student-athletes who scored (6)
• Track events 100, 200, 10K and 3K steeplechase (4): total 46 points
• Field events long jump (1): total 10 points
Athlete Score Breakdown (points)
• Kenzo Cotton (7.5)
• Gabe Gonzalez (6)
• Jarrion Lawson (31.5)
• Kemar Mowatt (1.5)
• Frankline Tonui (8)
• Josh Washington (1.5)
Bowerman Watch List Selection: Jarrion Lawson
The SEC indoor and outdoor Scholar-Athlete of the Year, Lawson, displayed incredible athleticism over the men's two-day competition.
Lawson kicked off the final meet of his collegiate career on Wednesday afternoon earning spots in the finals of three events (100, 200 and 4-x-100) and leaping to the fourth national crown of his career with a mark of 8.15m/26-9 in the long jump.
A now 19-time All-American, Lawson showed off his versatility navigating through three event finals with ease. His Friday began with bronze-medal finish as the second leg of the 4-x-100-meter relay which was promptly followed by not one but two gold medal-meriting efforts in the 100 (10.22) and 200 (20.19).
Currently in contention to receive the most prestigious award in track and field, The Bowerman, Lawson completed his career at Arkansas as a six-time NCAA national champion with five top-10 program performances and one Razorback record (100 – 10.04).
Lawson will now shift his focus toward the Olympic Trials which will take place in Eugene July 1-10. He plans to once again compete in the 100, 200 and the long jump.
#NCAATF Scorers
Kenzo Cotton was another major Razorback contributor collecting 7.5 points with a seventh place finish in the 100, fifth place in the 200 and a third place with the 4-x-100 relay. His performance at the national meet was remarkable considering his battle with injuries earlier on in the season. A product of La Vista, Nebraska, Cotton will join Lawson at the 2016 U.S. Olympic Trials as a qualifier in the 100 and 200.
Senior Gabe Gonzalez was the first Razorback to score as the Springdale, Arkansas native placed third in Wednesday's final section of the 10K in 29 minutes 11.09 seconds. Gonzalez's top-eight finish earned him the second All-America honor of his decorated career as a Razorback.
Arkansas newcomers Kemar Mowatt and Josh Washington became immediate impact-makers for the Razorbacks earning the opportunity to be a part of one of the best 4-x-100 relays in the nation. Mowatt and Washington along with Cotton and Lawson combined to record the second fastest time in the event in program history with 38.49 placing the quartet third. The crew only ranks behind the 2015 NCAA championship team (inclusive of Cotton and Lawson) who won last year's race in 38.47.
Iowa Central transfer Frankline Tonui PR'd in the 3,000-meter steeplechase by nine seconds since his SEC victory a few weeks earlier in Tuscaloosa, Alabama. Tonui put on a sensational performance in the event keeping stride with the lead pack before moving up from fourth place to runner-up over the final 400 meters of the race. A true competitor, Tonui leaned across the finish as he was coming through the line edging out Edwin Kibichiy of Louisville by .04 of a second.
Through three seasons (cross country, indoor and outdoor track and field) Arkansas men's cross country and track and field have placed no lower than sixth at a national meet, amassed 38 All-American honors and secured all three SEC titles.
NCAA Outdoor Team Scores
1. Florida – 62
2. Arkansas – 56
3. Texas A&M – 50
4. Oregon – 48
5. LSU – 41
6. Tennessee – 30
7. Virginia – 20
8. Virginia Tech – 19
9. Mississippi State – 18
T10. Houston – 17
T10. Nebraska – 17
NCAA Outdoor Championship Results
Hayward Field
Eugene, Oregon
100 Meters semifinal
Jarrion Lawson (3) – 10.13Q (heat winner)
Kenzo Cotton (8) – 10.07Q
Marqueze Washington (13) – 10.31
100 Meters final
Jarrion Lawson (1) – 10.22
Kenzo Cotton (7) – 10.35
200 Meters semifinal
Jarrion Lawson (4) – 20.28Q
Kenzo Cotton (8) – 20.61Q
Marqueze Washington (22) – 21.95
200 Meters final
Jarrion Lawson (1) – 20.19
Kenzo Cotton (5) – 20.55
400 Meters semifinal
Obi Igbokwe (22) – 46.93
800 Meters semifinal
Ryan Thomas (17) – 1:48.79
10,000 Meters final
Gabe Gonzalez (3) – 29:11.09
400 Meter Hurdles semifinal
Larry Donald (13) – 50.96
3,000 Meter Steeplechase semifinal
Frankline Tonui (7) – 8:34.08Q
3,000 Meter Steeplechase final
Frankline Tonui (2) – 8:30.67
4-x-100 Relay semifinal
Arkansas A: K. Cotton, J. Lawson, J. Washington, K. Mowatt (1) – 38.71Q
4-x-100 Relay final
Arkansas A: K. Cotton, J. Lawson, J. Washington, K. Mowatt (3) – 38.49
4-x-400 Relay semifinal
Arkansas A: O. Igbokwe, K. Mowatt, E, Janise, J. Stephen (11) – 3:05.61
High Jump final
Ken LeGassey (17) – 2.09m/6-10
Long Jump final
Jarrion Lawson (1) – 8.15m/26-9
Andreas Trajkovski (9) – 7.58m/24-10 1/2
Kurt Jenner (20) – 7.24m/23-9
Triple Jump final
Clive Pullen (23) – 15.01m/49-3
Decathlon final
Derek Jacobus (18) – 7,011
Brad Culp – DNF
For more information on Arkansas track and field including in-meet updates, follow @RazorbackTF on Twitter.