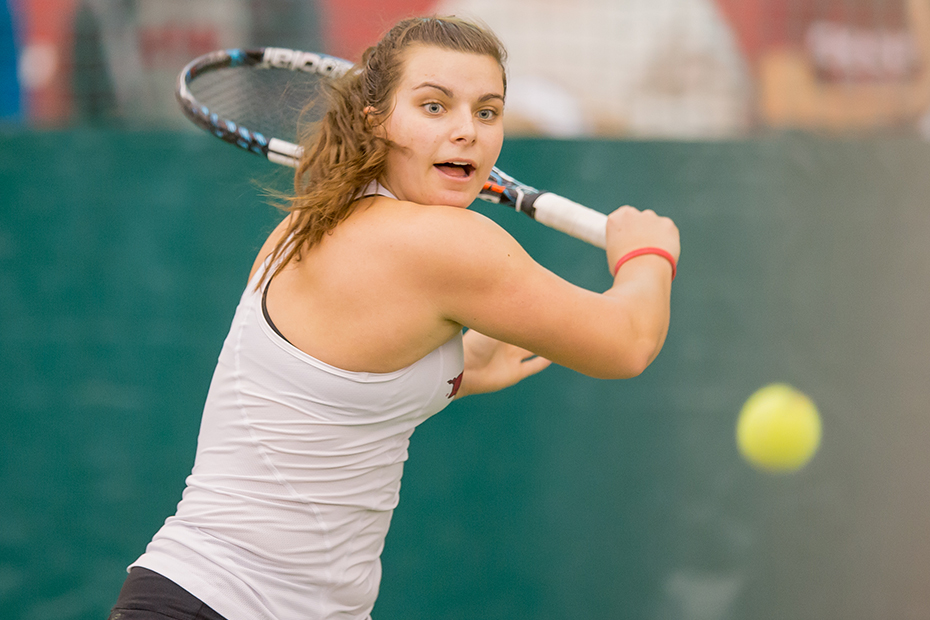 Razorbacks Travel To Stillwater For ITA Regionals
Tournament Draws: Doubles Main Draw | Singles Main Draw
Live Scoring: South Outdoor Courts |  North Outdoor Courts |  Indoor Courts
FAYETTEVILLE, Ark. – After three straight weeks of competition, Arkansas women's tennis will continue its fall slate and travel to Stillwater, Oklahoma for the 2015 ITA Central Regional Championship.
The tournament, which features 23 schools and more than 130 student-athletes, runs Oct. 15-19 with play held at the Michael and Anne Greenwood Tennis Center on the campus of Oklahoma State.
The Regional Championships feature singles and doubles competition at 12 different host sites across the country. Champions from each region will earn an automatic bid into the USTA/ITA National Indoor Intercollegiate Championships, to be held Nov. 6-9 in Flushing Meadows, New York.
Leading the way for the Razorbacks will be the duo of Yuliya Lysa and Shannon Hudson. The No. 11-ranked tandem drew a bye in the opening round of the doubles main draw and will face the winner of Vujic/Bergman (Minnesota) versus Puentes/Gisbert (Oral Roberts).
Lysa and Hudson were also selected for the singles main draw.
Lysa, who is ranked 30th nationally, earned a first round bye. The Kiev, Ukraine native owns a 5-2 singles record this fall and finished runner-up in her flight at the Uva Fall Invitational on Sept. 25-27.
No. 96 Hudson will see opening-round action. Hudson turned in an impressive run in the singles pre-qualifying draw at the Riviera/ITA All-American Championships last week, tallying three wins and earning a bid to the qualifying draw. Hudson finished the tournament with four wins and is 6-3 on the year.
Senior Makenzie Craft and freshman Ana Oparenovic will also take the court for the Razorbacks in both singles and doubles.
"Our practices have been strong in preparation for this tournament, and we expect quality performances across the board," head coach Michael Hegarty said.
For more information on Arkansas women's tennis, follow @RazorbackWTEN on Twitter.