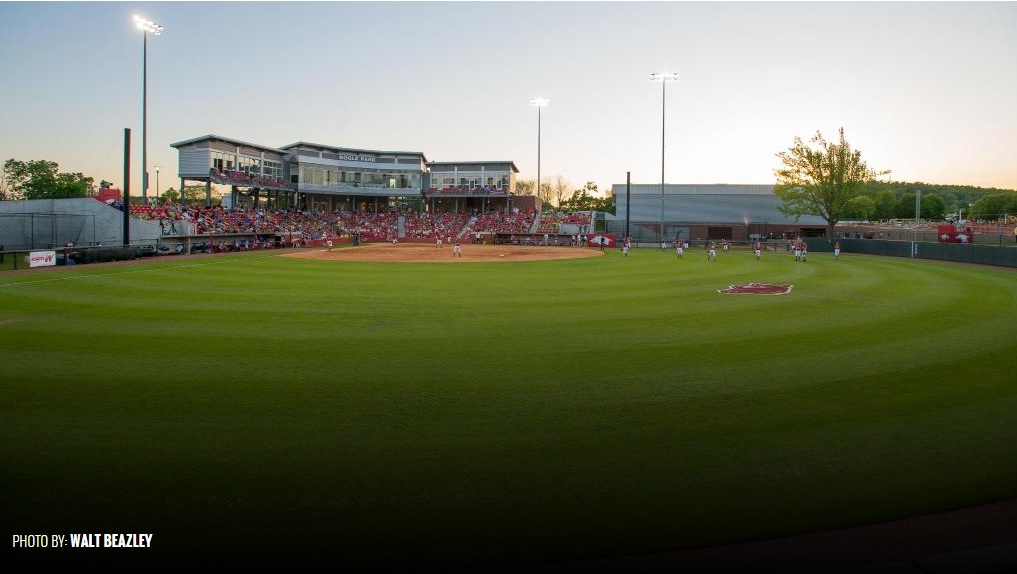 @RazorbackSB Announces 2015 Schedule
FAYETTEVILLE, Ark. – Head coach Mike Larabee and the University of Arkansas softball team has announced the team's 2015 schedule. The Razorbacks' schedule features 16 opponents that played in last year's NCAA Tournament and 28 home games at Bogle Park. The team's 2015 season, its sixth under Larabee, begins Feb. 6 against Penn State at the FAU Kick-Off Classic in Boca Raton, Fla.
Arkansas will spend the first two weekends of the season at round-robin tournaments in the state of Florida. The Razorbacks follow the opening weekend with the Dot Richardson Invitational (Feb. 13-15) in Clermont, Fla. Of the five teams Arkansas is set to face at the Dot Richardson event, four of them—Chattanooga, Florida A&M, Louisville, UCF—were part of the 64-team field in last year's NCAA Tournament.
The home slate begins Feb. 20 with day one of the Razorback Invitational in which the team will host Creighton, Jacksonville State and Northern Colorado. The following weekend, Arkansas will host the Wooo Pig Classic at Bogle Park. The three-day tournament will also include UAB, Valparaiso and Western Illinois. In addition to the non-conference tournaments, the Razorbacks' home schedule also features a series against Texas and four SEC series.
The SEC season begins March 6-8 with a road series at LSU. After two non-conference dates against Tulsa and Missouri State, the Razorbacks will host Texas (March 14-16) in a three-game series and return to the road for conference matchup at defending SEC Tournament champion Georgia. The matchup with Texas will be the first meeting between the programs since the 2002 season.
Arkansas' SEC home opener is set for March 27-29 against Ole Miss. Following a midweek trip to Tulsa, the Razorbacks are back in Fayetteville to host Mississippi State (April 4-6) in Bogle Park. The remainder of the team's home schedule features Missouri (April 17-19), a doubleheader against Southeast Missouri (April 29) and regular-season finale against Alabama (May 1-3).
The Razorbacks make their annual trip to Central Arkansas on April 15 with a doubleheader against Mississippi Valley State in Sherwood, Ark. The twin bill is slated to begin at 3 p.m. (CT) with game two scheduled to start at 6 p.m. Arkansas is 9-1 in games played on the neutral-site field. The Razorbacks will also have road dates at Oklahoma (April 8), South Carolina (April 10-12) and Auburn (April 24-26).
Arkansas is coming off a season in which it finished 11th in the NCAA with 6.53 runs per game. Overall, the Razorbacks set or tied single-season school records in batting average (.304), triples (14), RBI (325), slugging percentage (.484) on-base percentage (.410), runs scored (359), walks (231) and sacrifice flies (15).
#RazorFacts
• Sixth season under head coach Mike Larabee
• 28 home games at Bogle Park
o Home opener: Feb. 20 vs. Jacksonville State at 3 p.m.
o SEC home opener: March 27 vs. Ole Miss at 6 p.m.
• 16 (of 30) opponents that played in last year's NCAA Tournament
o Nine non-conference opponents that played in last year's NCAA Tournament
o Seven of eight SEC series played against opponent that played in last year's NCAA Tournament
• 33 (of 56) games against opponents that played in last year's NCAA Tournament
• Two (2) opponents that advanced to last year's Women's College World Series
o vs. Alabama (May 1-3 in Fayetteville)
o at Oklahoma (April 8 in Norman)
• Five first-time opponents (Liberty, Long Island, Louisville, Southeast Missouri, Valparaiso)
For more information about Arkansas softball, follow @RazorbackSB on Twitter.