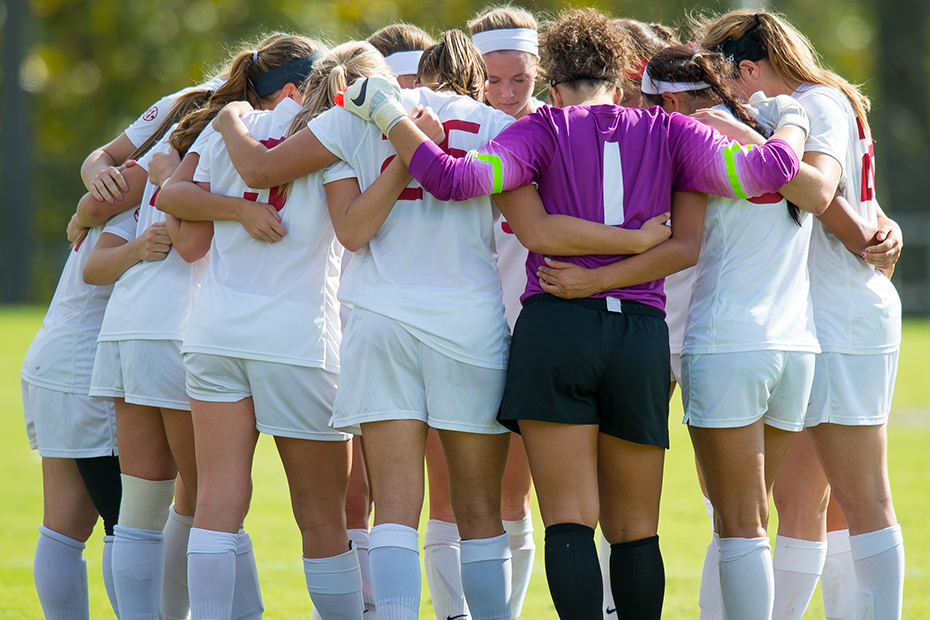 @RazorbackSoccer Opens Spring Slate With A Pair Of Wins
FAYETTEVILLE, Ark. – The University of Arkansas soccer team is back on the field after a successful 2014 campaign that saw them earn the program's second consecutive bid to the NCAA Tournament.
Coming off a season where they finished with a 9-7-6 mark to give the program its first back-to-back winning seasons since 2008-09, head coach Colby Hale and the Razorbacks will navigate a seven-game spring schedule.
Arkansas has two games behind them so far this spring, having played Butler Community College and Oral Roberts in Tulsa, Okla. on Saturday, March 7. The Razorbacks defeated Butler CC 7-0 before downing Oral Roberts 2-0. Sarah Price finished the day with three goals, Claire Kelley and Lindsey Mayo added a goal and an assist each and Ashleigh Ellenwood scored once and tallied three assists.
"For a first time out there were some positives and some things to work on," Hale said. "For the most part our team defending was good. We've worked to add some new layers to what we do. As expected it was a mixed bag. This will get us some video on some of the new areas. We have a special group who is hungry. They are winners and it showed today in the way we competed. Today was an overall positive day."
The Razorbacks have five games remaining on the spring slate, including matchups against North Texas (April 4), Tyler Junior College (April 4), Missouri State (April 11), Nebraska Omaha (April 18) and Iowa (April 26).
North Texas and Arkansas will go head-to-head on Saturday, April 4 in Denton, Texas. The Mean Green tied a program record with 16 victories (16-5-1 overall) and captured its ninth conference championship by winning the Conference USA regular season title. North Texas returns all but two players next season. Leah Cox and Alyson Stallcup played in their final games for the Mean Green after contributing to four conference championships.
The following weekend, the Razorbacks will head to Springfield, Mo. to face the Bears of Missouri State on April 11. MSU finished the 2014 season with a 7-10-2 record. The Bears' season come to a close at the hands of host Illinois State (14-5-0) in the semifinals of the Missouri Valley Conference tournament.
Arkansas will host the Mavericks from the University of Nebraska Omaha in the lone home contest of the spring on April 18. Omaha finished the 2014 season with a 5-12-2 overall record and went 3-3-2 in Summit League play. The Mavericks return three players that received Summit League awards last year. Omaha defender Hannah Wampler was named the Summit League Defensive Player of the Year. Joining Wampler in all-conference honors was forward Chelsi Rohloff and midfielder Lydia Holtmann. Rohloff earned first-team all-Summit League accolades, while Holtmann was placed on the all-Freshman Team.
The spring season comes to a close on April 26 in St. Louis when the Razorbacks face Iowa at a neutral site. The Hawkeyes, under first-year head coach Dave DiIanni, finished the 2014 campaign with a 14-7-1 record and fell to Wisconsin (1-0) in the Big Ten Tournament championship game.
For more information on Razorback Soccer and to keep up with the spring schedule, follow @RazorbackSoccer on Twitter.
2015 @RazorbackSoccer Spring Schedule
MARCH
7 (Sat) – Butler Community College (Tulsa, Okla. | 11:00 AM) – W, 7-0
7 (Sat) – Oral Roberts (Tulsa, Okla. | 12:30 PM) – W, 2-0
APRIL
4 (Sat) – North Texas (Denton, Texas | TBD)
4 (Sat) – Tyler Junior College (Denton, Texas | TBD)
11 (Sat) – Missouri State (Springfield, Mo. | TBD)
18 (Sat) – Nebraska Omaha (Fayetteville, Ark. | 12:00 PM)
26 (Sun) – Iowa (St Louis, Mo. | TBD)