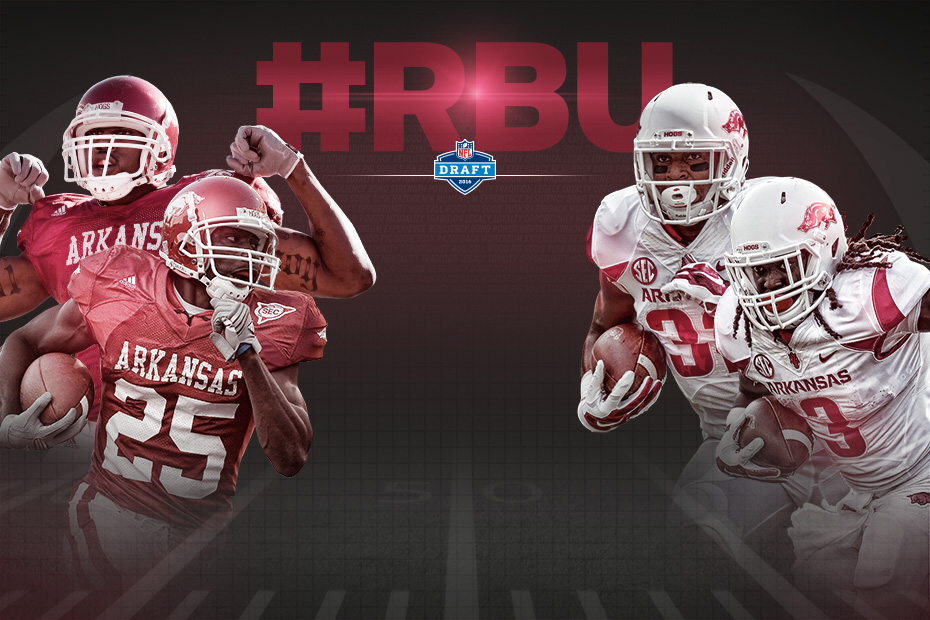 The #RBU Legacy Continues
Donned "Running Back U" for the 2000s by ESPN.com in June of 2014, Arkansas continued to add to its #RBU legacy during the 2016 NFL Draft.
The only FBS teammates to each rush for 1,000-plus yards during the 2014 season, just months after ESPN.com's rankings were released, Jonathan Williams was taken by the Buffalo Bills in the fifth round and 15 picks later in the fifth round Alex Collins was selected by the Seattle Seahawks during this past weekend's NFL Draft.
Collins and Williams are the just the second running back duo to be selected in the first five rounds of the same NFL Draft since 2008 when Arkansas great Darren McFadden was taken fourth overall by the Oakland Raiders and Felix Jones was selected 22nd overall by the Dallas Cowboys.
In addition, Collins and Williams are one of five Football Bowl Subdivision (FBS) running back tandems taken in the same NFL Draft since McFadden and Jones in 2008.
After seven seasons as the head coach at Wisconsin, Bret Bielema was entering his second year at Arkansas when the ESPN.com #RBU article was released. The Badgers were No. 4 on the list and Bielema has been a perfect fit to continue the running back legacy at Arkansas. Bielema has coached a 1,000-yard rusher in each of his 10 seasons as a head coach and 12 total, while his running backs have scored double-digit touchdowns on the ground 13 times.
🏈 @Jwillpart2 TO THE @buffalobills!#ProHogs #NFLDraft pic.twitter.com/KPVRf1Jezy

— Razorback Football (@RazorbackFB) April 30, 2016
AC3 is heading to the @Seahawks!! CONGRATS, @Budda03! #ProHogs #NFLDraft pic.twitter.com/uD7Bo4X2wk

— Razorback Football (@RazorbackFB) April 30, 2016