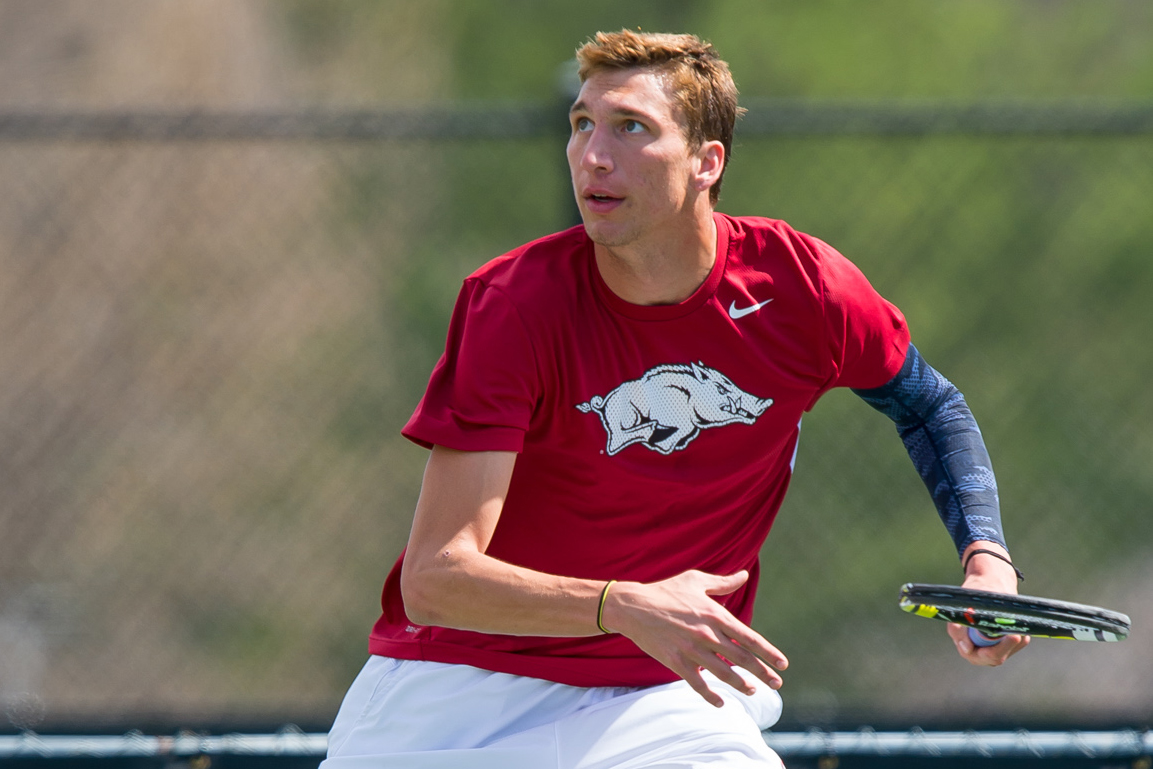 Redlicki Doubles Up on SEC Honors
FAYETTEVILLE, Ark. — For the second time in three weeks, Mike Redlicki won SEC Player of the Week, the conference announced on Wednesday morning. Redlicki notched two victories against ranked opponents – No. 14 Arthur Rinderknech of No. 7 Texas A&M and No. 102 Jordan Daigle of LSU – to extend his win streak to seven matches.
Redlicki improved to 10-1 this season, including a perfect 4-0 in SEC play. Over the first two weekends of conference competition, he's the only No. 1 singles player in the league with a spotless record.
"It's extremely grounding to be recognized for this award for a second time this season. None of this would be possible without the immense happiness I feel being at Arkansas," he said. "I'm so blessed to have a coach like Andy Jackson who has been around the college game for over 30 years and knows every in and out there is.
"He has taught me an immense amount, which has served me well both on and off the court."
Now in Jackson's third year at Arkansas, the No. 13 Razorbacks boast a 13-3 record, including 3-1 in SEC play, and have climbed into the top 15 for the first time since 2006. Earlier this season, Arkansas had been ranked as high as No. 27, which was the highest since the team finished No. 22 in the final 2006 ranking.
Coming into the weekend riding a five-match winning streak, Redlicki picked up a pair of wins to stretch that number to seven. During that time, six of his seven opponents have been ranked. In turn, Redlicki's record against ranked players now stands at 6-1 on the year.
"Michael really deserves this honor; he's extremely invested in this team and it shows," Jackson said. "His match with Rinderknech against Texas A&M and the two matches vs. LSU were very high-level, especially beating the No. 8 team in the nation for the doubles point. We're proud of him."
The redshirt junior from Chicago teamed up with Giammarco Micolani to defeat LSU's No. 8 pair of Boris Arias and Daigle for their most highly-ranked victory of the season. With the team doubles results tied 1-1, the Arkansas duo won the tiebreaker 9-7 to claim the first point for the Razorbacks, en route to a 5-2 win over the Tigers.
After starting the spring season unranked, Redlicki has jumped to No. 43 in singles and No. 31 in doubles with Micolani, and he says he owes all of his early success to his teammates.
"Having this particular group of teammates around me has been an unforgettable experience," he explained. "The close relationship we have with one another really gives us the edge we need to beat some great teams in the strongest tennis conference in the country, and for that I couldn't be more appreciative."
Arkansas continues SEC play with a pair of away matches next weekend. The Razorbacks head to Gainesville to face No. 24 Florida on Friday, March 18 at 4 p.m. CT, then move on to Auburn to face the Tigers on Sunday, March 20 at 1 p.m. CT.
For more information on Razorback men's tennis, please follow @RazorbackMTEN on Twitter.