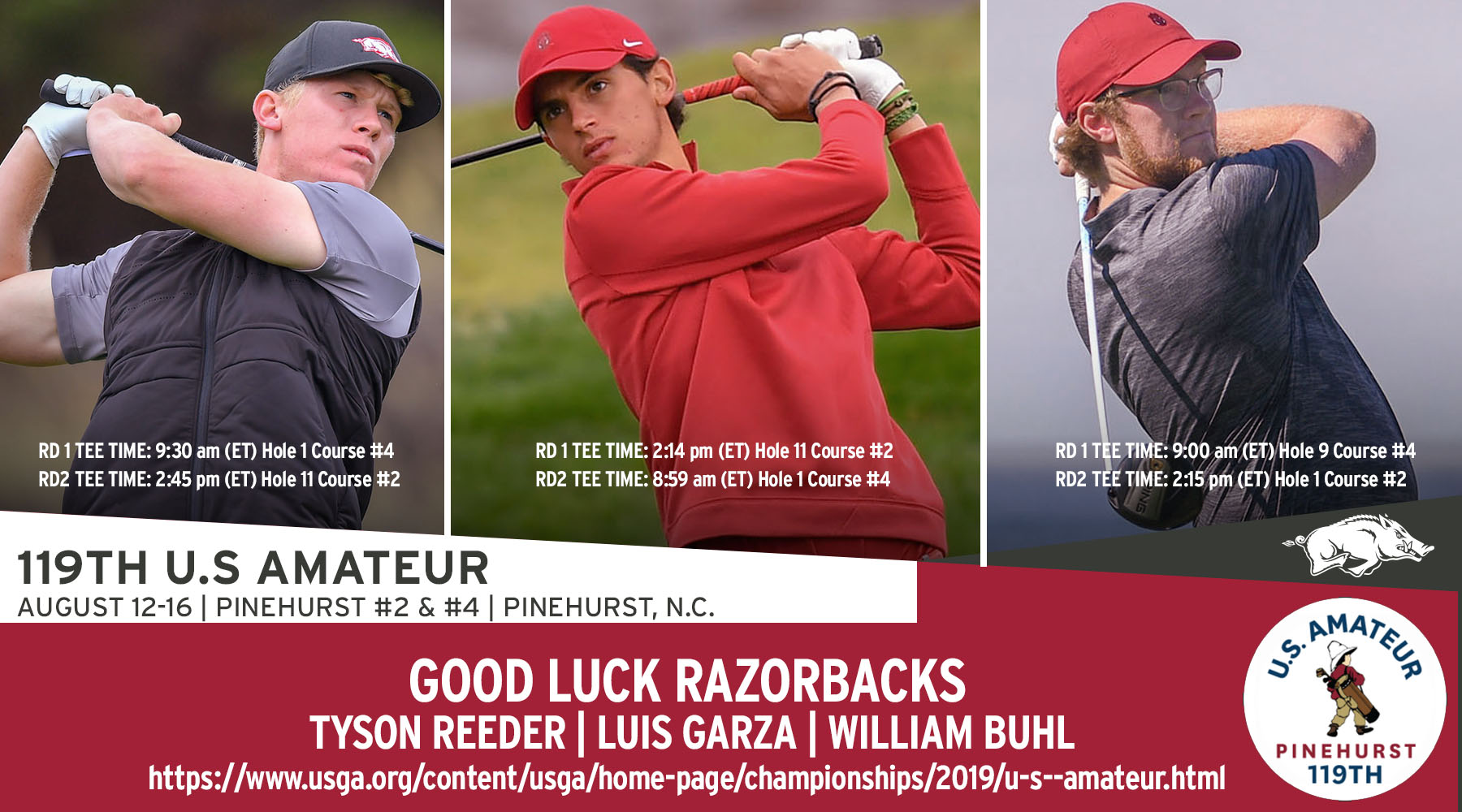 Reeder, Garza and Buhl to Play in U.S. Amateur
FAYETTEVILLE – Three rising Razorback men's golf seniors – Tyson Reeder, Luis Garza and William Buhl – will play in the 119th U.S. Amateur Championship, held August 12-18 at historic Pinehurst (N.C.) Resort & Country Club.
Tee times for the first two days of the U.S. Amateur (Monday and Tuesday) – played on Pinehurst Courses No.2 and No. 4, are set, including:
– Tyson Reeder       RD1 – 8:30 am (CT) on Hole 1, Course No. 4          RD2 – 1:45 pm (CT) on Hole 11, Course No. 2
– Luis Garza             RD1 – 1:14 pm (CT) on Hole 11, Course No. 2         RD2 – 7:59 am (CT) on Hole 1, Course No. 4
– William Buhl        RD1 – 8:00 am (CT) on Hole 9, Course No. 4         RD2 – 1:15 pm (CT) on Hole 1, Course No. 2
Following 36 holes of Stroke Play over two days (Aug. 12-13), the top 64 players will begin Match Play on Wednesday (Aug. 14). Round of 32 and 16 matches will be played Thursday, followed by quarterfinal matches Friday, semifinals on Saturday and 36 holes for the championship on Sunday.
Reeder earned his invitation to the U.S. Amateur after posting rounds of 68-68 to finish second at the USGA Qualifying tournament, held at The Territory in Duncan, Okla., this past July 15. Reeder and winner Jansen Smith (68-66) beat out 76 others on a testing day of nearly 100-degree heat to walk 36 holes as 17 golfers did not complete the qualifier.
Garza claimed the third and final spot in his qualifier by firing rounds of 69-67 at the Pensacola (Fla.) Country Club on July 7-8, 2019. Garza's qualifier had 84 participants including Buhl, who finished 11th with rounds of 69-72.
However, Buhl went on to secure the final spot in this year's U.S. Amateur earlier this week by cruising to an eight-stroke victory at the 115th Canadian Amateur. Buhl carded four rounds in the 60's and posted a 720ole score of 273 (-9).
Fellow rising Razorback senior Mason Overstreet reached the round of 16 in last year's U.S. Amateur.
For more information on Arkansas Men's Golf, follow @RazorbackMGolf on Twitter.