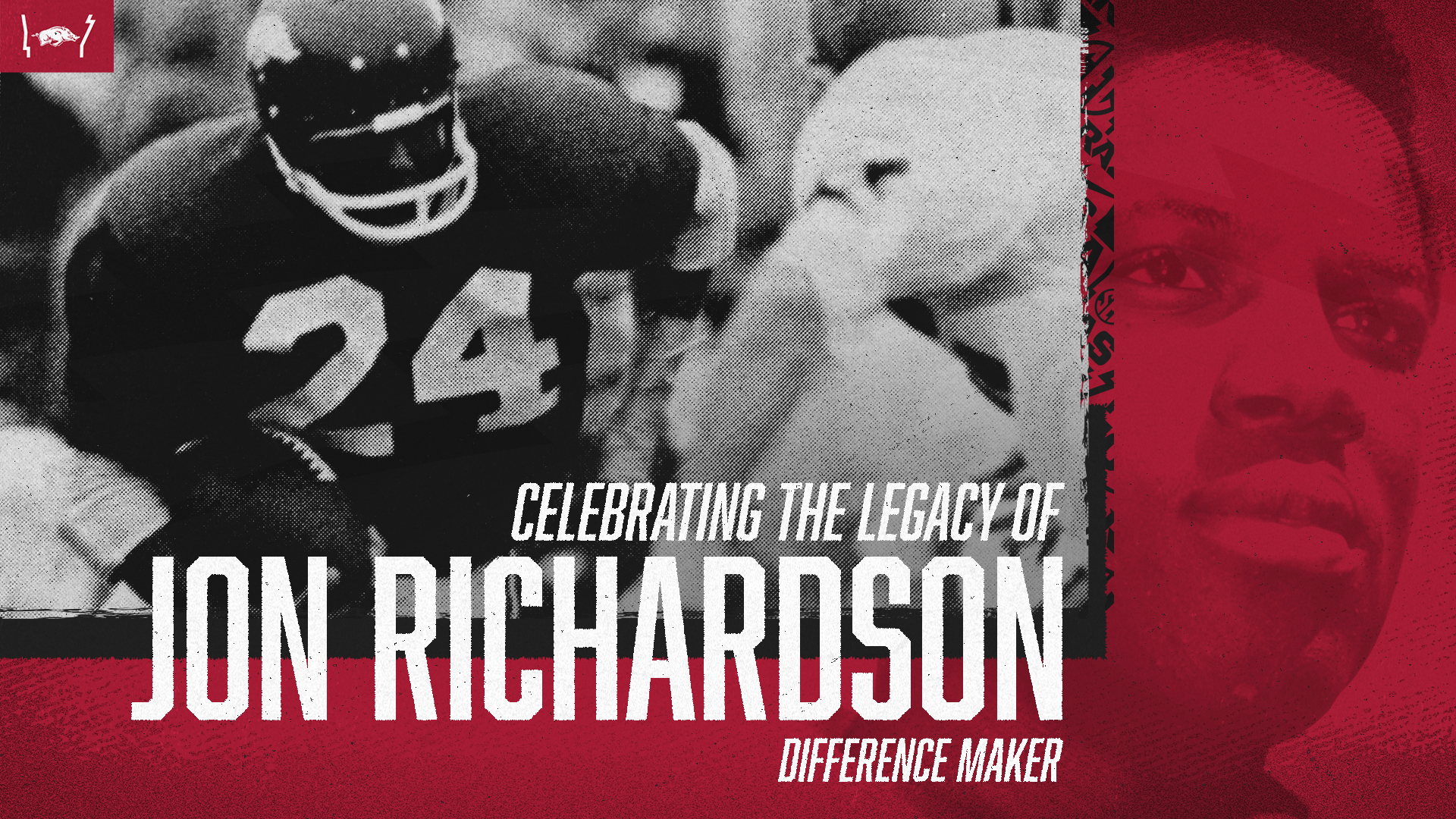 Richardson to be honored as Difference Maker
FAYETTEVILLE, Ark. – Just more than a half-century ago, Jon Richardson stepped on the field as the first African-American scholarship football player at the University of Arkansas. Along with other Razorback trailblazers like Darrell Brown and Hiram McBeth in football and Thomas Johnson, Vernon Murphy and Almer Lee in men's basketball, Richardson broke down barriers with grace and dignity on and off the field.
On Saturday, October 16 at 9:45 a.m., Razorback Athletics will celebrate Richardson, who along with many other Razorback trailblazers, paved the way for thousands of student-athletes to come. University of Arkansas Interim Chancellor Charles Robinson, Vice Chancellor and Director of Athletics Hunter Yurachek and members of the late Jon Richardson's family will dedicate a plaque in Richardson's honor on the Difference Makers Plaza, near Gate 10 on the northwest corner of Donald W. Reynolds Razorback Stadium. The event is free and open to the public.
"It is certainly fitting that we as we celebrate the lasting legacy of Jon Richardson, we recognize him as a true 'Difference Maker' for our program, our campus and our state," Yurachek said. "When Jon Richardson stepped on the University of Arkansas campus in the fall of 1969, he began a journey that would not only lead to the football field, but help shape the future of a university, creating opportunities for thousands of future Razorbacks. The courage and determination displayed by Richardson, and many other Razorback trailblazers, helped strengthen the University of Arkansas. We are grateful for their contributions and for the lasting positive impact of their dedication."
Jon Richardson Difference Makers Plaque Dedication
Saturday, October 16, 2021
Difference Makers Plaza (Near Gate 10 – Northwest Corner of Stadium)
9:45 a.m.
Open to the Public
Speakers: Chancellor Charles Robinson, VC Hunter Yurachek and Beverly Richardson
A native of Little Rock, Richardson lettered for Coach Frank Broyles' Razorbacks from 1970-72. The tailback was second on the team in rushing in 1970 with 441 yards and nine touchdowns on 104 carries. He ranked third on the squad with 17 receptions for 240 yards and a score on a team that went 9-2 and finished the season ranked No. 11 in the nation in his sophomore season.
In 1971, Richardson was third on the club with 483 yards rushing and three touchdowns on 104 carries, including a career-best effort of 154 yards and two touchdowns in a win over Oklahoma State. He hauled in 13 catches for 87 yards in helping the Hogs to an 8-3-1 mark and a No. 16 national ranking.
As a senior, he ranked second on the team with 313 yards on 97 attempts and led the squad with seven touchdowns. He tallied 14 receptions for 105 yards, ranking him fourth on the squad. He broke a school record with 501 kickoff return yards in his final collegiate campaign. His 19 rushing touchdowns still ranks on the UA career record list.
In addition to the Difference Makers plaque dedication, the Jon Richardson family will be the honored guests at the lighting of Donald W. Reynolds Razorback Stadium on Friday at 7:40 p.m. as well as serve as honorary captains for the Auburn-Arkansas game at 11 a.m. on Saturday.