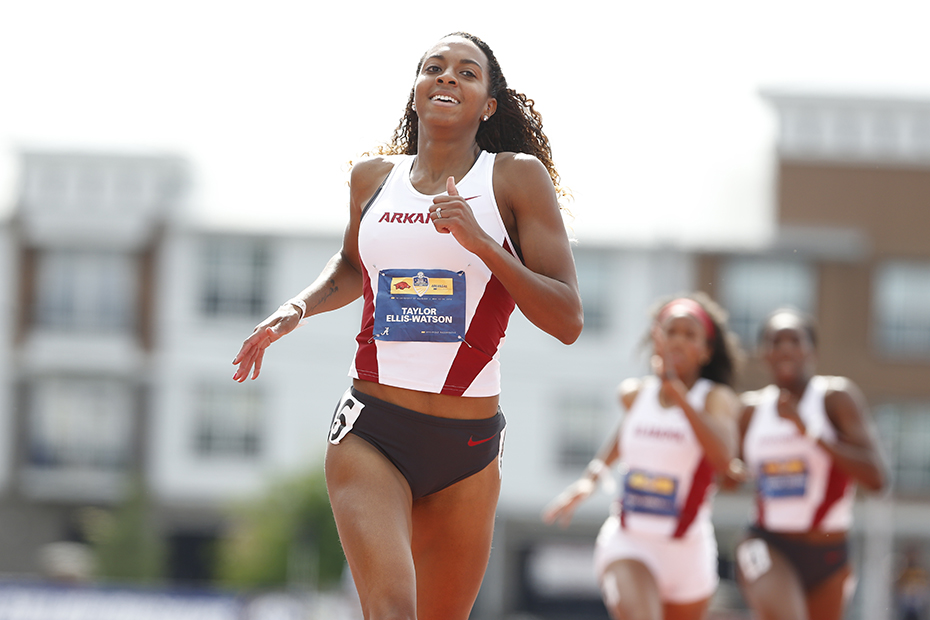 Rio-Bound Razorback Among Best Of NCAA
Catching Up With Taylor Ellis-Watson | SEC Release
BIRMINGHAM, Ala. – Team USA Olympic qualifier Taylor Ellis-Watson has been selected as one of two Southeastern Conference nominees for the 2016 NCAA Woman of the Year Award.
Ellis-Watson, joined by Haley McCleney of Alabama, are among 141 conference honorees between Division I, Division II and Division III.
Established in 1991, the NCAA Woman of the Year Award recognizes female student-athletes across the three divisions who best exemplify excellence in academics, athletics, service and leadership.
Originally nominated by the University of Arkansas for the award in early June, Ellis-Watson was one of 54 Division I student-athletes to remain in contention out of the original pool of 229.
During her time as a Razorback, Ellis-Watson raced to 11 All-America honors, helping the women's program to capture two historic NCAA titles along the way. The Philadelphia native stormed through her season, dominating the quarter-mile at both the SEC indoor and outdoor championship with ease.
The owner of two Arkansas records (outdoor 400 and 4-x-400), Ellis-Watson was instrumental in leading the Razorback 1,600 relay team to a world-leading performance this season when she split a 50.04 second final lap as the anchor to cross the finish line in 3:25.48. That time remains one of the best performances in the world currently at No. 2 on the international leaderboard.
As an individual Ellis-Watson is the seventh-best performer among U.S. competitors in the 400-meter dash and the ninth-best internationally with her personal best mark from the U.S. Olympic Trials of 50.25.
In addition to her athletic accomplishments, Ellis-Watson boasts an outstanding academic record which earned her the NCAA Ethnic Minority Enhancement Program Postgraduate Scholarship for Careers in Athletics earlier this year.
Ellis-Watson was also recognized as the SEC Indoor Scholar-Athlete of the Year and selected as the University's nominee for the SEC's H. Boyd McWhorter Scholar-Athlete Award.
She capped her final year of eligibility as a 2016 Academic All-America Division I Men's and Women's Track & Field/Cross Country first team selection.
For more information on Arkansas track and field including in-meet updates, follow @RazorbackTF on Twitter.