School record for Britton Wilson, bronze medal for Isabel Van Camp
OXFORD, Miss. – Arkansas' first day at the 2022 SEC Outdoor Championships included another school record for Britton Wilson along with a bronze medal finish for Isabel Van Camp in her debut at 10,000m.
Through three finals scored on the first day of the meet at the Ole Miss Track & Field Complex, Auburn leads with 23 points, followed by 22 for Alabama. They are followed by Ole Miss (17), Texas A&M (12), and Arkansas (10). The finals included the hammer, javelin, and 10,000m.
Following a two-hour lightning delay just after qualifying races started at 6:30 p.m., Wilson provided a spark when racing resumed by improving her Arkansas school record to 54.23 in the prelims of the 400m hurdles.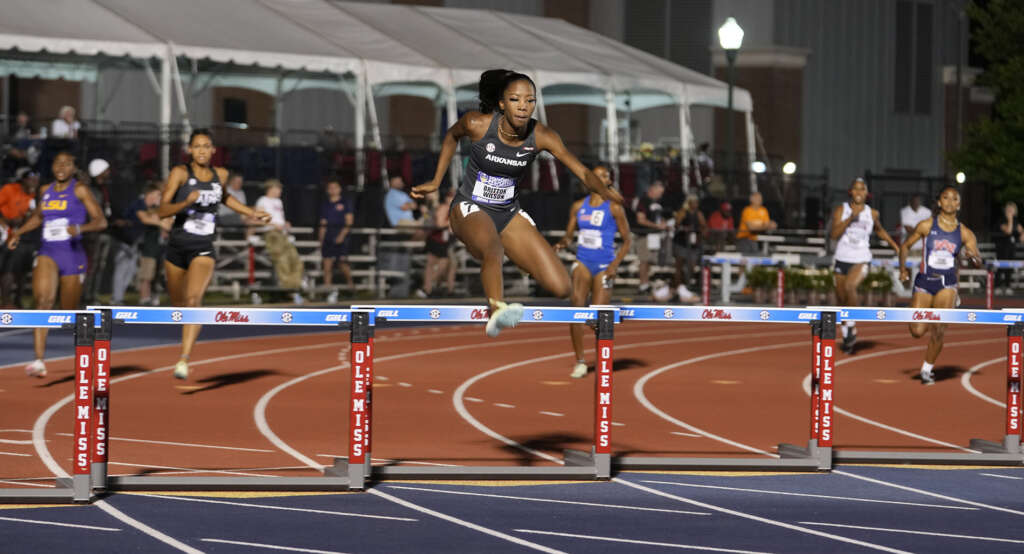 In the process of breaking the school record in the 400m hurdles for the third time this seaso, Wilson also moved to No. 8 on the all-time collegiate list and bettered the facility record of 54.50 set in 2001 by South Carolina's Lashinda Demus. On the all-time collegiate list, Demus is currently on spot ahead of Wilson with a 54.22.
"I definitely wanted to execute and just run a clean race over the hurdles," noted Wilson. "Coach Johnson wanted me to take it easy, but I felt really good, so I just went with it. The delay didn't affect me mentally, but physically I was really hungry. So, waiting around was getting really annoying."
Recent USATF heptathlon champion Anna Hall of Florida posted a time of 54.91 in the first heat of the 400m hurdles, improving her previous best time of 55.35 from earlier this season. The next best time from the rest of the field was a 56.32 by Kentucky's Masai Russell.
As Mercy Chelangat of Alabama claimed a second consecutive conference 10,000m title, Van Camp and Skylar Boogerd of Ole Miss challenged each other for the pair of remaining podium medals.
Boogerd finished in 34:11.87 for silver while Van Camp completed her first endeavor at this distance with a 34:18.83 for bronze.
Other Razorback debuts in the this event included Sydney Thorvaldson placing fifth in 35:51.06 to collect four of Arkansas' 10 points in the event. Adeotte Vaughan clocked 37:24.70 to place 17th.
"Oh, that's a long race," quipped Van Camp, who previously debuted at 5,000m earlier this season to win her section at the Mt. SAC Relays. "It was definitely fun. We were probably two miles in, and I was like 'ok, it's time to start picking it up.' Then I realized 'oh, wow, we're not halfway done.'
"There were a lot of people in the race for a really long time. It was nice to find a group to try to latch on and try to get as many points as possible to contribute to the team score. When I reached 5k physiologically it felt good. I still felt I was in a good spot, aerobically and anaerobically. I think it was more so wrapping my head around the fact that I still had a 5k left."
In the 200m qualifying race, Jada Baylark and Rosey Effiong advanced to the final. Baylark won the first heat in 23.26 (-0.3) and Effiong posted a 23.20 (-0.3) as runner-up to Kentucky's Abby Steiner (22.38). The leading time of 22.21 was established by LSU's Favour Ofili.
Racing in the 800m prelims had Kennedy Thomson (2:06.92) and Quinn Owen (2:09.59) finishing 12th and 18th among a field of 28.