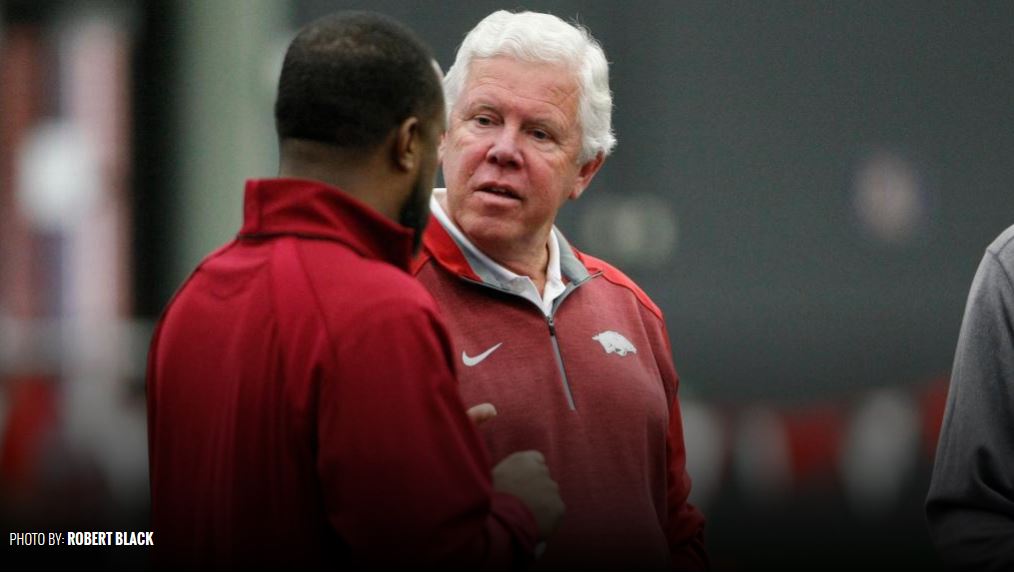 Scott, Harter Earn USTFCCCA Regional Awards
FAYETTEVILLE, Ark. – In recognition of their standout efforts through the first two months of the indoor season heading into the NCAA Championships, senior Dominique Scott and head coach Lance Harter have earned USTFCCCA regional honors as announced Friday afternoon. Scott was named the South Central Region Track Athlete of the Year while Harter was selected as the region's Coach of the Year.
The 2015 NCAA Indoor Championships will be contested March 13-14 at the Randal Tyson Track Center in Fayetteville for the 12th time. Limited seats remain with two-day, all-session tickets available at $30 for general admission. Tickets for the NCAA meet can be purchased HERE, by contacting the Razorback Ticket Center at 800-982-HOGS (4647) or by visiting the Ticket Center located just east of Baum Stadium at 1295 S. Razorback Road.
Scott was a two-time champion at last weekend's SEC Indoor Championships in Lexington, Ky., with victories in the mile and at 3,000 meters. She broke the meet record in winning the mile with her time of 4:32.49, just .01 off the school record she set earlier this season. The Capetown, South Africa, native is the top national qualifier at 3,000 meters with her school record of 8:52.57. Scott is the fifth runner in program history to win the mile-3K double at the SEC Championships.
Harter has his team ranked No. 1 in the national polls heading in to the NCAA Indoor Championships. The program had its first-ever No. 1 ranking when the polls were released Feb. 16 by the USTFCCCA. Arkansas opened the championship season with its fifth SEC indoor team title, scoring 130 points behind a program-high six event titles. The Razorbacks lead all teams with 15 national entries spread across 10 different events.
Along with Scott at 3,000 meters, the Razorbacks will also be represented by their 4×400-meter and distance-medley relays, Taliyah Brooks in the pentathlon, Leigha Brown in the pentathlon, Taylor Ellis-Watson at 400 meters, Desiree Freier in the pole vault, Alex Gochenour in the pentathlon, Sparkle McKnight at 400 meters, Sandi Morris in the pole vault, Tamara Myers in the long jump and triple jump, Diane Robison at 5,000 meters, Ariel Voskamp in the pole vault and Chrishuna Williams at 800 meters.
For more information about Arkansas track and field, follow @RazorbackTF on Twitter.