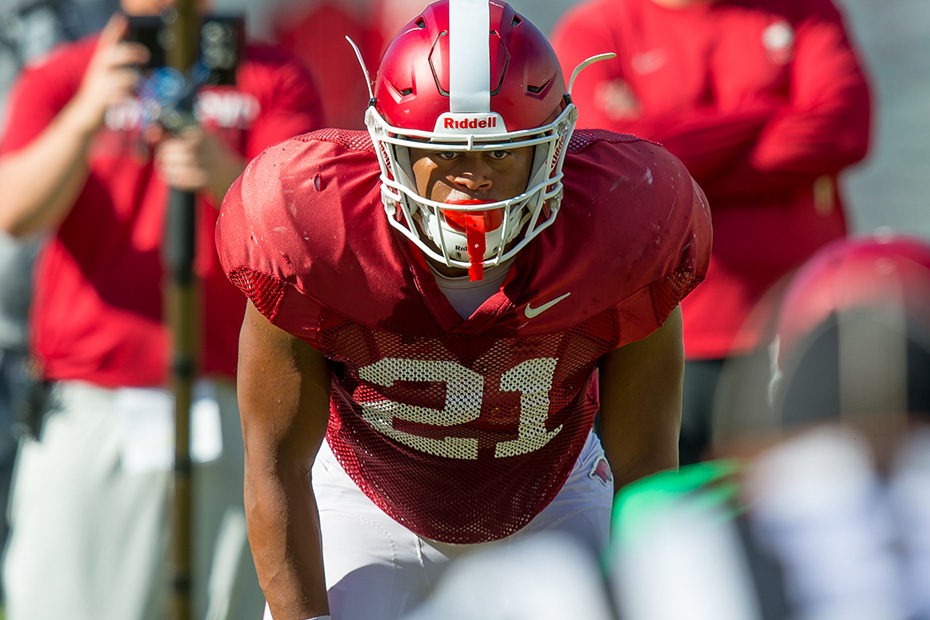 Scrimmage Takeaways: Whaley Turns Heads
FAYETTEVILLE, Ark. – Arkansas football is another week closer to kickoff.
The Razorbacks closed out their second week of preseason camp with its first scrimmage of the season Saturday inside Donald W. Reynolds Razorback Stadium. It was also the first time the team had officials and live tackling as they tried to mimic a game-like setting as much as possible.
The scrimmage, which went approximately 112 plays, started with first and second down work before moving to red zone situations and ending with full drives down the field.
First And Second Down
• Quarterback Austin Allen flashed impressive accuracy, completing six of his first seven passes. His first two completions were to wide receivers Drew Morgan and Keon Hatcher for eight and 13 yards, respectively.
• Allen later found Hatcher again for 19 yards before completing a 22-yard pass to tight end Jeremy Sprinkle. Three plays later, wide receiver Dominique Reed hauled in an 18-yard strike from the junior signal caller.
• Quarterback Cole Kelley tossed a 68-yard touchdown pass to wide receiver Cameron Colbert.
• Once again, defensive lineman Deatrich Wise Jr. led the way defensively and disrupted multiple plays.
Red Zone
• Running back Rawleigh Williams III capped a six-play series by punching in a touchdown on 4th-and-1. It was Williams' first full-contact practice since October 2015.
Move The Ball
• During the first drive, when the ball was moved down the field with new down and distance, Allen and the first-team offense orchestrated a seven-play, 75-yard touchdown drive. Williams opened with three straight runs, moving the sticks twice. Allen then hooked up with tight end Jeremy Sprinkle for a 20-yard gain. Hatcher got the offense into the red zone on a 6-yard end around. Williams grounded out another first down before Devwah Whaley finished the job with an 11-yard touchdown run.
• Whaley, a freshman from Beaumont, Texas, had several impressive runs on the day, including multiple rushes of at least 20 yards. He finished with just under 100 yards rushing and one touchdown.
Quotable
"He showed some burst and turned some heads today." – Head coach Bret Bielema on Whaley's performance.
Up Next
The Razorbacks will hold Fan Day tomorrow at Donald W. Reynolds Razorback Stadium before returning to the Fred W. Smith Football Center outdoor practice fields Monday.