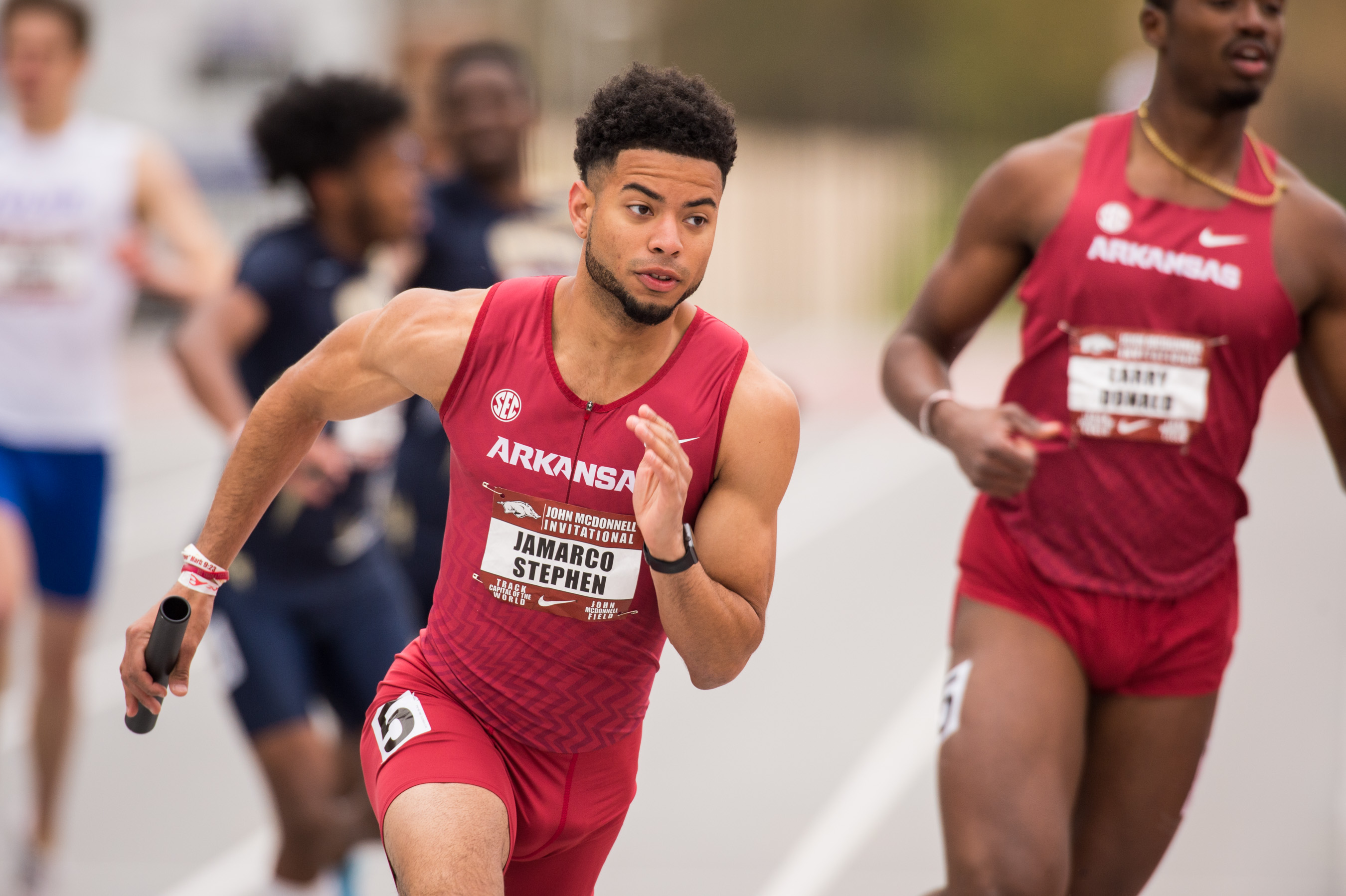 Season-Best Marks Close Out John McDonnell Invitational
FAYETTEVILLE, Ark. – With the weather yielding less than favorable conditions, No. 11 Arkansas wrapped up the John McDonnell Invitational posting multiple season-best marks on the track and in the field.
"The men that were competing today did a great job of battling the elements," said head coach Chris Bucknam.
"I thought we made some progress in some areas throughout the weekend. You really had two totally different type of days. You had a warm windy day (Friday) and now you have a cold windy day (Saturday).  Our 1,500-meter guys and our distance guys all got a good run in. I think we came through without injuries and put it in the books. We'll hope for warmer weather next week in California and Texas," Bucknam finished.
In the first event of the day, Erich Sullins picked up right where he left off yesterday as the junior finished the hammer throw with a season-best mark of 60.73m (199'-3") that fell just a few feet short of his personal best of 61.82m (202′-9.75″) that he set last season at the Arkansas Twilight meet in May.
The 400-meter events proved to be successful for the Razorbacks as the duo of Larry Donald (51.49) and Travius Chambers (51.72) went 1-2 in the 400-meter hurdles while Jamarco Stephen (47.44) and John Winn (48.04) finished 1-4 in the 400-meter open. Chambers and Stephen both finished with season-best performances in their respective events.
The season-best times continued to roll in for Arkansas moving up to the 800-meters where Chase Pareti and Reese Walters crossed the line with times of 1:55.49 and 1:56.02 – both season-bests.
It was a 1-2-3 sweep in the 1,500-meters with Cameron Griffith leading the way. Griffith at 3:45.42 – a new personal best – was followed by Ethan Moehn (3:49.75), Kyle Hosting (3:49.81), Kyle Levermore (3:51.83), Andrew Ronoh (3:55.33), Ryan Murphy (3:55.59), Gilbert Boit (3:56.58), and Austen Dalquist (3:58.14) in second, third, fifth, 10th, 11th, 12th, and 14th-places, respectively. Hosting, Murphy, and Boit also turned in personal-bests in the event.
Preston Cates ran 8:48.62 in the 3,000-meters for seventh-place while Rubin Owens jumped out to 14.74m (48′-4.50″) in the triple jump finishing third overall.
Alex Springer tossed the javelin 61.18m (200′-9″) to win the event while Andrew Henn finished with a throw of 55.25m (181′-3″) for third.
Saturday Results
John McDonnell Invitational
Hammer Throw
1. E. Sullins – 60.73m (199′-3″)
400-meter hurdles
1. L. Donald – 51.49
2. T. Chambers – 51.72
400-meters
1. J. Stephen – 47.44
4. J. Winn – 48.04
800-meters
7. C. Pareti 1:55.49
9. R. Walters 1:56.02
1,500-meters
1. C. Griffith – 3:45.42
2. E. Moehn – 3:49.75
3. K. Hosting – 3:49.81
5. K. Levermore – 3:51.83
10. A. Ronoh – 3:55.33
11. R. Murphy – 3:55.59
12. G. Boit – 3:56.58
14. A. Dalquist – 3:58.14
3,000-meters
7. P. Cates – 8:48.62
4-x-400 meter relay
1. Arkansas – 3:12.12
Javelin
1. A. Springer – 61.18m (200′-9″)
3. A. Henn – 55.25m (181′-3″)
Triple Jump
3. R. Owens – 14.74m (48'—4.50″)
For more information on Arkansas track and field including in-meet updates, follow @RazorbackTF on Twitter.