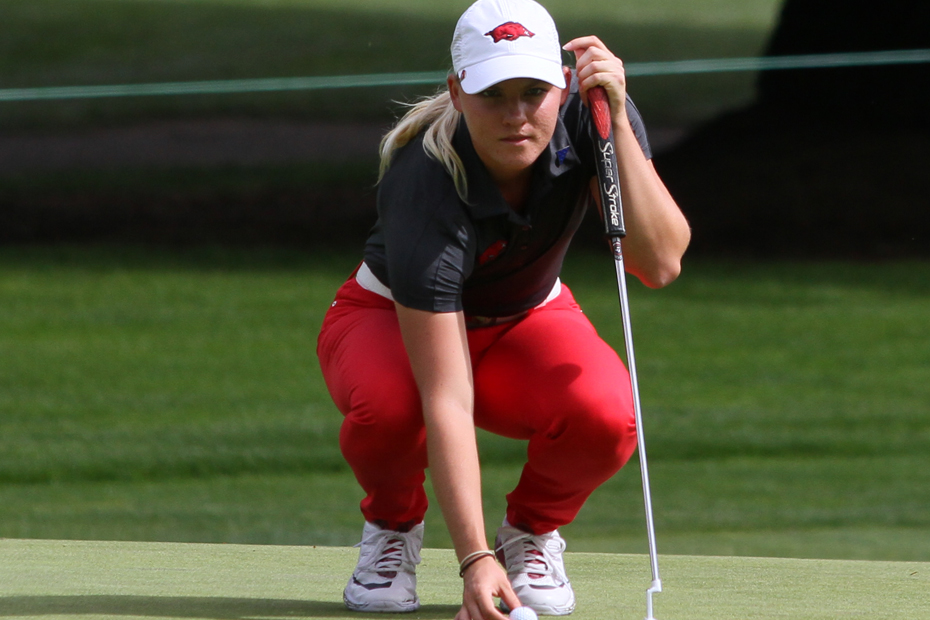 Season Ends For No. 11 Razorbacks
Results (pdf) | Photo Gallery
EUGENE, Ore. – University of Arkansas sophomore Alana Uriell tied for 20th place overall but the Razorbacks missed the cut to match play at the 2016 NCAA Women's Golf Championship on Monday. The No. 11 Razorbacks finished tied for 12th place after the final round of stroke play.
The Razorbacks posted a four-over 292 in the final round shooting 292-291-298-292 — 1173, missing the cut for match play by seven strokes.
Uriell, a Carlsbad, California, native, was solid all week and finished shooting 70-74-74-71 — 289. Her final round featured five birdies including her two finishing holes on Nos. 8 and 9 to finish one-under on the day.
Freshman Cara Gorlei finished even on Monday and tied for 36th overall in her first postseason appearance, while freshman Maria Fassi was two-over on the day and finished tied for 53rd with a 295. Senior Regina Plasencia tied for 66th in her final event as a Razorback and junior Summar Roachell rounded out the Razorback scores with a 306 and a tied for 76th.
From Shauna Estes-Taylor
"We fell short of our end goal but I'm really proud of this group and their fight, passion and love to put on this uniform and compete. I can't say enough about Regina (Plasencia) and this being her final event as a Razorback. She has encompassed everything I look for in a student-athlete. She loves the game, listens, works hard, does well in school and is grateful for the opportunity given to her. She's really impacted our program in a positive way. We have a lot of great young talent on this team. Alana (Uriell) got a top-20 finish and birdied her final two holes. Maria (Fassi) and Cara (Gorlei) are the young blood for our team. And Summar (Roachell) … she'll be the old lady of the team as the only senior next year. I'm disappointed that we fell short of our goal but it's always great to have an opportunity to play for a national championship."
Notes
• This is Arkansas' eighth team NCAA appearance, and the second consecutive showing
• Arkansas' 292 in round one was the lowest team score at an NCAA Championship in program history
• Sophomore Alana Uriell's first round 70 tied for the fourth-lowest individual round at an NCAA Championship
• The Razorbacks were ninth in last year's NCAA Championship – the first year of the current format of play
| | | |
| --- | --- | --- |
| T20 | Alana Uriell | 70-74-74-71 — 289 |
| T36 | Cara Gorlei | 73-71-76-72 — 292 |
| T53 | Maria Fassi | 78-72-71-74 — 295 |
| T66 | Regina Plasencia | 73-74-78-75 — 300 |
| T76 | Summar Roachell | 76-78-77-75 — 306 |