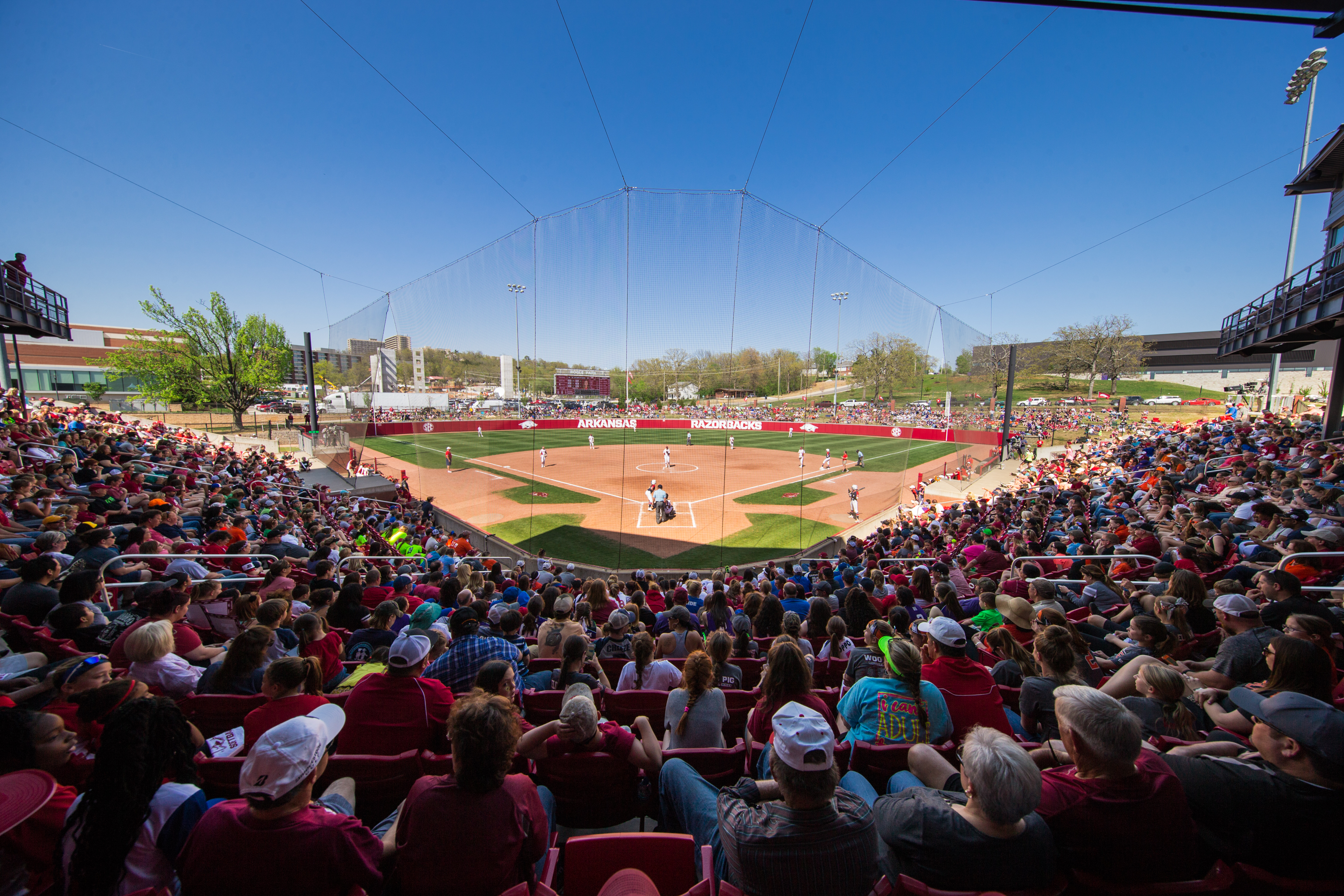 SEC Announces Softball TV Schedule
BIRMINGHAM, Ala. – The Southeastern Conference announced the television schedule for the 2019 softball season that includes at least 12 opportunities to see the 12th-ranked Arkansas softball team on national television.
The Razorbacks are entering their fourth season under head coach Courtney Deifel after advancing to its first super regional in 2018.
Sophomore Mary Haff was named to the preseason All-SEC team voted on by league coaches, in addition to being named a preseason second-team All-American by Fast Pitch News.
The Razorbacks have been touted as a preseason top-15 team by three publications, coming in at No. 12 in the ESPN/USA Softball poll, No. 14 in the USA Today/NFCA Coaches Poll, and No. 15 in the first ever Softball America poll.
Arkansas is scheduled to begin play for the 2019 season Friday, Feb. 8 in Lake Charles, La. against Campbell and McNeese State. The Razorbacks will return to Bogle Park Feb. 21 against Southeast Missouri State. Arkansas' first nationally televised contest is slated for Sun. March 10 at Ole Miss on the SEC Network.
For more information on Arkansas softball, including in-game updates, follow @RazorbackSB on twitter.
| | | | |
| --- | --- | --- | --- |
| Date | Time (ET) | Game | Network |
| Sun, Mar 10 | 6 p.m. | No. 12 Arkansas at Ole Miss | SEC Network |
| Mon, Mar 11 | 7 p.m. | No. 12 Arkansas at Ole Miss | SEC Network |
| Fri, Mar 22 | 4 p.m. | No. 12 Arkansas at No. 8 Tennessee | ESPNU |
| Sat, Mar 23 | 6 p.m. | No. 12 Arkansas at No. 8 Tennessee | SEC Network |
| Sun, Mar 24 | Noon | No. 12 Arkansas at No. 8 Tennessee | ESPNU |
| Sat, Apr 6 | 6 p.m. | No. 12 Arkansas at No. 5 Florida | SEC Network |
| Sun, Apr 7 | 1 p.m. | No. 12 Arkansas at No. 5 Florida | ESPN2 |
| Sat, Apr 20 | 2 p.m. | No. 10 LSU at No. 12 Arkansas | ESPNU |
| Sat, Apr 27 | 9 p.m. | No. 12 Arkansas at No. 20 Texas A&M | SEC Network |
| Sun, Apr 28 | 8 p.m. | No. 12 Arkansas at No. 20 Texas A&M | SEC Network |
| Mon, Apr 29 | 7 p.m. | No. 12 Arkansas at No. 20 Texas A&M | SEC Network |
| Sat, May 4 | 6 p.m. | No. 17 Auburn at No. 12 Arkansas | ESPNU |
| Sun, May 5 | 1 p.m. | Bases Loaded | SEC Network |