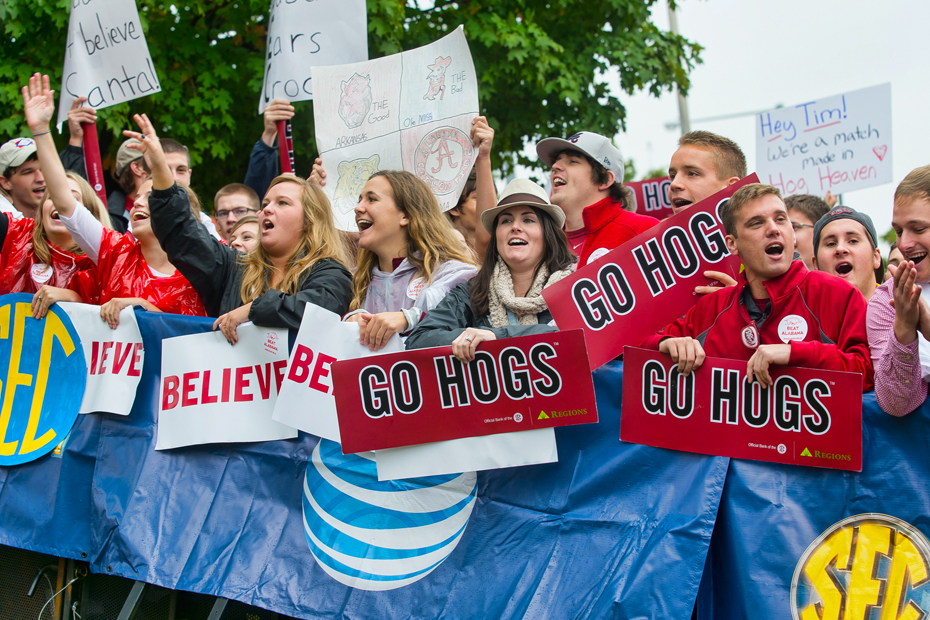 SEC Nation Is In Fayetteville
The University of Arkansas will host SEC Nation this weekend as the Razorback football program takes on UTEP at 2:30 p.m. on Saturday, Sept. 5. The show will broadcast live on Saturday morning from 8 to 11 a.m. from Victory Village North.
WHO: Fans are encouraged to join members of the Razorback Marching Band, spirit squads and your favorite mascot, Big Red, as Arkansas welcomes the SEC Nation crew featuring Joe Tessitore, Greg McElroy, Marcus Spears, Paul Finebaum and Kaylee Hartung. 
WHAT: SEC Nation is the SEC Network's morning show, kicking off game day with all of your SEC football coverage. The show will tour all 14 SEC campuses this season and is coming to Arkansas this weekend for the UTEP game.
WHEN: Saturday, Sept. 5 from 8 – 11 a.m.
WHERE: Victory Village North; Fans unable to attend can watch the show on SEC Network.
WHY: Show the national television audience that Arkansas has the best fans in the country! The first 250 students on Saturday will receive free breakfast plus the University of Arkansas student with the most creative and humorous sign will win $500! Please remember that signs must be appropriate for all ages. If your grandmother would not approve, then don't make it!
SEC Network's traveling pregame show, SEC Nation, returns to Saturday mornings on Sept. 5 at 8 a.m. CT, live from the University of Arkansas.
Each week host Joe Tessitore will be joined by analysts Greg McElroy and Marcus Spears, alongside Paul Finebaum and reporter Kaylee Hartung with the morning headlines, matchup previews and a taste of each school's tailgating scene.
SEC Nation is kicking off the football season in Fayetteville, Arkansas for the Razorbacks opening game against UTEP. The set returns to Victory Village Saturday, Sept. 5 with a new face at the desk. As announced previously, McElroy joins the show for its sophomore season after providing in-studio analysis for SEC Now, in addition to covering halftimes for every SEC Network football game and recapping the day of Southeastern Conference games every Saturday last year.
The show last visited Fayetteville prior to the Oct. 11, 2014 Alabama matchup, and had a memorable line-up of guests that included Arkansas super-fan and owner of the Dallas Cowboys, Jerry Jones, and head coach Bret Bielema (photos here).
Razorback fans are invited to arrive early to be a part of the second season premiere and spend the morning tailgating on national television. The three-hour show is live at 8 a.m. CT.