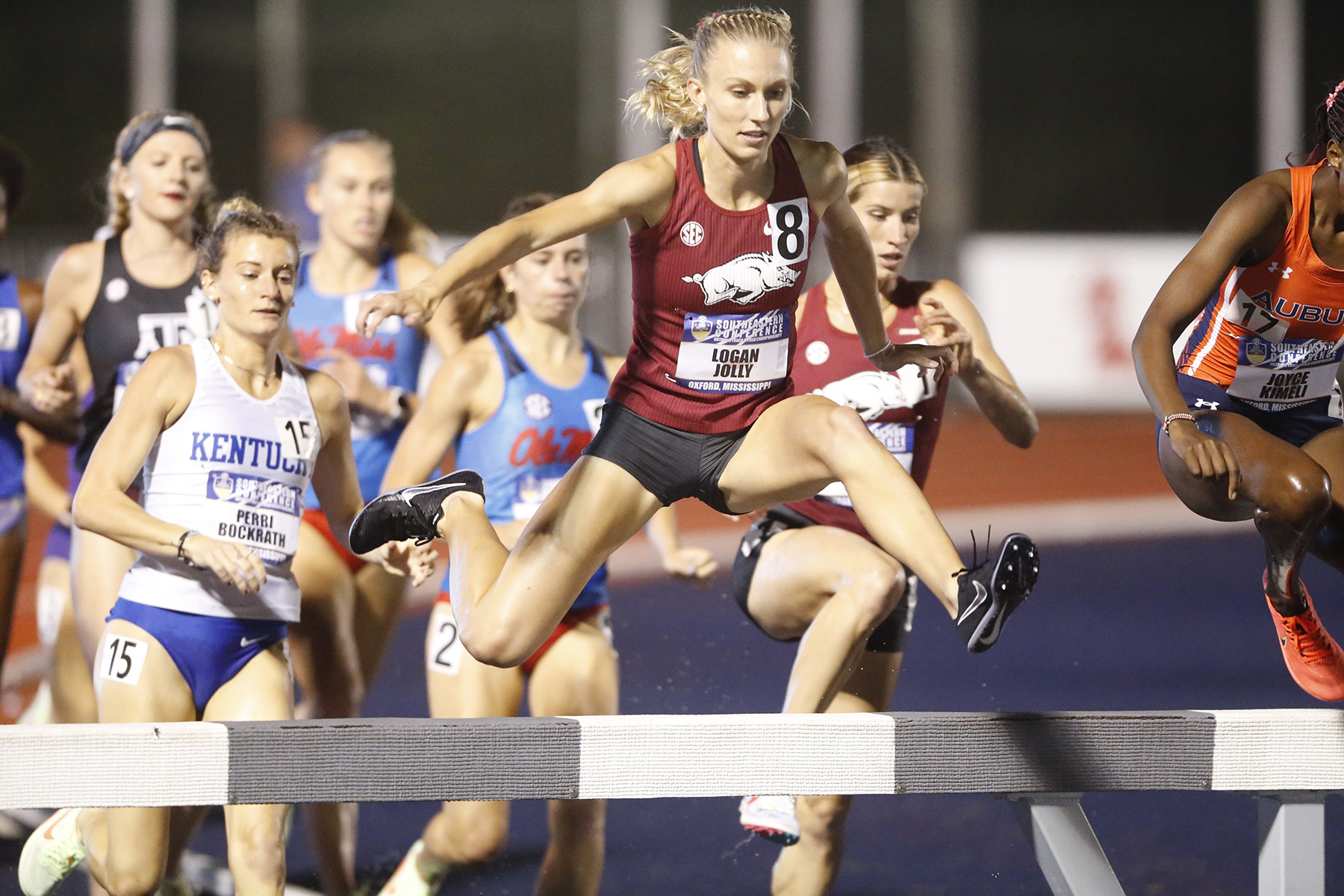 SEC steeple 3-4 finish for Logan Jolly, Krissy Gear
OXFORD, Miss. – Racing late into the evening at the SEC Outdoor Championships after a five hour-plus weather delay, Arkansas totaled 11 points in the steeplechase from a third and fourth place finish by Logan Jolly and Krissy Gear.
Through seven of 21 scored events Auburn currently leads the team scoring with 36 points, followed by Florida (32) and Texas A&M (28). Tight quarters separate the next three schools by just half a point – Georgia (27.5), Ole Miss (27), and Alabama (26). Arkansas is currently in seventh place with 22 points.
Jolly was one of three athletes to break the Ole Miss facility record of 9:58.31 set earlier this season by Kayla Schiera of Southern Illinois. She produced a time of 9:57.11 to finish behind Auburn's Joyce Kimeli (9:49.13) and Kentucky's Perri Bockrath (9:52.48).
Gear, who set the meet record of 9:38.62 in winning the title in 2021, placed fourth in 10:03.34 after falling at the water jump midway through the race.
Qualifying went well for the Razorbacks as seven advanced in four events.
Lauren Gregory and Gear qualified for the 1,500m final by finishing 1-2 in their prelim heat. Gregory posted a 4:16.91 while Gear finished in 4:16.97 as they were second and fifth overall.
Yoveinney Mota produced a 13.09 to place third in her prelim heat behind Kaylah Robinson of Texas A&M (12.89) and Florida's Grace Stark (12.94). LSU's Alia Armstrong led the field with a 12.87.
After leading the 400m hurdle prelims with a school record on Thursday, Britton Wilson had the leading time in the 400m prelims as she ran 51.20. Joining Wilson in the final are teammates Rosey Effiong (51.75) and Morgan Burks-Magee (52.22).
Jada Baylark advanced in the 100m with an 11.56 that was fifth best overall. Joanne Reid placed 16th overall with an 11.85.