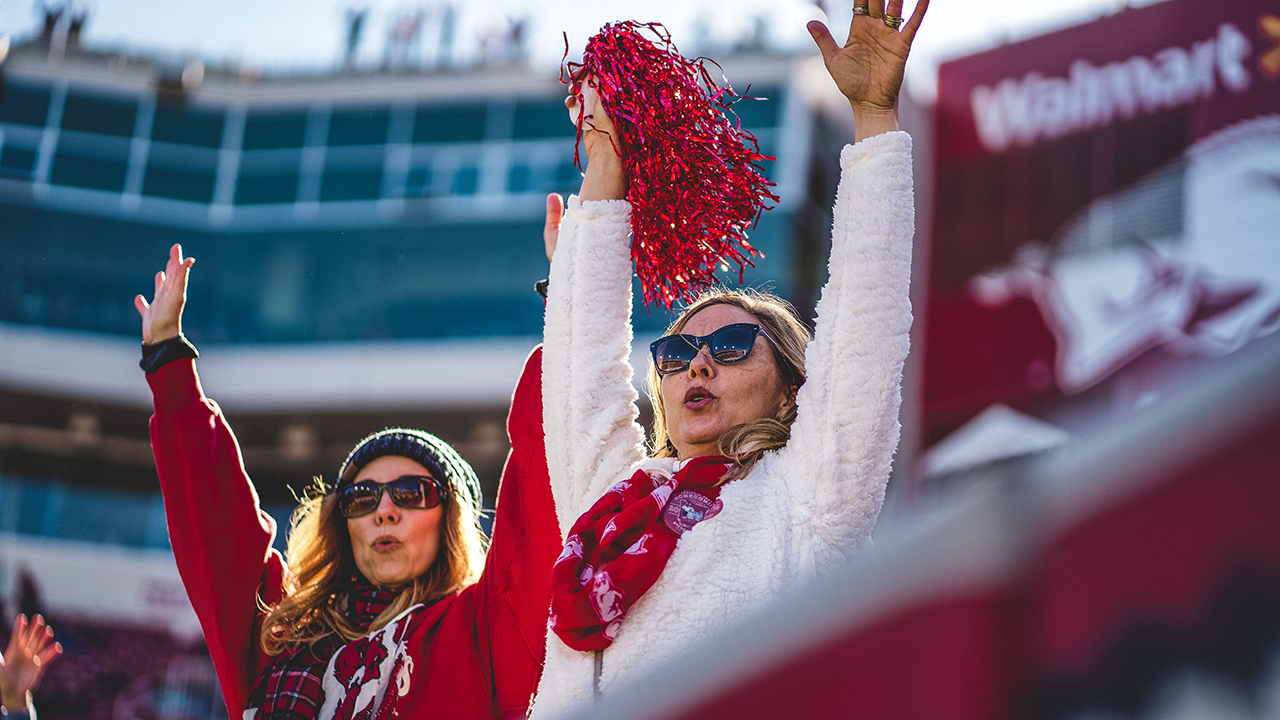 Senior Day on Saturday at DWRRS
It's Senior Day at Donald W. Reynolds Razorback Stadium this Saturday! As you prepare for gameday this week, here's EVERYTHING you need to know.
Senior Day Ceremony
Starts at 10:35 a.m
We'll be honoring our 17 senior football players before the game for their contributions to the University of Arkansas. Be in your seat early to be a part of it.
---
HogTown Street Festival
Starts at 7 a.m
*New breakfast food truck Delta Biscuit Company serving up hot breakfast on a biscuit!
Located on Maple Street between Razorback Road and Stadium Drive, this all-new pregame destination for fans of all ages will open four hours prior to each game and conclude 30 minutes prior to kickoff. There's something for everyone:
Enjoy live music by Members Only on the iHeartRadio main stage
Videoboard featuring college football games from around the country
Beer garden & food trucks (Happy Hour Specials include $5 Drafts & $5 Spiked Seltzers) plus a variety of food trucks
Kids activities including inflatables, balloon artists and face painting
To accommodate the expanded setup into that lane, ALL lanes of Maple Street between Razorback Rd and Stadium Drive will be closed to all traffic beginning at 7 p.m. on Friday night.
---
Hog Walk
Begins at 8:30 a.m.
Coach Chad Morris and the team will begin its walk two hours and 30 minutes prior to kickoff north of Victory Village and the Tyson Poultry Science Center and proceed through the tailgating area to the new HogTown Street Festival. Once to HogTown, the Razorback Band, spirit squads and Tusk V will help lead the team across Maple Street and through the parking lot to Donald W. Reynolds Razorback Stadium.
Earn $5 OFF Your Next Ride with Lyft Program
Fans may take advantage of a new rideshare program with discounted rates. Sponsors Anheuser Busch and Lyft encourage safe driving by providing a $5 Lyft ride discount to and from each Razorback Football game. The designated Rideshare Drop/Pickup zone is located at the Student Union just east of the stadium. To claim the discount on Saturday, use the promo code HOGSRIDEHOME6 in the Lyft app.
---
Public Parking Options
There is free, public parking available for fans at Baum-Walker Stadium. Shuttle service is provided from Baum-Walker to DWRRS. Additional public parking options include the Spring Street Parking Garage just off Dickson Street where fans can park for free and utilize a $5 shuttle service to and from the stadium.
---
Pregame Traffic Patterns & Flow (Click here to view enlarged map)
Goes into effect at 7 a.m.
To ensure you're on the fastest and most efficient route possible to your parking lot, please take a moment to view the traffic flow patterns and find the color that coordinates with the color of your parking lot.
PREGAME TRAFFIC FLOW
POSTGAME TRAFFIC FLOW
---
How to Transfer Your Tickets
If you can't make it to Saturday's game (or any game) remember that you do have the option to transfer your tickets to a friend or family member to use. You can log in to your account and transfer them to someone that can go!. Here is a step-by-step process on how to transfer your tickets. | How to Transfer Tickets
---
Clear Bag Policy
Guests may bring otherwise approved items into Donald W. Reynolds Razorback Stadium using bags that are clear plastic, vinyl or PVC and do not exceed 12" x 6" x 12" or one-gallon clear plastic freezer bag (Ziploc bag or similar). Individuals may also carry a small clutch purses, no larger than 4.5" x 6.5", with or without a handle or strap. All clear bags and clutch purses will be screened prior to entry into the venue. All bags and purses not meeting the above requirements will not be permitted. Although permitted, childcare items, including diapers, must also be carried in an approved clear bag. Individuals carrying required medical supplies or devices into the venue are not subject to the clear bag policy. However, a through screening of the bag and the medical items will be conducted prior to entry. The person requiring these supplies or devices must accompany the bag at all times. Medical exception bags will be tagged once cleared through security.