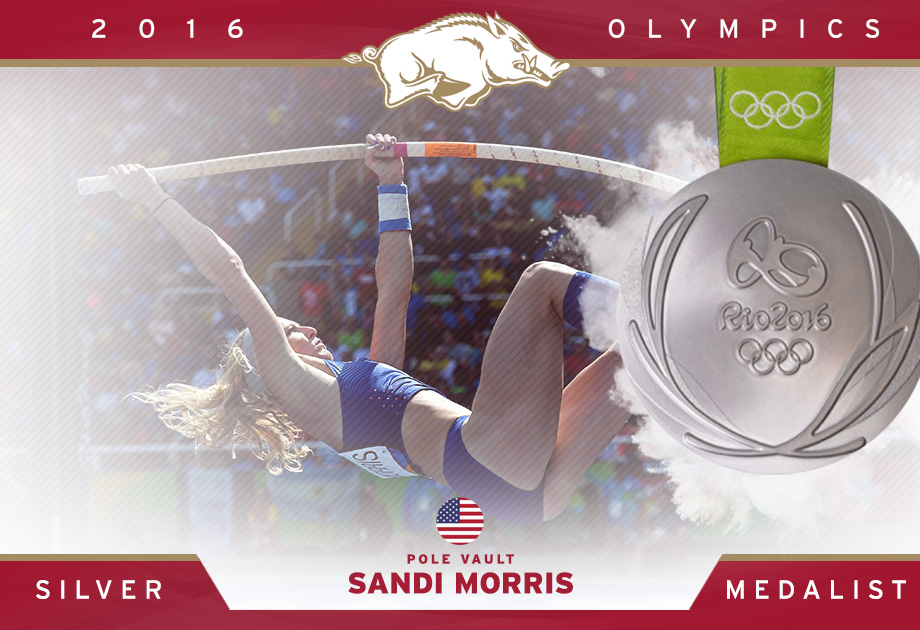 Silver Sensations
RIO DE JANEIRO, Brazil – One of the greatest collegiate vaulters in NCAA history, Sandi Morris took her prestige to new heights, earning a silver medal on Friday evening in Rio de Janeiro to cap her Olympic debut in phenomenal fashion.
The Greenville, South Carolina, native kicked off the night with two-consecutive first attempt clearances before faltering slightly at 4.70m/15-5.
Regaining her composure on her second attempt of the height Morris resumed her methodical rhythm, clearing the bar with ease and positioning herself in contention for place on the podium as one of only six vaulters to post a successful clearance.
Following another slight misstep at 4.80m/15-9, Morris continued to forge on determined in her pursuit of an immensely coveted Olympic medal. Bouncing back once again on her second attempt, Morris joined an elite group of only four athletes who managed to clear the high 15 foot bar.
Morris closed the night with a final clearance of 4.85m/15-11, capturing a silver medal for Team USA in the pole vault after a near miss attempt at 4.90m/16-0 3/4.
| Morris' Progressions | |
| --- | --- |
| Bars | Attempts |
| 4.22m/13-10 | PASS |
| 4.32m/14-2 | PASS |
| 4.42m/14-6 | PASS |
| 4.52m/14-10 | X-O |
| 4.58m/15-0 1/4 | O |
| 4.64m/15-2 3/4 | O |
| 4.70m/15-5 | X-O |
| 4.76m/15-7 1/4 | X-PASS |
| 4.82m/15-9 3/4 | O |
| 4.88m/16-0 | O |
| 4.94m/16-2 1/2 | O |
| 5.00m/16-5 | X-O |
| 5.07m/16-7 1/2 | X-X-X |
4-x-100 Finals
Remarkably decorated five-time Olympian Veronica Campbell-Brown collected her eighth career Olympic medal with runner-up finish in the 4-x-100-meter relay.
Campbell-Brown was part of a foursome that included double gold medalist Elaine Thompson and the dynamic Shelly-Ann Fraser Price, crossing the finish line for the silver behind Team USA in 41.36 seconds.
She now owns three Olympic golds, three silvers and two bronze collected from 2000 to 2016.
Two bronze medals proved just out of reach for Team USA 4-x-100 relay members Tyson Gay and Jarrion Lawson as the group was disqualified following their third place finish for an illegal exchange.
4-x-400 Prelims
Former Razorback quarter-miler Taylor Ellis-Watson represented the U.S. on the track as the second leg of the 1,600-meter relay team.
Receiving the baton in the lead from former Texas Longhorn Courtney Okolo, Ellis-Watson never relinquished her advantageous position, splitting 50.46 before passing the baton to veteran sprinter Francena McCorory. The quartet which included former Oregon Duck Phyllis Francis finished with the best time of the day and new world lead of 3 minutes, 21.42 seconds.
Team USA will race the 4-x-400 final on Saturday, Aug. 20 at 8:00 p.m. CST.
For more information on Arkansas track and field including in-meet updates, follow @RazorbackTF on Twitter.