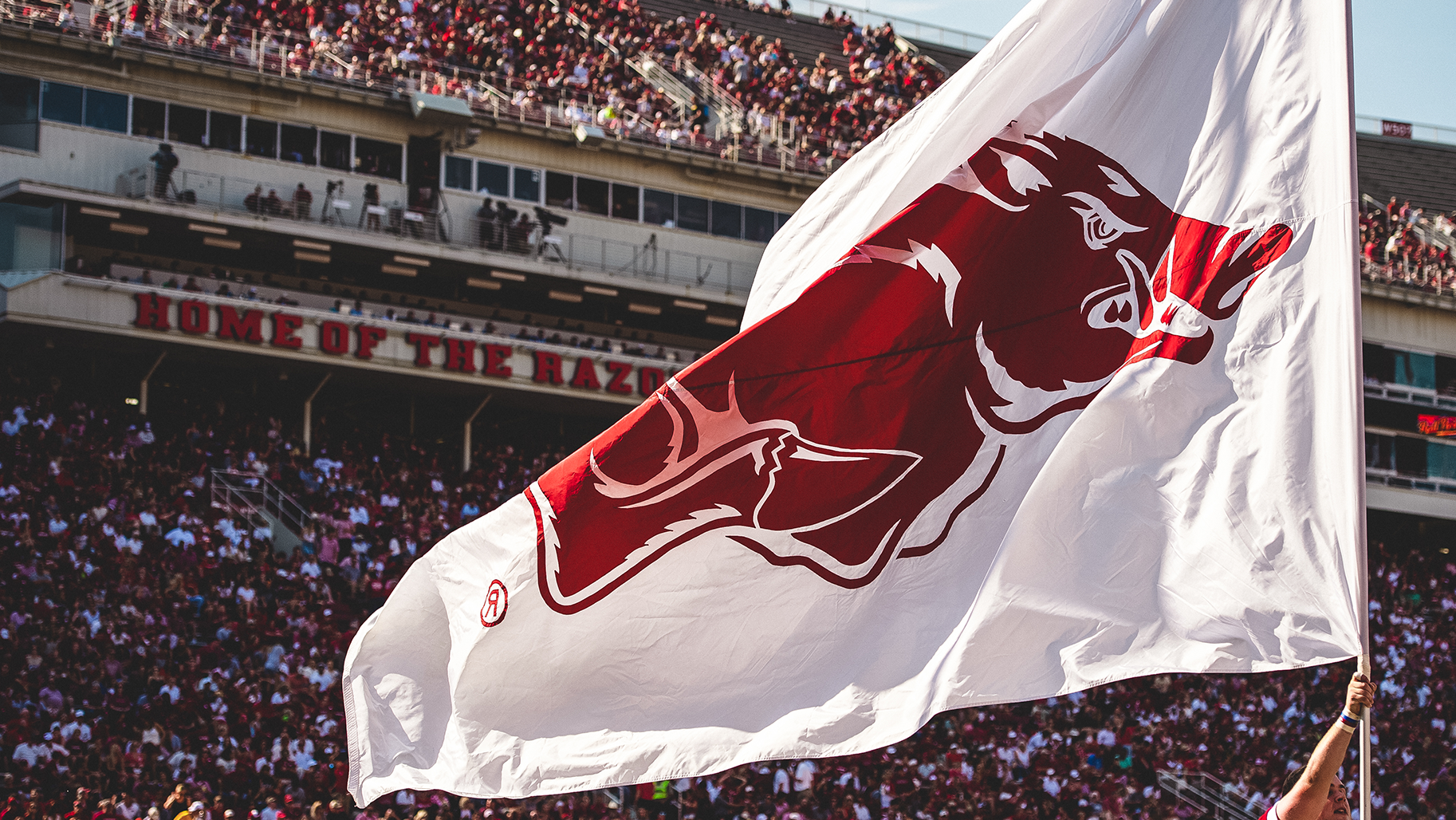 Six Razorback Greats Selected for 2021 UA Sports Hall of Honor Class
FAYETTEVILLE, Ark. – Six former University of Arkansas student-athletes, including a former and current track and field Olympian, a member of the 1994 Razorback Basketball national championship team, two football standouts and a softball pioneer, have been selected as members of the 2021 class of the University of Arkansas Sports Hall of Honor.
Brian Wellman (men's track and field), Clint McDaniel (Men's basketball), George Stewart (football), Robert Farrell (football), Tiffany Woolley Moyer (softball) and Sandi Morris (women's track and field) will be formally inducted, along with members of the 2020 UA Sports Hall of Honor class, in a ceremony to be held on Friday, September 17, 2021, at the Walton Arts Center in Fayetteville. The ceremony will be held the night prior to the Arkansas-Georgia Southern football game at Donald W. Reynolds Razorback Stadium.
Due to the global pandemic and a corresponding limitation on large public gatherings, a 2020 Hall of Honor ceremony was not held. Members of the 2020 class also scheduled to be inducted this September include Corey Beck (men's basketball), Jon Brittenum (football), Ralph Kraus (baseball), Amanda McCurdy (women's golf), Darren McFadden (football) and Coach Ken Turner (football).
Inductees are elected to the UA Sports Hall of Honor based on a vote by former Razorback letter winners in conjunction with the A Club.
"We are excited to once again celebrate an outstanding group of Razorback legends as part of the UA Sports Hall of Honor," Vice Chancellor and Director of Athletics Hunter Yurachek said. "Collectively, the members of the 2020 and 2021 class, have compiled an impressive list of accomplishments. These men and women helped shape our program, while providing the Razorback Nation with countless memorable moments along the way. We look forward to celebrating their extraordinary careers this fall."
Tickets for the 2021 UA Sports Hall of Honor banquet are now on sale online at WaltonArtsCenter.org. Tickets are $45. Sponsorships for the banquet are also available. For more information, contact the Razorback Foundation at (479) 443-9000.
2021 UA Sports Hall of Honor Inductees
Robert Farrell
Football
Farrell played for the Razorback football team from 1976-79, lining up at receiver for head coach Lou Holtz for the last three years of his collegiate career. Farrell played for an Arkansas team that racked up 30 wins over the first three years of Holtz' time leading the Hogs, which included two top-10 finishes and SWC Co-Champions in 1979. He hauled in 13 passes in both 1977 and 1978, totaling 241 yards & one touchdown in '77 and 229 receiving yards & four scores in '78. Farrell capped his college career with 21 receptions and 401 yards, with one TD, in 1979 to average 19.1 yards per catch. One of the most memorable plays in Farrell's career for Razorback fans came in 1977 as the No. 8 Razorbacks and No. 11 Texas A&M met in middle November. With 1:41 left in the game, Ron Calcagni found Farrell for a 58-yard touchdown to give the Razorbacks a 26-20 win and propel them to the 1978 Orange Bowl, which featured a 31-6 drumming of No. 2 Oklahoma.
Clint McDaniel
Men's Basketball
Clint McDaniel played for the Arkansas Razorback basketball team from 1992-95 and was an All-SEC selection in 1995 as well as a member of the Final Four All-Tournament Team in that year. He was a member of Arkansas's 1994 National Championship team that defeated Duke 76-72 and the 1995 National Runner Up team. McDaniel played in 125 games during his four seasons at the University of Arkansas and amassed a total of 1,007 points and 226 steals, 102 of which came in the 1994-95 season and are the most in a season for Arkansas and the SEC. He led the Razorbacks in free throw percentage in 1993-94 and scored an average of 8.1 points per game during his career.
Sandi Morris
Women's Track and Field
Sandi Morris is the American record holder in the pole vault, 2016 Olympic silver medalist, 2018 World Indoor champion and three-time world silver medalist. In 2021, Morris will compete for Team USA in the pole vault in her second Olympic Games in Tokyo. As a Razorback, Morris claimed the 2015 NCAA Indoor title, won three SEC titles, earned four All-America honors and named a two-time CoSIDA Academic All-American. In 2015, selected SEC Indoor Field Athlete of the Year and Scholar-Athlete of the Year as well as a semifinalist for Bowerman award. During 2015 indoor season, Morris broke collegiate record with a vault of 15-1 ½ (4.61) and followed with a pair of low-altitude collegiate records. A clearance of 15-1 ¾ (4.62) at the 2015 John McDonnell Invitational bettered the collegiate outdoor record of 15-1 ½ (4.61) set by Razorback Tina Sutej in 2011. Morris improved the record to 15-5 ¾ (4.72) in winning the 2015 SEC Outdoor title. In 2016, eclipsed the American outdoor record with a vault of 16-2 (4.93) and improved it with a world-leading 16-4 ¾ (5.00) to claim the Diamond League final. Morris has six USATF titles (indoor – 2016, 2017, 2019, 2020; outdoor – 2018, 2019) and collected one gold and three silver World Championship medals. Equaled her indoor career best of 16-2 ¾ (4.95) to win 2018 Word Indoor title.
Tiffany Woolley Moyer
Softball
The 2002 SEC H. Boyd McWhorter Scholar-Athlete of the Year, Woolley was a four-year starter at four different positions for the Lady Razorback softball team, leading Arkansas to NCAA Regional appearances in her sophomore and senior seasons. She was voted to multiple all tournament teams, including the SEC All-Tournament Team her junior year.  As a senior, she led Arkansas in 12 of 18 statistical categories. Woolley was a two-time CoSIDA Academic All-American and was twice named the Boyd McWhorter Scholar-Athlete of the year by the SEC. She was also selected as team MVP in her junior season. As a sophomore, she was voted as the Most Inspirational player and won the team's Golden Glove Award. In her freshman season, she set the Razorbacks' mark for consecutive games with a hit. Woolley currently holds the career record for assists, as well as the single season record.  A summa cum laude graduate with a 4.0 GPA in Accounting, she was the Walton College of Business' Most Outstanding senior graduate in 2002.
George Stewart
Football
A three-year letter winner at offensive guard under legendary head coach Lou Holtz from 1978- 80, Stewart helped the Razorbacks earn a share of the 1979 Southwest Conference title and make appearances in four-straight bowl games. The Little Rock native was an All-SWC honoree as a junior in 1979, served as a team captain in 1980 and earned a spot on the Arkansas All-Decade Team for the 1970s. Following his collegiate career, Stewart signed with the Kansas City Chiefs in 1981. He began his coaching career in 1983, when he was hired by Coach Holtz as a graduate assistant, working with tight ends. He went on to have assistant coaching stints at Minnesota and Notre Dame before beginning his NFL coaching career in 1989 as Pittsburgh Steelers special teams and wide receivers coach for multiple teams in his more than 30 year professional coaching career. Stewart spent three seasons with the Steelers, four seasons with the Tampa Bay Buccaneers and seven seasons with the San Francisco '49ers. He coached with the Atlanta Falcons for four seasons, 10 seasons with the Minnesota Vikings and four seasons with the Los Angeles Chargers. Stewart now works for the National Football League.
Brian Wellman
Men's Track and Field
Wellman won two NCAA triple jump titles and was a three-time All-American while adding a pair of conference titles. Representing Bermuda in international competition, Wellman competed in four Olympic Games (1988, 1992, 1996, 2000), placing fifth in Barcelona and sixth in Atlanta. Wellman established a national record of 58-1 ¾ (17.72), which currently ranks No. 11 on the all-time world list, when he claimed gold at the 1995 World Indoor Championships after earning bronze in 1993. Collected a silver medal at the 1995 World Outdoor Championships, having set a national record earlier in the outdoor season that year with a mark of 57-9 ¾ (17.62) in El Paso. With the Razorbacks, Wellman claimed NCAA Outdoor triple jump titles in 1991 and 1992, while earning a bronze medal at 1992 NCAA Indoor. Won 1991 SWC Outdoor and 1992 SEC Indoor triple jump. Best mark of 57-1 ¼w (17.41) from 1991 ranks eighth all-time on collegiate all-conditions list. Wellman also won the 1991 World University Games title. In addition to the World Championship medals Wellman earned, he placed sixth in 1991, eighth in 1993, fifth in 1997 and sixth in 2001 at World Outdoor Championships. In 2020, the long and triple jump runway at the National Sports Center in his native Bermuda was named the Brian Wellman Runway in his honor.