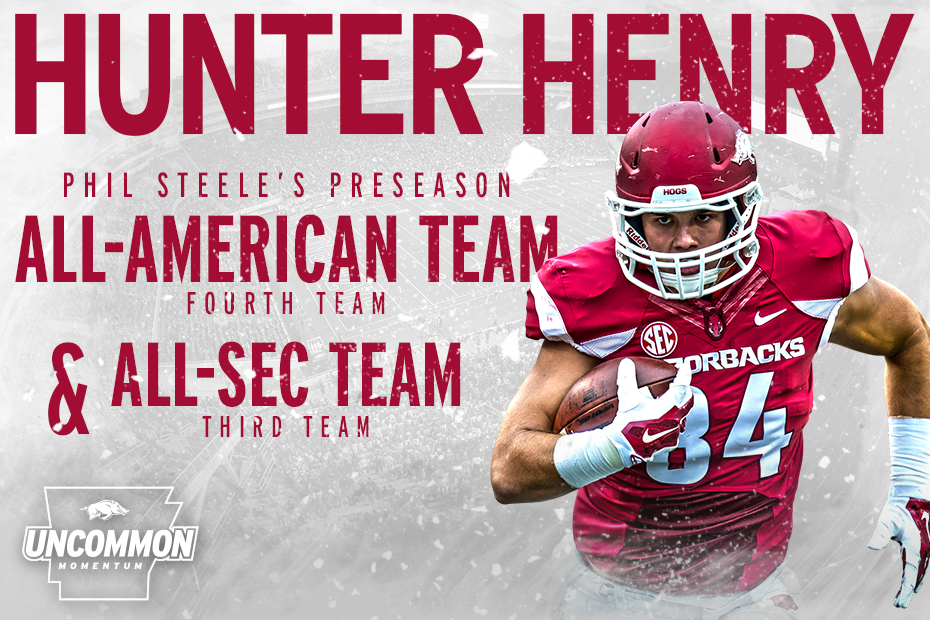 Six Razorbacks Named To Phil Steele Preseason All-SEC Teams
FAYETTEVILLE, Ark. – Six Arkansas Razorbacks were named to Phil Steele's annual preseason All-SEC teams, including tight end Hunter Henry, who was named fourth team All-American by the publication.
Henry also collected All-SEC third team honors and was joined on the all-conference list by running back Alex Collins (second team), offensive lineman Dan Skipper (second team), offensive lineman Denver Kirkland (second team), running back Jonathan Williams (third team) and offensive lineman Sebastian Tretola (third team).
Entering his junior season, Henry has become one of the nation's best tight ends in just two years. As a sophomore, the Little Rock, Arkansas native caught 37 passes for 513 yards and was named All-SEC second team by the conference's coaches. His marks in receptions and receiving yards both ranked third among the league's tight ends.
Collins rushed for 1,100 yards on 204 carries in 2014, joining Williams as the only pair of FBS teammates to each rush for 1,000 yards last season. It was the second consecutive season Collins topped the 1,000-yard plateau as he became just the second Razorback (Darren McFadden) to begin his career with back-to-back 1,000-yard seasons. After just two years, Collins ranks 14th in school history with 2,126 career rushing yards.
At 6-foot-10, Skipper is an imposing presence on the Razorback offensive line. He started all 13 games at left tackle last year, helping the offensive line lead the SEC with just 14 sacks allowed. This offseason he embraced a move to right tackle for the 2015 season. Last year he earned Associated Press All-SEC honorable mention honors after leading the team's offensive linemen with an 80 percent grade playing more than 700 total snaps.
Kirkland started all 13 contests at right guard in 2014 and was dominant, allowing just one sack. He was only penalized three times despite playing a team-high 750-plus snaps. Kirkland tied for second on the team with a 79 percent overall grade. The junior will slide out to left tackle in the 2015 season.
After having the best year of his career in 2014, Williams decided to return for his senior season. The Allen, Texas native rushed for 1,190 yards last season, the eight-best mark in school history and earned second team All-SEC honors by AP. Williams joining Collins as the only pair of FBS teammates to top 1,000 yards in 2014. He enters 2015 ranked No. 10 in school history with 2,321 career rushing yards and sixth with a 5.72 yards per rush average.
A junior college transfer in 2014, Tretola made his presence felt almost immediately, starting at left guard for the final 11 games of the 2014 season. He did not allow a sack in over 690 snaps and averaged a grade of 79 percent, tied for the second-best on the team. A devastating run blocker, Tretola also showed his athleticism when he threw a 6-yard touchdown pass on a fake field goal against UAB.
The Razorbacks return 15 starters in 2015 and are a near-consensus preseason top 25 selection by the national media. The Arkansas home schedule is highlighted by 2013 national runner-up Auburn and Orange Bowl-participant Mississippi State. The home schedule concludes with two-time defending SEC East champion Missouri.
Season ticket packages start at $300 in Fayetteville. Fans can also catch the Razorbacks take on Toledo on Sept. 12 in Little Rock for $55, which $10 less than last year's game at War Memorial Stadium.
For more information on Arkansas Football, follow @RazorbackFB on Twitter.