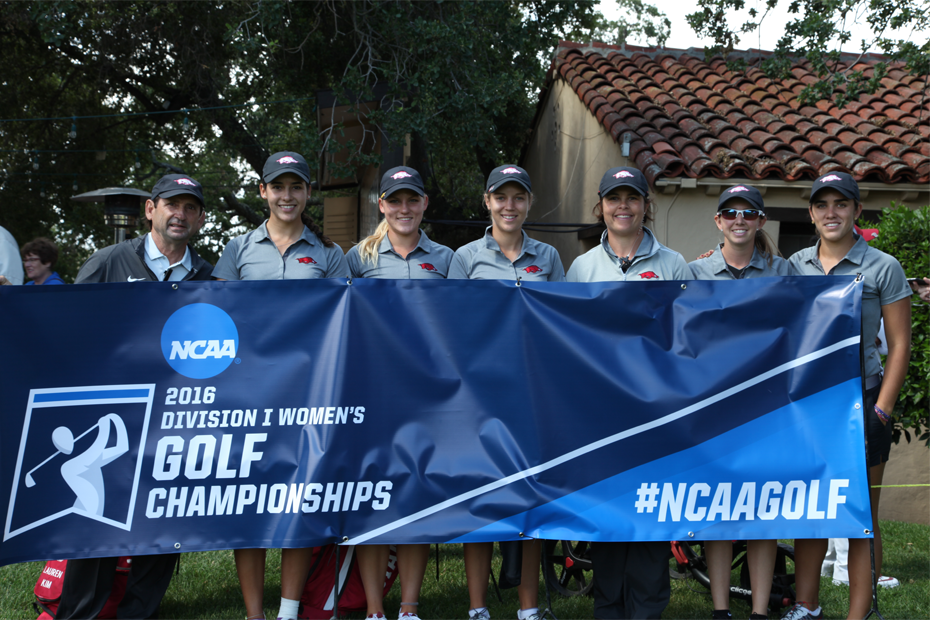 Solid Finish Has Razorbacks In Good Spot
Results | Tournament Central | Tournament Recap | Photo Gallery | Results (pdf)
PALO ALTO, Calif. – The middle holes, especially No. 9, on the Stanford University Golf Course gave the seventh-ranked University of Arkansas women's golf team fits but a strong start and solid finish keeps the Razorbacks hopes of an NCAA Tournament appearance alive after round one action in the Stanford NCAA Regional Thursday.
Arkansas finished the day with a 298 and is tied for eighth-place after round one, but the Razorbacks are just three shots back of the coveted top-six finishes required to move on. After getting through the first six holes in good shape, Arkansas had two doubles, two triples and four bogeys on the next three holes and made the turn in 16th-place in the field.
A solid back nine featured nine birdies and Arkansas was one-under after the turn. The ninth hole in particular was a challenge for Arkansas. The Razorbacks were nine-over on that green alone with only one player, sophomore Alana Uriell, shooting par or better.
Uriell (37-35 — 72), a Carlsbad, California, native and freshman Cara Gorlei (30-33 — 72) of Cape Town, South Africa, paced the team both carding one-over 72's and tying for 16th place overall after round one action. All-Southeastern Conference selection Maria Fassi tied her highest collegiate round with a 77 (41-36 — 77) along with 77s from senior Regina Plasencia (40-37 — 77) and junior Summar Roachell (39-38 —77). The trio are tied for 64th place overall.
Despite not playing its best golf, the Razorbacks are in striking distance after the first day on the par 71, 6,269-yard course. Arkansas is +14 for the round trailing two teams, No. 34 Colorado and No. 39 Wake Forest, by just three strokes for one of the top six spots. The Razorbacks are just 11 shots back of clubhouse leader second-ranked Southern California who leads the field with a 287 in round one.
Arkansas begins play at 7:30 a.m. local time, 9:30 a.m. CT, and is paired with Wake Forest and Pepperdine in the second round
From Shauna Estes-Taylor
We got off to a good start, struggled in the middle of the round and finished strong. My thing to them is that we have to tidy up a few things, especially on the ninth hole. We have re-evaluated our game plan there and hopefully we can take care of business there tomorrow.
Alana was just solid all day. She made a lot of putts and saves and had a couple birdies. She drives the ball really well and this golf course demands that. Cara birdied two of her last three holes and that says a lot about her drive and competitive. We are prepared for whatever we see tomorrow. We just have to go out and execute the game plan.
@RazorbackWGolf Results
T8 Arkansas 298 +14
T16 Alana Uriell (3) 37-35 — 72 +1
T16 Cara Gorlei (5) 30-33 — 72 +1
T64 Maria Fassi (1) 41-36 — 77 +6
T64 Regina Plasencia (2) 40-37 — 77 +6
T64 Summar Roachell (4) 39-38 — 77 +6
The Field
1. No. 2 Southern California 287 +3
2. No. 15 Virginia 288 +4
3. No. 12 Stanford 289 +5
T4. No. 26 Texas Tech 291 +7
T4. No. 42 Michigan State 291 +7
T6. No. 34 Colorado 295 +11
T6. No. 39 Wake Forest 295 +11
T8. No. 7 ARKANSAS 298 +14
T8. No. 49 Pepperdine 298 +14
T10. San Jose State 299 +15
T10. No. 21 San Diego State 299 +15
T10. No. 31 Ohio State 299 +15
T13. No. 18 UNLV 300 +16
T13 Idaho 300 +16
15. No. 45 North Carolina 302 +18
T16. Richmond 306 +22
T16. UC-Riverside 306 +22
18. Seton Hall 310 +26
Notes
Date: May 5-7, 2016
Location: Palo Alto, California
Course: Stanford University Golf Course
Number of Regional Appearances for Arkansas: 15 | 14 Consecutive
Format: Four regional sites with the top six teams and individuals moving on
About: 72 teams and 24 individuals earning bids to the 2016 NCAA Division I Women's Golf Regional Championships… Twenty-nine of the 72 teams are automatic qualifiers from conference championships, while 43 are at-large teams.
2016 NCAA Women's Golf Regional Championships, Thursday-Saturday, May 5-7
Stanford Golf Course | Stanford, California | Stanford University, host
Traditions Club | Bryant, Texas | Texas A&M University, host
University Club | Baton Rouge, Louisiana | LSU, host
Shoal Creek Club | Shoal Creek, Alabama | University of Alabama, host
Golf Channel will feature scores, highlights and interviews from the regional championships, airing within Golf Central and Morning Drive. The low six teams and low three individuals (not on those teams) from each of the four regionals advance to the NCAA Women's Golf Championships. Golf Channel's live tournament coverage of the women's championships will begin on Monday, May 23 to crown the individual national champion, as well as to track the teams attempting to qualify for the eight-team match-play tournament. Golf Channel's coverage also will include all three rounds of the team match-play tournament on Tuesday, May 24 and Wednesday, May 25. The same television coverage is planned for the men's national championships the following week: Monday, May 30 – Wednesday, June 1.
Golf Channel NCAA Women's Golf Championships Coverage
Monday, May 23 Final Round, Individual Stroke Play 7-10 p.m. ET (Live)
Tuesday, May 24 Quarterfinals, Match Play 1:30-3:30 p.m. ET (Live)
Tuesday, May 24 Semifinals, Match Play 6:30-10 p.m. ET (Live)
Wednesday, May 25 Finals, Match Play 6-10 p.m. ET (Live)