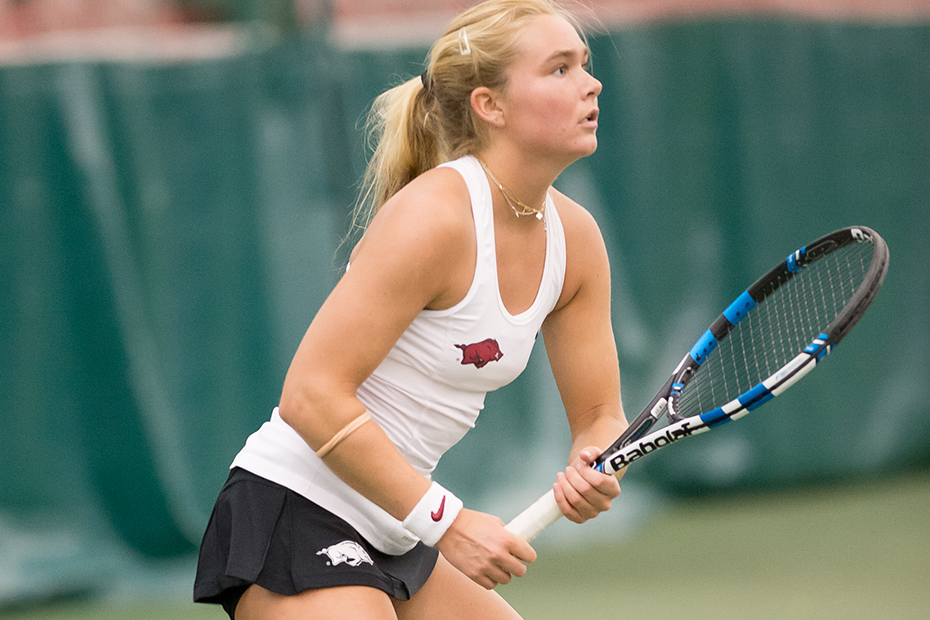 Sooner State Showdowns
FAYETTEVILLE, Ark. – Arkansas will hit the road this weekend for a pair of matches in the Sooner State, facing Oklahoma in Norman at 5 p.m. CT Friday and No. 18 Oklahoma State in Stillwater at 3:30 p.m. CT Sunday.
Both the Razorbacks (1-2) and the Sooners (1-3) are looking to bounce back from a pair of tough losses last weekend. The Cowgirls (4-1) began the season with four straight wins before falling to Ole Miss in their last match.
Quotable
"We look forward to two very important road tests in Oklahoma," head coach Michael Hegarty said. "These contests are vital for our preparation for the conference season."
Live Coverage
Fans can follow Friday's match against the Sooners through live video and live scoring. Live video and live scoring will also be available for Sunday's match against the Cowgirls.
Previous Meetings
The Razorbacks picked up a 6-1 win over Oklahoma in the previous meeting between the teams in 2017, but lost to the Cowgirls 4-0 in the second round of the 2017 NCAA Tournament.
Ranked Razorbacks
Senior Léolia Jeanjean is ranked No. 67 in singles and No. 25 in doubles with her partner sophomore Giulia Pairone. Senior Mia Jurasic and junior Ana Oparenovic are the nation's No. 57 ranked doubles duo.
Notables
Arkansas has won the doubles point in each of its three matches this season. In singles, Pairone enters the weekend with a team-best 3-0 record.
Approaching 200
In his 15th season at the helm of the Razorbacks, Hegarty is the program's all-time winningest coach with 198 victories. He's led Arkansas to nine NCAA Tournament appearances, including three straight.
For more information on Arkansas Women's Tennis, follow @RazorbackWTEN on Twitter.