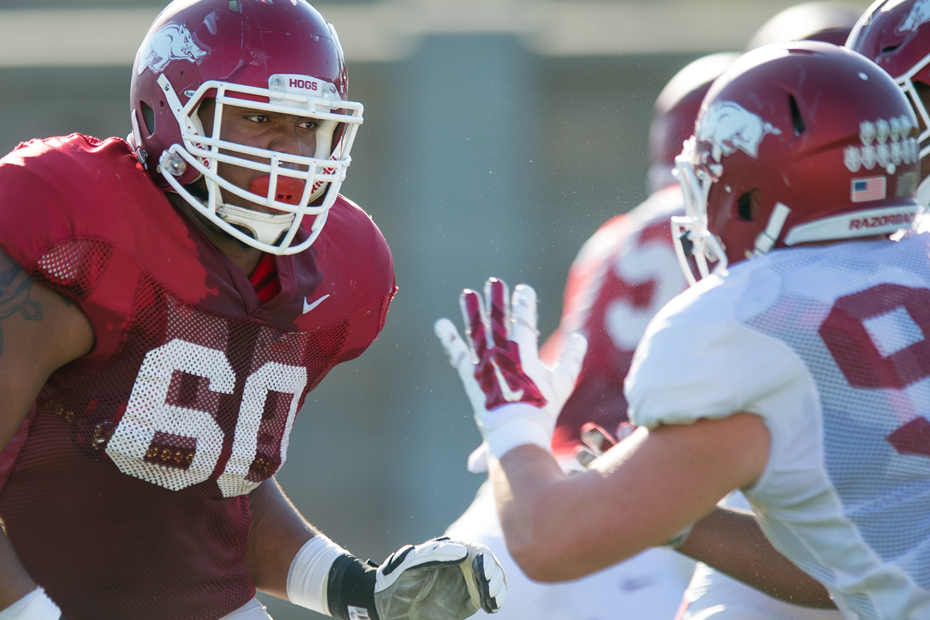 Spring Football Positional Preview: D-Line
SPRING GAME: SATURDAY, APRIL 25 AT 1 P.M. (FREE ADMISSION)
Arkansas resumes spring practice on Tuesday, March 31 and will hold 15 practices during the spring semester, culminating in the Red-White Spring Game on Saturday, April 25 at 1 p.m. Here is a positional breakdown of the Razorback defensive line.
Defensive line coach: Rory Segrest (Alabama '96, 2nd year at Arkansas)
Returners: Tevin Beanum (6-4, 271; So.), Cordale Boyd (6-3, 287; Jr.), Anthony Brown (6-3, 262; So.), Jake Hall (6-5, 261; R-Fr.), DeMarcus Hodge (6-1, 340; Sr.), Bijhon Jackson (6-2, 324; So.), Taiwan Johnson (6-2, 273; Jr.), Brandon Lewis (6-4, 273; Jr.), Mitchell Loewen (6-5, 276; Sr.), Ke'Tyrus Marks (6-2, 308; So.), Karl Roesler (6-1, 250; So.), Armon Watts (6-5, 295; R-Fr.), JaMichael Winston (6-4, 272; Jr.), Deatrich Wise Jr. (6-5, 271; Jr.)
Spring Arrivals: Daytreion Dean (6-3, 256; Fr.), Hjalte Froholdt (6-5, 311; Fr.), Jeremiah Ledbetter (6-3, 275; Jr.)
Summer Additions: Jamario Bell (6-6, 225; Fr.), T.J. Smith (6-3, 265; Fr.)
Fun with Numbers: Three – the number of defensive linemen that enrolled early in the class of 2015. Daytreion Dean, Hjalte Froholdt and Jeremiah Ledbetter will get a head start with spring practices and be ready to contribute when the season comes around in September.
Breakdown: Most fans will look at the departure of two potential NFL draft picks in Trey Flowers and Darius Philon as a reason to be concerned about the defensive line in 2015. However, Arkansas will return 11 of its 13 defensive linemen that lettered last season. The defensive is front is arguably the most important position to have depth and the Razorbacks look to have one of the deepest defensive lines in recent memory.
In addition to 11 returning lettermen, the defensive line will also look for contributions from a pair of talented freshmen that redshirted last season in Jake Hall and Armon Watts. Both players were three star prospects coming out of high school and have increased their size and strength in the Razorbacks' offseason workout program.
The group will be joined by six newcomers in the fall, three of whom enrolled early. Jeremiah Ledbetter is a junior college transfer who earned second-team NJCAA All-American honors after an impressive sophomore season at Hutchinson CC (Kan.). Hjalte Froholdt was one of the highest touted defensive linemen recruits in the country, earning a five star rating from PrepStar. The Svendborg, Denmark native enrolled early and has begun participating in spring drills with the Razorbacks.
A key position switch to watch is the interior part of the defensive line. Last season, Taiwan Johnson played nose guard in a "tilt" technique, using his undersized frame and exceptional quickness to wreak havoc in opponent backfields. With Philon's departure, Johnson has moved to Philon's defensive tackle spot and Bijhon Jackson will begin the spring as the starting nose guard. Jackson has slimmed down some and looks to build on the momentum he created from a solid true freshman campaign.
Spring Game: Arkansas will host its annual Red-White Spring Game on Saturday, April 25 at 1 p.m. at Donald W. Reynolds Razorback Stadium in Fayetteville, Arkansas. Admission is free. Please check online before arriving for parking and street closure information.
Other activities surrounding the Red-White Spring Game:
9 a.m. – RazorFest
1 p.m. – Kickoff
6 p.m. – Baseball vs. Mississippi State at Baum Stadium