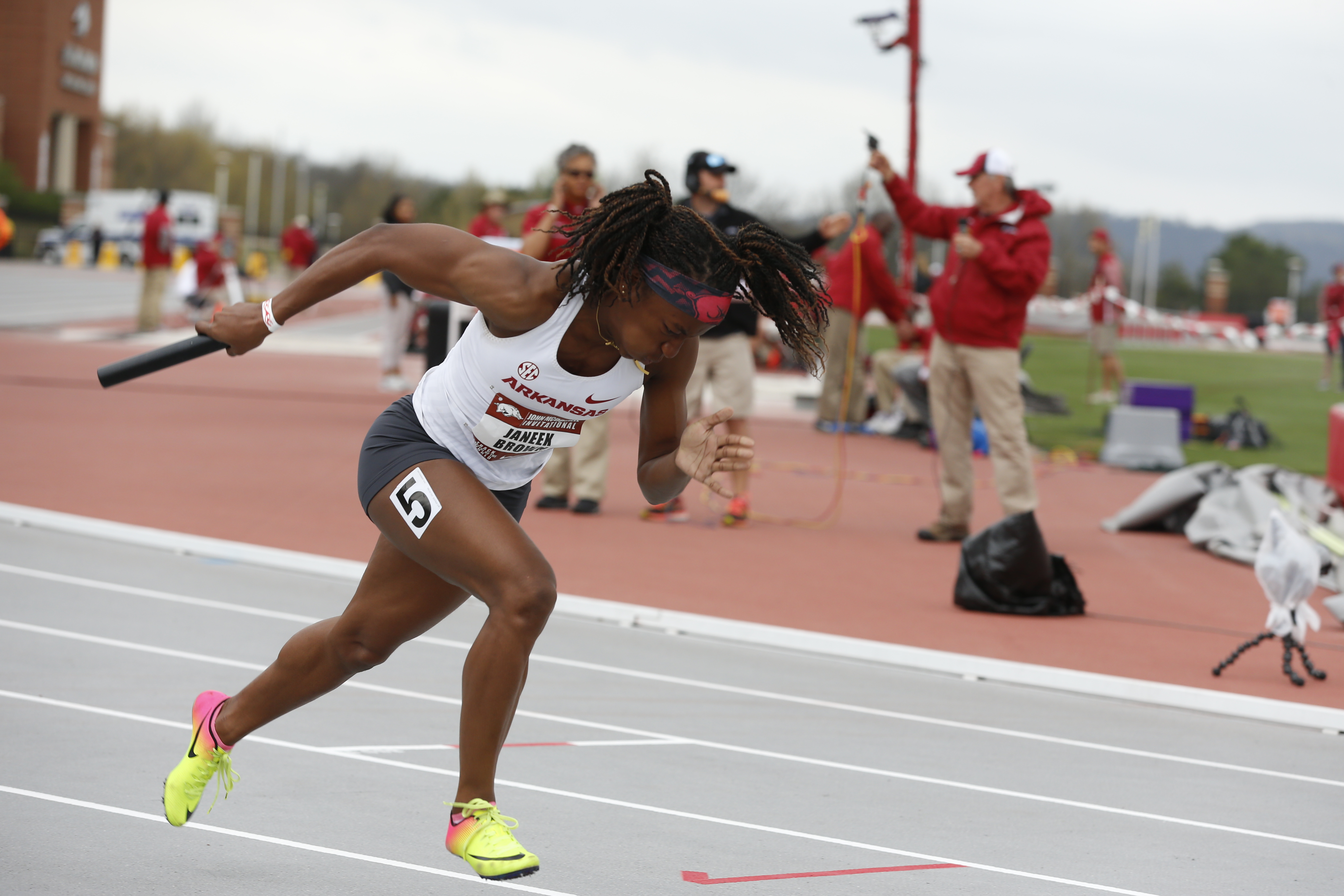 Sprints, Relays Dominate in Baton Rouge for No. 1 Arkansas
Full LSU Alumni Gold Results (PDF)
BATON ROUGE, La. – Competing at the largest meet of the year for LSU, No. 1 Arkansas went to work posting 12 top-10 finishes Saturday afternoon.
The 4-x-100-meter relay of Janeek Brown, Kiara Parker, Jada Baylark, and Morgan Burks-Magee combined to run 43.87 trailing only LSU's "A" squad and the team of LSU Olympians at the meet.
The 100-meters featured three top-10 finishes and the No. 8 time in program history. Jada Baylark finished third at 11.26 followed by Kiara Parker in sixth at 11.40, Janeek Brown in ninth at 11.49, Taliyah Brooks in 12th at 11.52, and Tamara Kuykendall in 13th-place running 11.54. Brooks' time of 11.52 registers as the No. 8 time in program history.
Brooks also long jumped at the meet, capturing the event title with a best of 6.57m (21′-6.75″).
Brown backed into the blocks for the women's 100-meter hurdles where she finished in 13.21 (+0.5).
Morgan Burks-Magee finished seventh in the 400-meters posting a season-best of 53.03.
Baylark finished runner-up in the 200-meters with her time of 23.00. rounding out the field for Arkansas in the event were Kiara Parker (23.44), Taliyah Brooks (23.83), Tamara Kuykendall (24.01), in seventh, ninth, and 13th-place. Baylark retained her spot at No. 3 in program history but lowered her time from 23.17 earlier this season.
Sydney Davis, Morgan Burks-Magee, Jada Baylark, and Kiara Parker combined to post a season-best time in the 4-x-400-meter relay crossing the line in 3:35.29.
On the west coast at the Cardinal Classic, Carina Viljoen (4:16.07) and Micah Huckabee (4:33.92) finished fifth and eighth in their respective heats completing the competition weekend for the Razorbacks who competed at a total of four meets over the past three days.
For more information on Arkansas track and field including in-meet updates, follow @RazorbackTF on Twitter.