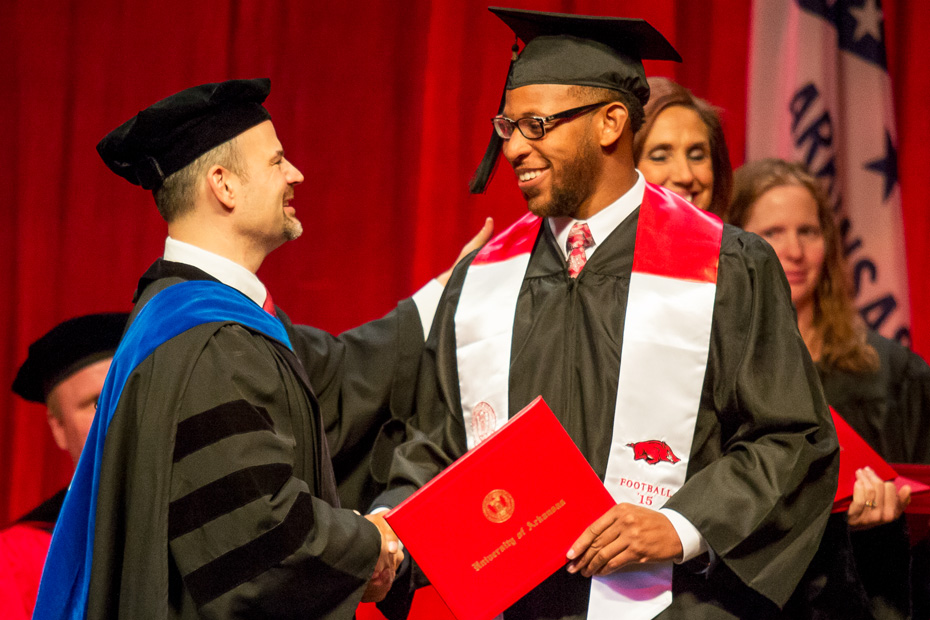 Success On Field, In Classroom
FAYETTEVILLE, Ark. – After running back Rawleigh Williams III suffered a neck injury during the Razorbacks' 54-46 win over Auburn in four overtime periods on Oct. 24, 2015, he ended up missing the remainder of the season.
But while his time on the field was cut short, Williams' focus in the classroom didn't waver. Two days after undergoing surgery, he was back in class having missed only one session.
Williams' dedication and buy-in to head football coach Bret Bielema's vision of the uncommon student-athlete isn't an isolated case. During his tenure at the University of Arkansas, Bielema, along with his staff, have instituted new initiatives and fostered a cultural change that has generated incredible levels of academic success.
This past spring, the football team has earned a 2.94 term GPA, the highest recorded mark on record.
• The amount of football student-athletes earning a spot in the athletic department honor roll after earning a term GPA of 3.0 to 3.49 for the 2016 spring semester has increased 22 percent since the fall 2013 semester
• A total of 13 student-athletes earned a spot on the Athletic Director's List after achieving a term GPA of 3.5-3.99 for the 2016 spring semester, representing a 30 percent increase
• Seven student-athletes earned a 4.0 GPA and a spot on the Champions List this past spring, a 250 percent increase since the fall of 2013 when only two football players achieved the same mark
• Thirty student-athletes achieved a personal best GPA in the spring, a 36 percent increase compared to the fall 2013 semester.
• A total of 90 Razorbacks earned SEC academic honor roll standings during the fall 2015 semester. Forty of those 90 student-athletes were from the football team, which topped the SEC.
• This is the third consecutive year football has increased the number of student-athletes who qualified for the SEC Fall Academic Honor Roll. Since 2013, the number of Razorback football players who made the list has increased by 42.8 percent.
Chris Johnson, associate director of academics for football, attributed the Razorbacks' success in the classroom to Bielema and his assistant coaches. Johnson said the athletic department's academic support staff can only do so much without Bielema and his staff emphasizing the importance of academics to their players.
"Everything we have in place – the structure, the staff, our shared resources – all contribute to the success that we've experienced. We're really competitive as counselors just like our student-athletes and we want to see them succeed. We take it personally if they don't. But at the same time, all of this isn't possible if coaches aren't supporting us and giving us the resources we need to hold our guys accountable and making sure we're all on the same page. As they're preparing for a big game on Saturday, our coaches are meeting with us on Thursdays so they can have a full report on their players' academic progress and I think this sends a powerful message to the team and it carries over into their grades."
Accountability, in addition to targeting and recruiting the right student-athletes who will fit in at the University are also other factors that have contributed to the program's positive academic progress in recent years.
"The student-athletes know that if they don't go to class or if they don't show up to a tutoring session, we'll know about it," Johnson said. "Once we know, it's our job to communicate that information to coaches and each of them holds our student-athletes responsible."
Despite the progress achieved by the program in the past three years, there is always room for further improvement. Johnson said his goal every semester is to get the team to a 3.0 cumulative GPA and have 50 players on the SEC Academic Honor Roll. But most of all, he wants student-athletes to graduate and fulfill all of their academic goals.
"We try to give all of our student-athletes as many opportunities to grow in areas they're interested in that would also lead to certain jobs and internships," Johnson said. "Our main purpose here isn't to only focus on player eligibility, it's all about making sure our student-athletes graduate."