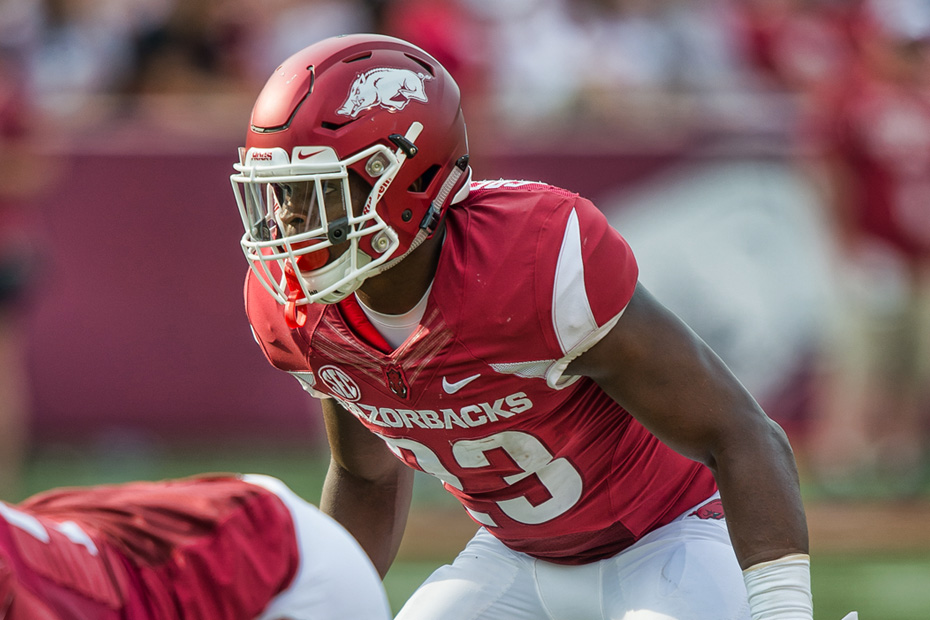 Tackling Machine Tabbed All-American
FAYETTEVILLE, Ark. – After an impressive first-year campaign, Arkansas freshman linebacker Dre Greenlaw has been named to the Sporting News Freshman All-America team, the organization announced on Wednesday.
The honor comes less than one week after being named to the SEC All-Freshman team in a vote by the conference head coaches as well as SEC Defensive Freshman of the Year by Athlon Sports.
The only player to win SEC Freshman of the Week twice this season, Greenlaw played in all 12 regular season games and started the last 10 contests. The Fayetteville, Arkansas native led all SEC freshmen with 93 tackles – good for fifth among freshmen nationally and 12th overall in the SEC.
Greenlaw led the Razorbacks in tackles five times after entering the starting lineup in week three. Included in Greenlaw's five team-leading performances were four double-digit tackle efforts. His first SEC Freshman of the Week honor came after Arkansas' four-overtime win over Auburn when he registered a season-high 16 tackles, including 12 from the second half through the end of the game. Three weeks later in the Razorbacks' win at LSU, he registered 12 tackles, his first career sack and a forced fumble en route to earning his second SEC Freshman of the Week honor.
GREENLAW'S 2015 POSTSEASON HONORS:
– Coaches SEC All-Freshman Team (Dec. 10)
– Athlon SEC Defensive Freshman of the Year (Dec. 14)