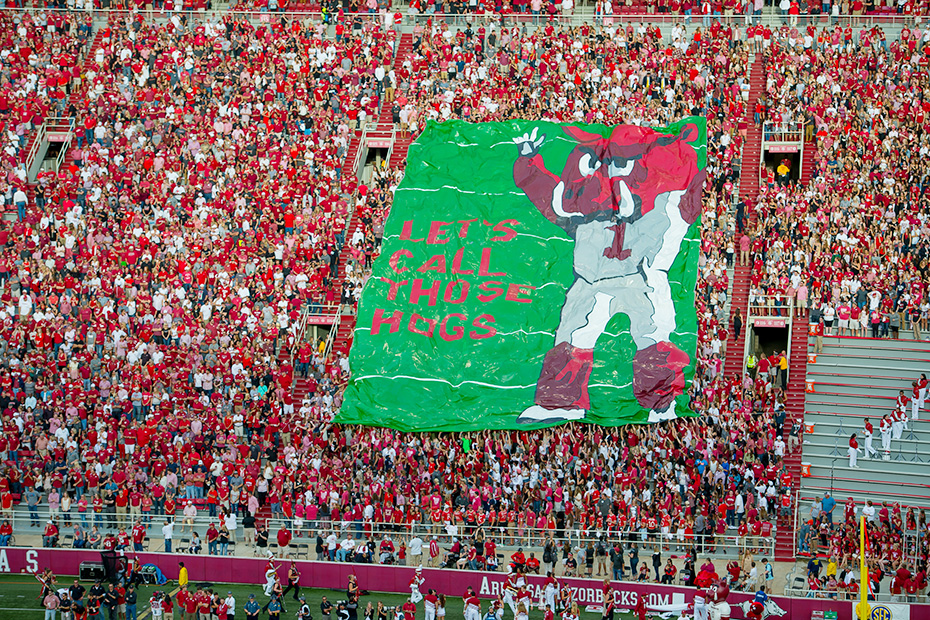 Taking Gameday Tifos To The Next Level
FAYETTEVILLE, Ark. – One of the most visible personifications of the truly Uncommon gameday experience at Razorback football home games this past season was the introduction of the Gameday Tifo.
Tifos – the abbreviated Italian word for tifosi which means "fan", and derived from the Greek root thifos, translated as "to be delirious with fever" – are 6,000 square foot-themed tarps designed and decorated by Arkansas students. Although borrowed from another language, the word seems to precisely define the Uncommon passion for the Hogs exhibited by University of Arkansas and fellow Razorback fans.
When the team runs out of the Hog Pen, the tifo is unfurled at near the top of the lower level in the southeast corner of the stadium before methodically making its way down to the field.
But before these mammoth signs of support can be unfurled, they must be created from scratch. Ten University of Arkansas sororities were grouped into five teams of two and took on the challenge of turning this larger-than-life idea into a new Razorback football gameday tradition.
During every 2015 home game, the students' work was displayed in front of as many as 72,000 fans. At the conclusion of the regular season, a fan vote was tallied to determine the fan's favorite and determine which team's philanthropies would receive a generous donation from Razorback Athletics.
The winning tifo was announced on Dec. 12, 2015. Conceived and developed by the Arkansas chapters of the Delta Delta Delta and Phi Mu sororities, their Big Red-themed "Call Those Hogs" tifo won the contest by more than 37 percent of the fan vote.
If you attended the Texas Tech game this past season, you might have seen it:
So what's next for Gameday Tifos in 2016? With one of the best home schedules in recent memory, Razorback football tifos in the upcoming season will feature more creativity and an edgier tone.
"The idea for the tifos is for student groups to tell a story or to bring a concept to life in front of the stadium and on television," Associate Athletic Director of Marketing and Fan Development Elvis Moya said. "There isn't a better environment to tell stories on a grand scale like this during every football weekend than at Donald W. Reynolds Razorback Stadium."
It wasn't easy taking a concept born in Italy, spread throughout European soccer clubs and federations, adopted by U.S. soccer fanatics, and incorporating it into American college football culture. But with the successful launch and regular, weekly release of tifos last season, Assistant Director of Marketing and Fan Development J.T. Geren said the possibilities for the Gameday Tifo tradition are seemingly endless.
"2015 was about establishing what tifos are and showcasing that new tradition to our students, fans and alumni," Geren said. "2016 is about showing where tifos can go from here and what they can be."