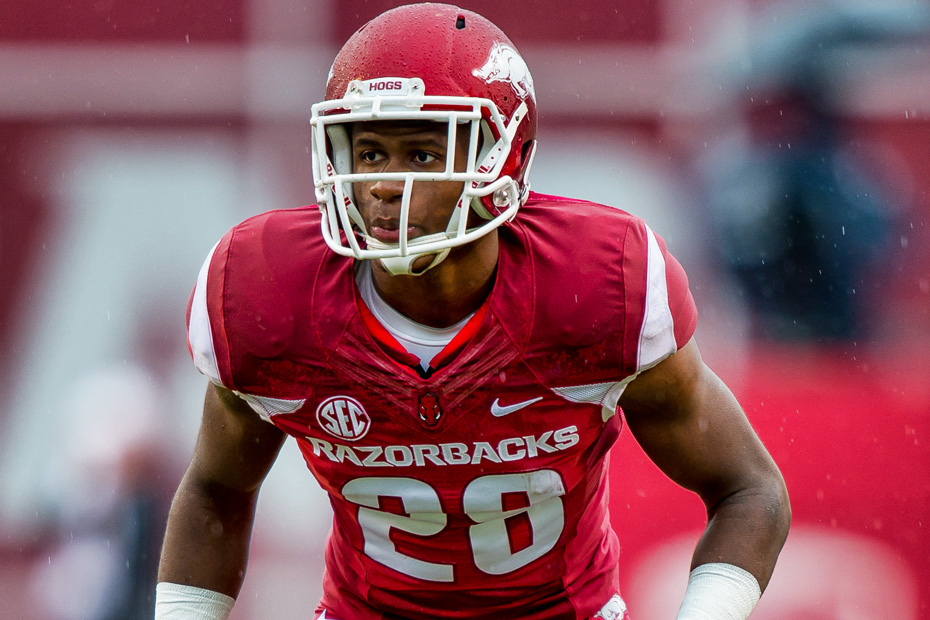 The Secondary Has A New Quarterback
Josh Liddell didn't play football until eighth grade. Up until then he had been a track and basketball star, but never tried his skills on the football field. He began as a defensive end, and liked the game at first simply because he was bigger and faster than everyone else.
His first impressions of the sport were: "It was just fun to run around and hit people."
Not a bad mentality for a defensive back in the SEC, is it?
Six years later, Liddell now enters fall camp at Arkansas as one of the team's starting safeties. Last season, he came to Fayetteville as many freshmen do: eager, but going up against against the difficulty of making the adjustment from high school to college.
"In fall camp last year, we reported and got our individual schedules," he recalled with a grin. "I saw how much time we had to dedicate to football. That's when I knew, 'Ok, this is serious. I'm here and now I gotta work hard and do all the little things right.'"
As a freshman, Liddell played in 12 games, but his most important appearance was in the AdvoCare V100 Texas Bowl, where he stepped in as a starter. He lined up on the back end beside Alan Turner, a senior who had helped him a lot in his early development as a Razorback.
"All of our DB's are a family, we help each other out. [Turner] and Rohan Gaines last year helped me a lot transitioning from high school to college," Liddell explained.
Being thrust into a starting position in a bowl game against rival Texas might make some 18-year-olds nervous, but not Liddell. A meticulous worker and student of the game, he just prepared like it was any other week. He and the rest of the defense went through the game plan and executed it to perfection in the 31-7 rout of the Longhorns. Liddell made two tackles in the contest.
The victory vaulted the Razorbacks to a 7-6 record in 2014, but with a strong graduating senior class, there were many questions for the team as the calendar turned. Turner was gone, as were four other starters on defense.
When spring meetings rolled around, Liddell and the rest of the returning Razorbacks got a much-needed vote of confidence from defensive coordinator Robb Smith.
"A lot of people were talking about who we don't have, but he stood up there and told us that we have the players here to win an SEC Championship and to win a National Championship," Liddell said. "We have a lot of experience and Coach Smith has a plan for us. As long as we stick to that plan we'll get better and better."
Now back on the practice field one year after entering the program as a wide-eyed freshman, Liddell has a completely different approach to fall camp.
"I would say it's a night-and-day difference," he admitted. "I feel more confident this fall camp, I know what works for me and what doesn't work for me from last year. I know what to expect and I know what I have to do."
Liddell started out on the football field as an athletic kid who liked to "run around and hit people." Well, he still is (and he still does) but now he appreciates the game in other ways too. It goes to show his maturation and growth as a young man in only a few years.
"As I learned more about football, I learned more of how it's a team game and how every position works together," he explained. "I just love that."
With Turner gone, it will now be Liddell's responsibility to make pre-snap calls and checks, something he worked a bit with last season, as well as something he's embracing. As a former quarterback in high school, Liddell feels like that experience lets him into the mind of the offense; he knows what the opposition doesn't like to see on the other side of the line of scrimmage.
Arkansas defensive backs coach Clay Jennings has also helped with making him into the player he is today. Liddell says a straightforward relationship with his coach has helped him improve his game immensely in his drastic improvement.
"Coach Jennings encourages me in times when I do well and pushes me in times when I do things wrong," he said. "He's very honest with us, good or bad. I need someone to constantly be on my back to tell me if I'm doing this right or doing this wrong."
Not only is Liddell doing the right things, but he's staying focused on the right things as well. When asked what match-ups he's looking forward to this season, it was a simple answer: Week 1. UTEP.
"I can't wait to get out there, I've been getting ready for that game since spring," Liddell said. "Once SEC play starts, we know how important that is, but we're gonna take it game-by-game. We have a 1-0 mentality around here."
Over the summer, Liddell focused on bulking up just a bit. After playing in the 200-205 range last season, the 6-1 safety currently sits around 210-215. Head strength and conditioning coach Ben Herbert thought it would be a good idea for Liddell to put on a couple more pounds to deliver more of a "punch" from the secondary.
Less than three more weeks until he unleashes some of that on the Miners.