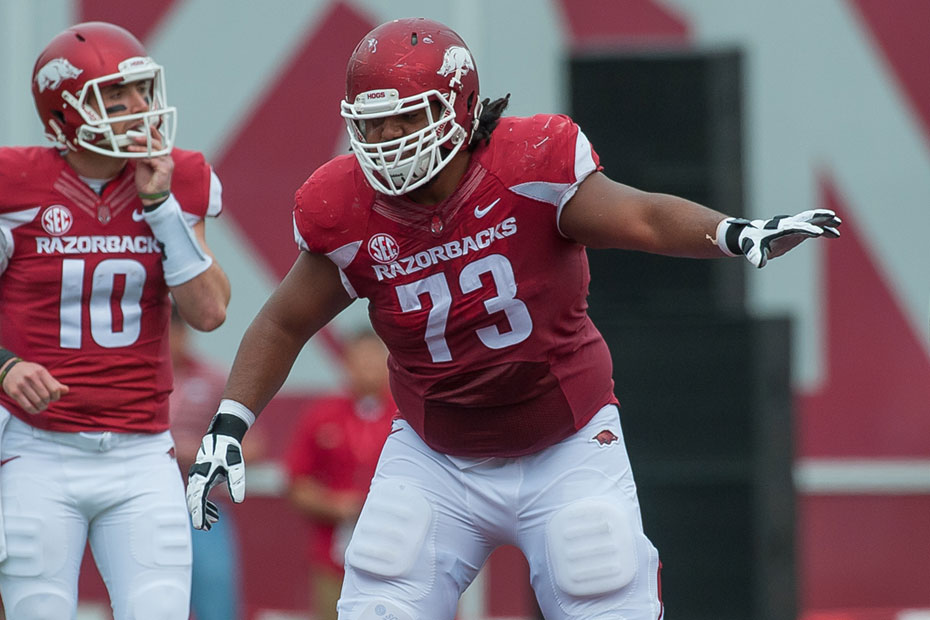 The SEC's Top Blocker
BIRMINGHAM, Ala. – University of Arkansas senior offensive lineman Sebastian Tretola has been named a co-recipient of the Jacobs Blocking Trophy, given annually by the Southeastern Conference coaches to the league's best offensive lineman.
Tretola was named first team All-SEC by the league's coaches earlier this week and is the third Razorback to win the Jacobs Blocking Trophy. Jonathan Luigs was a co-recipient in 2007 and Shawn Andrews won it outright in 2002 and 2003.
The San Bernardino, Calif. native started all 12 games at left guard this season and has made 23 consecutive starts at the position. He graded out at more than 80 percent in 10 of 12 contests this season and led the team with an 84 percent overall grade. Tretola played in all 834 snaps that the first team offense took in the regular season and led the team with 68 knockdowns and was flagged for just one penalty.
Arkansas is leading the SEC for the third consecutive season (all under head coach Bret Bielema) in fewest sacks allowed with just 12 sacks given up in 12 games. The team leads the SEC with five 200-yard rushing games in league play after combining for just five in the past two seasons. Arkansas led the SEC with 34.4 points per conference game and quarterback Brandon Allen became the third player in Arkansas history to throw for 3,000 yards in a season.
Alabama's Ryan Kelly joined Tretola as co-recipient of the award.
For more information on Arkansas football, follow @RazorbackFB on Twitter.