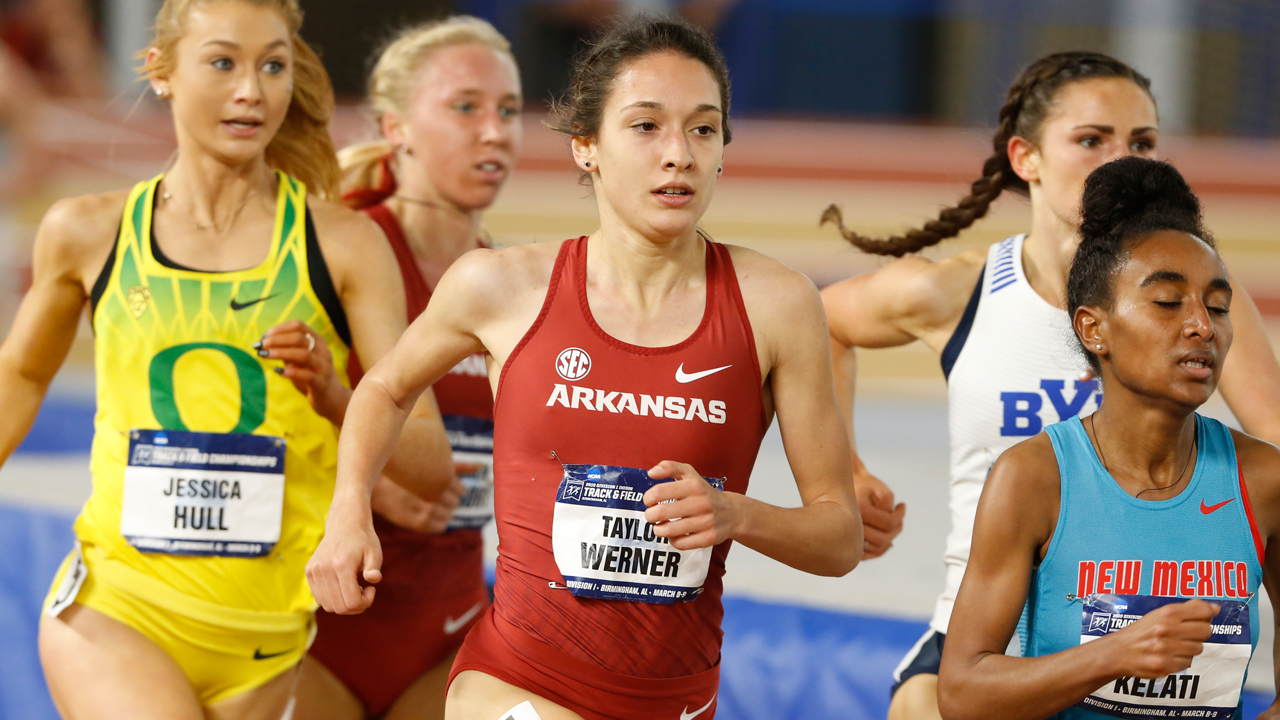 Three Razorbacks Vault in New Mexico, Arkansas Alums in Millrose Games
FAYETTEVILLE, Ark. – Three Razorbacks will compete in the pole vault at the New Mexico Collegiate Classic in Albuquerque on Saturday while a crew of Arkansas alums travel to New York City for the 113th Millrose Games.
Competing among a field of 17 vaulters in New Mexico, the trio of Lauren Martinez, Bailee McCorkle and Kaitlyn Banas will represent the Razorbacks. The women's vault will begin 45 minutes after the men's vault finishes. The men's vault field of 17 starts at 10:30 a.m. (CT).
Taylor Werner, a redshirt this indoor season, will race at 3,000m in the Millrose Games. She will be joined at the prestigious meet by Arkansas alums in various events. The pole vault includes Sandi Morris, Tori Hoggard and Lexi Jacobus. Racing in the hurdles are Janeek Brown and Payton Chadwick while Nikki Hiltz competes in the mile.
A future Razorback in the Millrose Games is Taylor Ewert, who has entered the women's mile racewalk (11:15 a.m.) and high school girl's mile (4:06 p.m.). The senior from Beavercreek High School in Ohio has already earned a qualifying time for the Olympic Trials in the 20k race walk and holds numerous junior records in the discipline.
So far, Ewert has claimed five Ohio state titles among cross country, indoor and outdoor seasons. In the mile she has a best of 4:48.01 outdoors and 4:51.97 indoors from last year's Millrose Games.
Werner will race against New Mexico's Weini Kelait, the 2019 NCAA cross country champion and 2019 NCAA 10,000m winner, among a field of 12 in the 3,000m (3:39 p.m.) In December, Werner won the 5,000m at Boston with an exhilarating career best of 15:11.19, which moved her to No. 9 on the U.S. all-time list, while Kelait placed third in 15:14.71.
Morris, the 2016 Olympic silver medalist and 2018 World champion, headlines a field of six vaulter as they start competition at 2:35 p.m. Jacobus, a four-time NCAA champion, and Hoggard, the 2019 NCAA Outdoor champion, sport the second and third best vaults in the field behind Morris.
Brown, the 2019 NCAA 100m hurdles champion and Bowerman finalist, and Chadwick, the 2018 NCAA Indoor 60m hurdles champion, will face World record holder Keni Harrison and World champion Nia Ali in a very competitive 60m hurdles race (3:10 p.m.).
A field of 13 runners awaits Hiltz, the 2019 Pan American 1,500m champion, in the Wanamaker Mile (4:33 p.m.). This indoor season Hiltz has produced a world-leading time of 4:29.39 from a January victory in New York, which improved her previous career best of 4:31.42.
A sold-out Armory Center combined with NBC's nationally televised audience makes for an exciting experience at the famed meet, which is referred to as the world's premier indoor track and field event. Overall, 31 Olympians will be competing in the Millrose Games this season.
Coverage of the elite portion of the meet will be available on NBC from 3 to 5 p.m. (CT) on Saturday, with extended coverage available through subscription service USATF.TV from 10:35 a.m. to 3 p.m. Live results from the Millrose Games is available at results.nyrrmillrosegames.org.
For more information on Arkansas Track & Field, follow @RazorbackTF on Twitter.