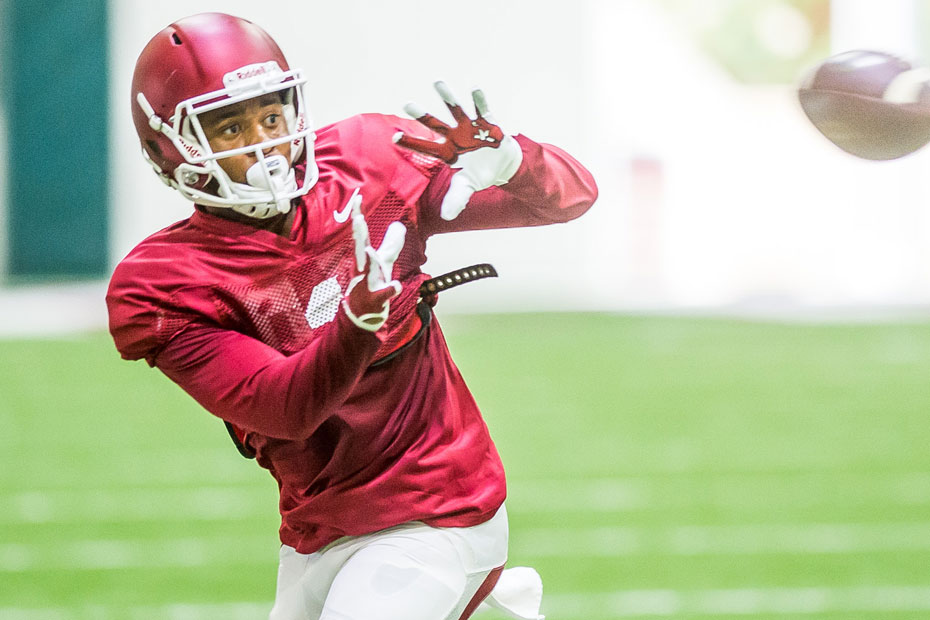 Thursday Practice Notables
FAYETTEVILLE, Ark. —  Arkansas went through its 17th practice of preseason camp Thursday at the Fred W. Smith Football Center. The Razorbacks practiced for 24 periods in full pads.
Practice began indoors due to rain and thunderstorms. However, the team was able to finish the final 10 periods outdoors, working through light rain.
Practice Quick Hits
• Junior defensive lineman Tevin Beanum joined the team's 105-man roster.
• During the first session of team work, quarterback Austin Allen hooked up with wide receiver Jared Cornelius for a 15-plus yard gain before finding Cody Hollister for a first down conversion a few plays later.
• Allen also connected with wide receiver Drew Morgan for 15 yards or more several times on the day.
• Running back Damon Mitchell had a couple of nice runs during red zone work, including one that would have found the end zone.
• Defensive back Kevin Richardson continued his solid camp as he broke up multiple passes during 7-on-7 work.
• The team used the last few periods to practice its two-minute drill.
Up Next
The Razorbacks will return to the practice field Friday at 9:10 a.m., before the program's annual Razorback Football Kickoff Luncheon.
The event is set to begin at noon at the NWA Convention Center in Springdale and will feature head coach Bret Bielema, Vice Chancellor and Director of Athletics Jeff Long and members of the Razorback football team. In addition, fans will get a preview of the season and hear from offensive coordinator Dan Enos and defensive coordinator Robb Smith.
The doors will open at 11:30 a.m. Individual tickets are $25 each, and a reserved table for 10 is $300.
Fans can purchase tickets online or by calling 1-800-982-HOGS.