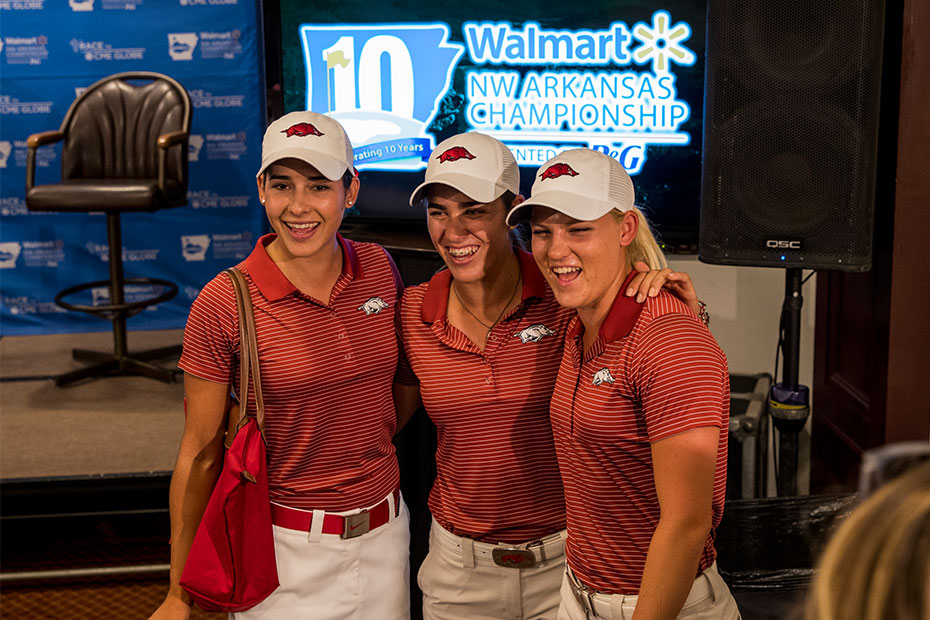 Time To Tee It Up
WalmartNWA_pairings1 | Leaderboard
FAYETTEVILLE, Ark. – Five current or former University of Arkansas women's golfers are taking part in the Walmart NW Arkansas Championship presented by P&G with tee times beginning this morning.
#ProHogs Stacy Lewis begins her day at 8:47 a.m. from hole 10 on Friday. Lewis, a The Woodlands, Texas, native, is paired with Lydia Ko and Minjee Lee.
#ProHogs Gabriela Lopez, playing the event as a professional for the first time, is paired with Sydnee Michaels and Laetitia Beck. The group is also starting their round on No. 10 at 8:58 a.m.
The afternoon session begins at 1:58 p.m. for Razorback sophomore Alana Uriell. The Carlsbad, California, native tees off on No. 1 and is playing with Megan Khang and Cheyene Woods. Regina Plasencia, who, like Uriell, earned a spot on Friday's scorecard by way of a 1-2 finish in the qualifier, tees off at 2:09 p.m.
Plasencia is paired with Sandra Gal and Alison Lee. Freshman Maria Fassi, who earned the sponsor's exemption in the Road to the #NWAChampionship, rounds out the Razorback representatives. Fassi is scheduled for a 2:31 p.m. tee time and plays with Michelle Wie and Annie Park. Fassi and Plasencia also start from hole No. 1.
SUMMARY
Tee 10 — 8:47 AM
Stacy Lewis
Lydia Ko
Minjee Lee
Tee 10 – 8:58 AM
Sydnee Michaels
Gaby Lopez
Laetitia Beck
Tee 1 — 1:58 PM
Alana Uriell (a)
Megan Khang
Cheyenne Woods
Tee 1 — 2:09 PM
Regina Plasencia (a)
Sandra Gal
Alison Lee
Tee 1 — 2:31 PM
Maria Fassi (a)
Michelle Wie
Annie Park