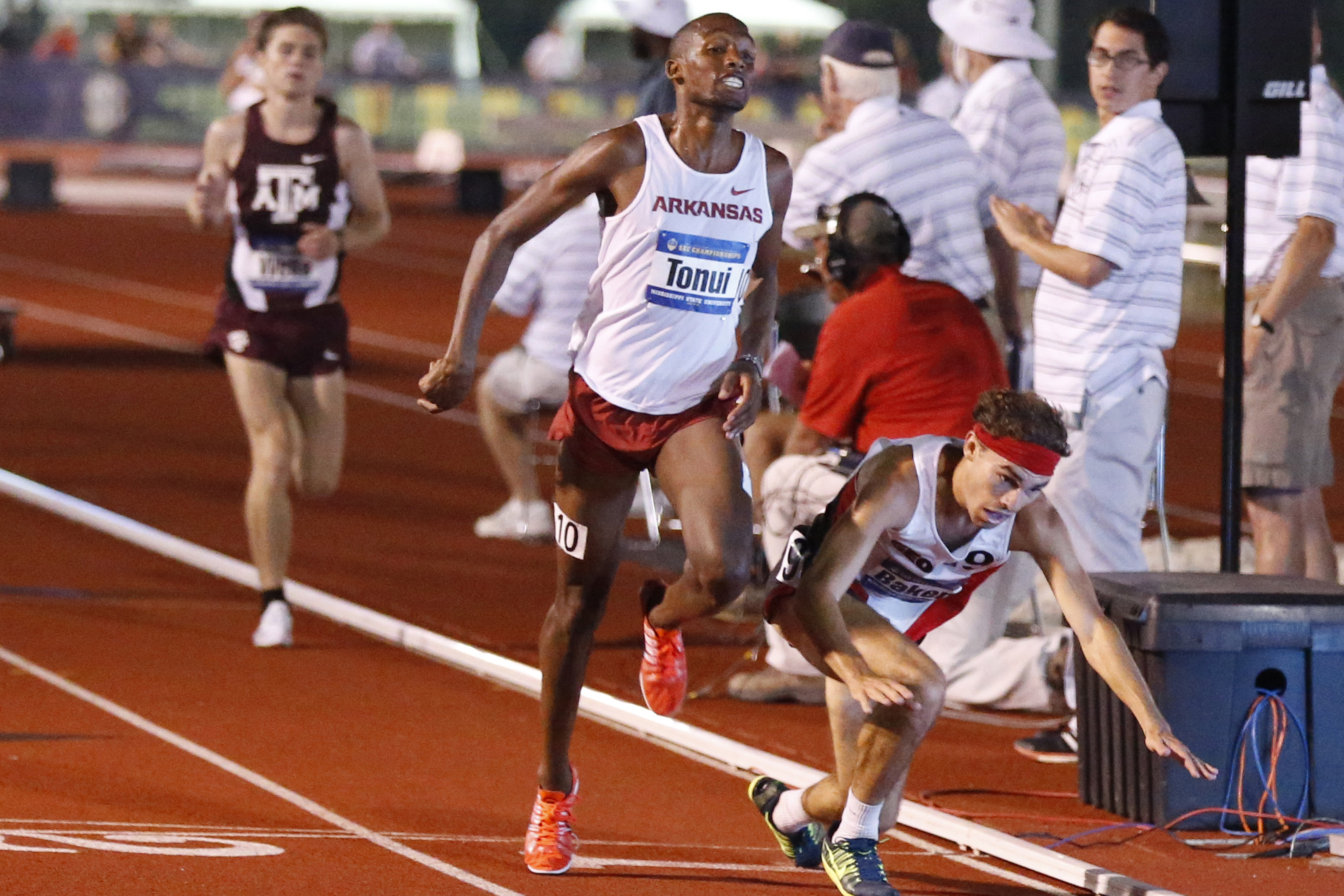 Tonui Scores with Runner-up Finish in #SECTF 10K
STARKVILLE, Miss. – In his debut at the SEC Outdoor Championships, sophomore Frankline Tonui picked up the team's first points of the weekend with a second-place finish at 10,000 meters. The No. 8 University of Arkansas men's track and field team also picked up a 200-meter qualifier in freshman Kenzo Cotton while senior Nathanael Frank is in scoring position after day one of the decathlon.
The final two days of the 2015 SEC Outdoor Championships will be streamed on SEC Network PLUS beginning Friday at 3:40 p.m. and Saturday at 2:50 p.m. The meet will also air as a two-hour highlight show May 21 beginning at 7 p.m. on ESPNU. Dwight Stones and Larry Rawson will handle the play-by-play and color commentary duties, respectively, with Jill Montgomery reporting along trackside.
In the final event of the night, Tonui out-leaned Luke Baker of Georgia for eight points as the race's runner-up. He crossed the finish line in a time of 29:52.17 to cap the Razorbacks' opening day at the SEC meet. He is set to return to the track Friday evening for the 3,000-meter steeplechase at 6:25 p.m. (CT). Tonui heads into the race with the second-fastest time in the SEC, only trailing teammate Stanley Kebenei.
Cotton was the Razorbacks' first track qualifier of the weekend. Running in the second of five preliminary heats, he posted a time of 21.06 to finish third in his heat. His time stood up as the eighth-fastest time to qualify for the final which will be run Saturday at 5:20 p.m. The Razorback freshman is scheduled to return to the track Friday afternoon for the 100-meter prelims.
Through the first day of the decathlon, senior Nathanael Franks is in scoring position with 3,729 points which is good for seventh place in the two-day competition. He registered four season bests Thursday in his first full decathlon of the year. Franks, the 2014-15 SEC H. Boyd McWhorter Male Scholar-Athlete of the Year, is a two-time bronze finisher at the SEC Outdoor Championships.
Teammates Lane Austell and Brad Culp ended day one in 12th and 13th place, respectively. Austell used three personal-best marks at 100 meters, 400 meters and in the high jump to score 3,452 points, while Culp tallied a PR of his own in the high jump and has 3,408 points at the end of day one. The decathlon will conclude Saturday with the 110-meter hurdles, discus, pole vault, javelin and 1,500 meters.
2015 SEC Outdoor Championships | Day 1
Mike Sanders Track and Field Complex
Starkville, Miss.
200 Meters (prelims)
8. Kenzo Cotton – 21.06q (-1.5)
18. Eric Hawkins – 21.79 (-1.5)
22. Ryan Green – 22.04 [22.035] (-0.6)
23. Zach Riley – 22.04 [22.040] (-1.5)
800 Meters (prelims)
15. Tomas Squella – 1:50.29 [SB]
16. Ryan Thomas – 1:50.41 [SB]
20. Cale Wallace – 1:51.22
21. Andrew Pisechko – 1:51.68
26. Noah Findlay – 1:54.14
10,000 Meters
2. Frankline Tonui – 29:52.17 [8 points]
Javelin.
17. Andrew Henn – 57.43m/188-5
Decathlon (Day 1)
7. Nathanael Franks – 3,729 points
13. 100 Meters – 11.37 (+1.0) [SB] [780 points]
6. Long Jump – 6.75m/22-1.75 [SB] [755]
5. Shot Put – 13.07m/42-10.75 [SB] [672]
6. High Jump – 1.88m/6-2 [696]
5. 400 Meters – 49.75 [SB] [826]
12. Lane Austell – 3,452 points
12. 100 Meters – 11.37 (+0.8) [PR – previous: 11.41] [780 points]
11. Long Jump – 6.32m/20-9 [679]
7. Shot Put – 11.85m/38-10.5 [597]
14. High Jump – 1.79m/5-10.5 [PR – previous: 5-10] [619]
7. 400 Meters – 50.82 [PR – previous: 50.98] [777]
13. Brad Culp – 3,408 points
8. 100 Meters – 11.21 (+0.8) [814 points]
12. Long Jump – 6.37m/20-10.75 [668]
9. Shot Put – 11.70m/38-4.75 [588]
11. High Jump – 1.82m/5-11.5 [PR – previous: 5-11.25] [644]
15. 400 Meters – 52.72 [694]
Arkansas enters this weekend's meet with 18 top-10 SEC efforts including top marks from Kemoy Campbell at 5,000 and 10,000 meters, Omar McLeod in the 110-meter hurdles and Kebenei in the 3,000-meter steeplechase. Kebenei is the defending SEC outdoor champion at 5,000 meters and in the steeplechase.
The remainder of the championship season features the NCAA West Preliminary on May 28-30 in Austin, Texas, and the NCAA Outdoor Championships on June 10-13 in Eugene, Ore.
For more information on Arkansas track and field including in-meet updates, follow @RazorbackTF on Twitter.