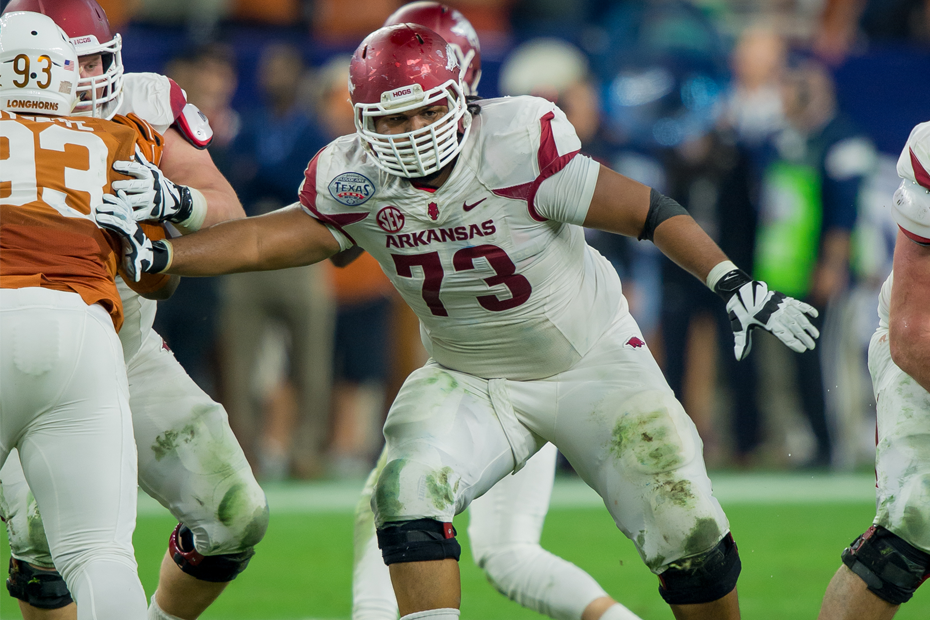 Tretola And Henry Earn Athlon All-SEC First Team Honors
FAYETTEVILLE, Ark. – Senior offensive lineman Sebastian Tretola and junior tight end Hunter Henry have been named All-SEC first team by Athlon Sports. The two are among nine Razorbacks selected to All-SEC teams by the national publication.
Running backs Jonathan Williams and Alex Collins both earned All-SEC second team honors along with offensive linemen Denver Kirkland and Dan Skipper. Defensive back Jared Collins was recognized on the third team while wide receiver Keon Hatcher and defensive tackle Taiwan Johnson collected fourth team acclaim.
The Razorbacks are the only school to have more than five offensive All-SEC selections after placing seven on the four teams.
Tretola started at left guard for the final 11 games of the 2014 season in his first year with the Razorbacks. He played more than 690 snaps and did not allow a sack, averaging a grade of 79 percent, tied for second-best on the team. The San Bernardino, Calif. native also showed his athleticism when he threw a 6-yard touchdown pass on a fake field goal against UAB.
Henry has developed into one of the nation's best tight ends in just two seasons. He caught 37 passes for 513 yards as a sophomore and was named All-SEC second team by the conference's coaches. His marks in receptions and receiving yards both ranked third among the league's tight ends. He also earned preseason fourth team All-American honors by Phil Steele entering the 2015 season.
Williams and Alex Collins were the only pair of teammates to rush for more than 1,000 yards each last season and both return to highlight one of the nation's best rushing attacks in 2015. Williams returns for his senior season as the 10th all-time leading rusher in school history with 2,321 career yards. Collins has topped 1,000 yards in each of his first two seasons, joining Darren McFadden as the only Razorbacks to begin a career with back-to-back 1,000 yard seasons.
Kirkland and Skipper join Tretola to form one of the most physically imposing offensive lines in the nation. The Razorback offensive line was the biggest line in all of college and professional football last season and led the SEC with just 14 sacks allowed. Kirkland will slide out to left tackle this year and tied for second on the team with a 79 percent overall grade in 2014. Skipper moves to right tackle and earned Associated Press All-SEC honorable mention last year with a team-leading 80 percent grade.
Jared Collins was one of Arkansas' biggest surprises last year on a defense that ranked top 10 nationally. As a sophomore, Collins tied for the SEC lead with 13 pass breakups and also played well in run support, totaling 53 tackles.
Hatcher led the Razorbacks in receiving last year with 43 catches for 558 yards and six touchdowns. He enters his senior season with a reception and first down in each of his past 17 contests. The Owasso, Okla. native has 73 career receptions for 925 yards and nine touchdowns.
After playing in just three games as a freshman, Johnson broke out last season, starting all 13 games on the interior of the Razorback defensive line. He is Arkansas' leading returner in both sacks (4.5) and tackles for loss (8.0) from a defense that shut out two ranked opponents a season ago.
The Razorbacks return 15 starters in 2015 and are a near-consensus preseason top 25 selection by the national media. The Arkansas home schedule is highlighted by 2013 national runner-up Auburn and Orange Bowl-participant Mississippi State. The home schedule concludes with two-time defending SEC East champion Missouri.
Season ticket packages start at $300 in Fayetteville. Fans can also catch the Razorbacks take on Toledo on Sept. 12 in Little Rock for $55, which $10 less than last year's game at War Memorial Stadium.
For more information on Arkansas Football, follow @RazorbackFB on Twitter.