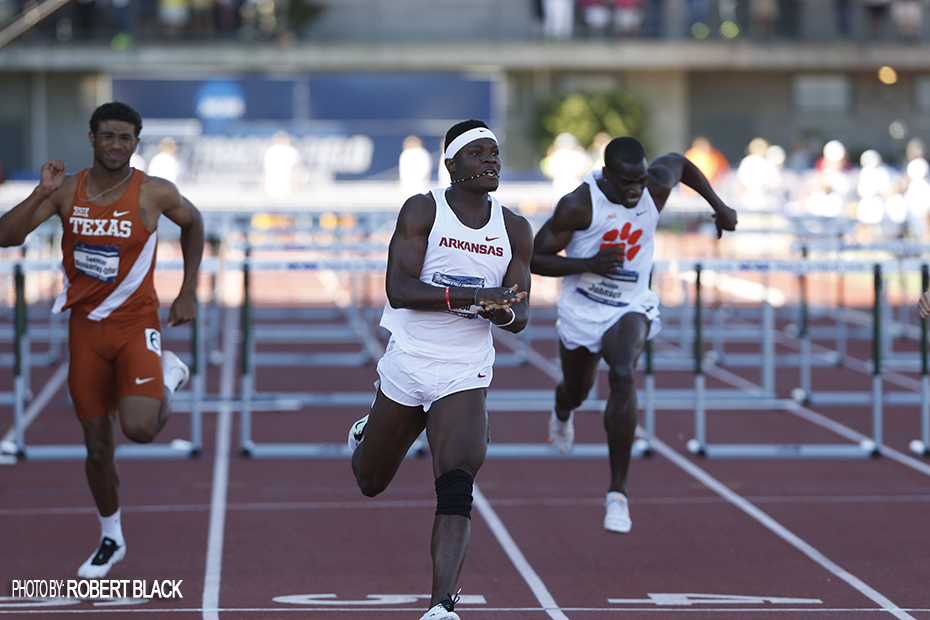 Two National Titles Highlight Weekend
USA Results | Jamaica Results | Bahama Results
EUGENE, Ore. – Arkansas All-American Kemoy Campbell dominated the 5,000 meter run on Friday evening to claim the Jamaican national title. The top entry in the event, Campbell controlled the race cruising to an easy victory in a time of 13:51.34. He will compete at the World Championships in August for team Jamaica.
2015 NCAA outdoor double-champion Omar McLeod ran a world-leading time in front of his home crowd to capture the Jamaican crown in the 110-meter hurdles becoming the second Razorback to win a national title. His 12.97 performance broke a 36-year old NCAA record formerly held by hurdle great Renaldo Nehemiah. Owner of the all-time best performance in the 60-meter hurdles McLeod remains undefeated this season in the high hurdles.
Two weeks after finishing in seventh in the triple jump at the 2015 NCAA Outdoor Championships Clive Pullen jumped to sixth place off a mark of 15.87m/52-0.75 at the Jamaican National Championships.
At the Bahamian National Championships Arkansas sophomore Trae Carey finished in fourth place in the long jump.
2012 USA junior national champion Jarrion Lawson finished in fifth place in the long jump. Having advanced to the finals off of his second jump of 8.33m/27-4 Lawson improved his mark on his final attempt to close the event as one of the top two collegians in the field.
"It was great having the opportunity to compete against some of the world's best jumpers," Lawson said about his time at the championships. "It was the experience I needed to be successful at the Olympic trials next year. I thank God for it all and I'm going to continue to trust the process."
Arkansas vaulter Andrew Irwin concluded his career as one of the best in program history finishing in seventh place with a clearance of 5.50m/18-0.5.
Five Razorbacks competed in the meet's junior section this weekend in Tracktown USA.
Arkansas freshman Rubin Owens and Brandon Workman finished in fourth place in the triple jump and long jump respectively.
"It was a great having the chance to compete with and alongside some very good athletes," said Owens. "I realized I have to be more disciplined when it comes down to executing my run so I can be more consistent on the board. I know now I can produce a big jump, I just have to make them legal."
USA junior shot put featured first time qualifiers Jeff Rogers and Sam Kempka who competed in flight one with Kempka marking a throw of 18.10m/59-4.75 to finish 16th overall.
The only Razorback freshman on the track Ethan Moehn posted a time of 4:15.49 in the 1500-meter run.
Stanley Kebenei was the last competitor for Arkansas in the 3,000-meter steeplechase final. The 2015 NCAA runner-up ran with the lead pack for the majority of the race. Following a misstep on one of the barriers Kebenei battled back to finish in fifth as the top collegian in the event.
2015 USATF Outdoor Championships | Complete
Hayward Field
Eugene, Ore.
Razorbacks Past
100 Meters
1. Tyson Gay – 9.87
200 Meters
3. Wallace Spearmon – 20.10
1500 Meters
16. Dorian Ulrey – 3:46.24
23. Duncan Phillips – 3:49.09
10,000 Meters
19. Eric Fernandez – 29:33.57
Razorbacks Present
1500 Meters Jrs
16. Ethan Moehn – 4:15.49
Long Jump
5. Jarrion Lawson – 8.36m/27-5.25
Pole Vault
7. Andrew Irwin – 5.50m/18-0.5
Shot Put Jrs
16. Sam Kempka – 18.10m/59-4.75
Jeff Rogers – FOUL
Long Jump Jrs
4. Brandon Workman – 7.47m/24-6.25
Triple Jrs
4. Rubin Owens – 15.17m/49-9.25
3,000 Meter Steeplechase
5. Stanley Kebenei – 8:26.79
Razorbacks Future
High Jump Jrs
6. Brandon Rivera – 2.14m
800 Meters Jrs
1. Carlton Orange – 1:47.67
2015 Jamaican National Championships | Complete
Independence Park
Kingston, Jamaica
Triple Jump
6. Clive Pullen – 15.87m/52-0.75
5,000 Meters
1. Kemoy Campbell – 13:51.34
110 Meter Hurdles
1. Omar McLeod – 12.97
2015 BAAA/BTC National Championships | Complete
The Bahamas National Stadium
Long Jump
4. Trae Carey – 7.22m/23-8.25
For more information on Arkansas track and field including in-meet updates, follow @RazorbackTF on Twitter.