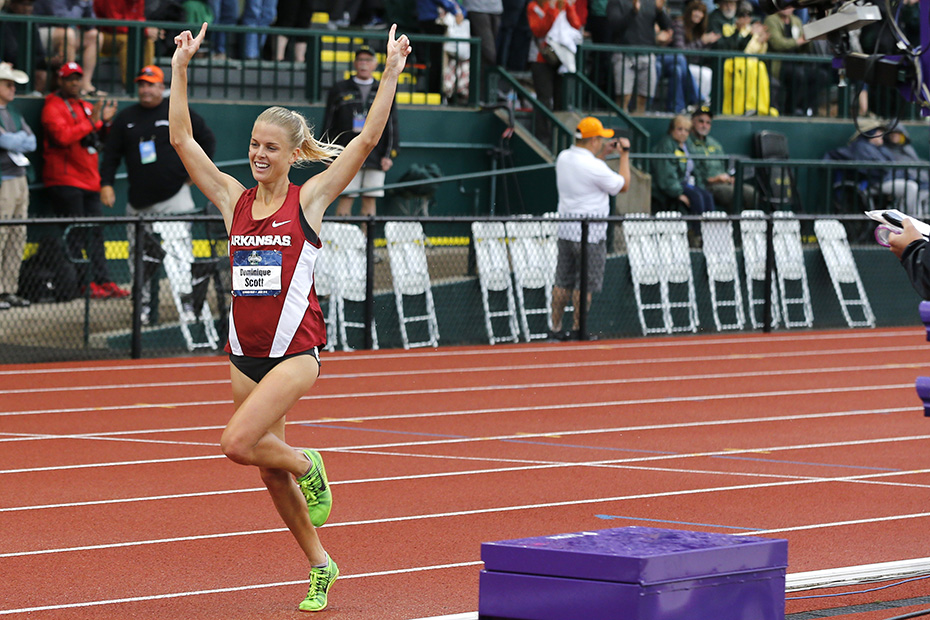 Two NCAA Golden Girls For No. 1 Razorbacks
Thursday Results | Meet Schedule | Start Lists | National Championship Central
EUGENE, Ore. – Ranked No. 1 in the nation entering the 2016 NCAA Outdoor Track and the Field Championship, the Arkansas women's track and field team did not disappoint on the day two of the four-day competition in Eugene.
In the history of the program Arkansas had never placed more than one athlete at the top of the podium at the NCAA outdoor competition. That all changed on Thursday evening.
The Razorbacks were led by veteran power Dominique Scott and freshman phenom Lexi Weeks who captured a couple of gold medals in the 10,000-meter run and pole vault, respectively.
Golden Girls
A ten-time All-American through all three seasons (cross country, indoor and outdoor track and field) Scott cruised to her 11th honor crossing the finish line in (time). Challenged by Alice Wright of New Mexico Scott maintained her cool on the national stage navigating the 25-lap race at her own pace as practiced with head coach Lance Harter. The NCAA regular-season leader in the event surged ahead of the pack on the final 400 meters in dominating fashion to become the second Southeastern Conference runner to win a national title in the 10,000.
Scott's victory in the 10K marked the fourth individual national crown of the South African native's career. She is the third Razorback to claim the NCAA 10K title, following in the footsteps of other Harter distance prodigies, Jamie Park (1991) and Amy Yoder Begley (2001).
In the field Weeks was bulldozing her way into the record books as the 2016 NCAA indoor pole vault champion completed the event sweep with a clearance of 4.50m/14-9 to earn the outdoor title ahead of seniors Alysha Newman (Miami) and Morgan Leleux (UL-Lafayette).
Through five heights the American junior record-holder only had one miss, in spite of the cool and wet weather conditions, which came at 4.35m/14-3 1/4, a height her fellow competitors decided to pass through. Her second attempt clearance of that bar made the difference as neither Newman nor Leleux were able advance past 4.30m/14-1 1/4.
Weeks caps her first year as a Razorback as a SEC and NCAA indoor and outdoor pole vault champion.
Arkansas closed the night adding six more points to the team total with the help of redshirt sophomore Taliyah Brooks in the long jump.
A double NCAA qualifier (heptathlon and long jump) Brooks advanced out of the long jump prelims off a strong second round mark of 6.28m/20-7 1/4 placing her in seventh position. The dynamic talent out of Wichita Falls, Texas improved to 6.35m/20-10 on her fifth jump moving up four spots to collect her third All-America honor of 2016.
"In a 15 minute span Lexi (Weeks) won the vault, the 10,000 was en route, Taliyah (Brooks) is long jumping and grabs third," said head coach Lance Harter. "The 26 points from those three events positions us extremely well heading into the rest of competition. We have some great scoring opportunities on Saturday between all of today's qualifiers and the heptathlon. We plan on using our rest day wisely and will be ready to go on that last day."
NCAATF Final Section Qualifiers
Arkansas freshman Devin Clark continued to see postseason success in the 3,000-meter steeplechase advancing out of the semifinal round as the seventh-best performer of the day. The SEC bronze-medalist clocked her second sub-10 minute performance of the season finishing in 9:58.26.
The Razorbacks picked up a second qualifier in the steeplechase in Jessica Kamilos who posted the third-fastest time in the event with 9:55.35. Kamilos will contend for the steeplechase crown on Saturday, June 11 at 5:54 p.m.
Nine-time All-American Taylor Ellis-Watson fended of home stretch surges by Margaret Bamgbose of Notre Dame and Chrisann Gordon of Texas to win heat three of the 400 semifinals. The final day of competition at the outdoor national meet will feature Ellis-Watson in a head-to-head battle against NCAA 400 record-holder Courtney Okolo of Texas for the quarter-mile crown.
Ellis-Watson aided Arkansas in securing another qualifier as the anchor of the 4-x-400-meter relay. She was joined by Brianna Swinton, Daina Harper and Monisa Dobbins as the quartet combined to finish the day as one of the four best programs in the semifinal event with 3:28.76.
The Razorback women return to action at Hayward Field on Saturday, June 11 for the final day of the 2016 NCAA Outdoor Track and Field Championship.
NCAA Outdoor Championship
Hayward Field
Eugene, Oregon
100 Meters semifinal
Kiara Parker (21) – 11.65
400 Meters semifinal
Taylor Ellis-Watson (2) – 51.55Q
Daina Harper (14) – 52.97
10,000 Meters final
Dominique Scott (1) – 32:35.69
100 Meter Hurdles
Payton Stumbaugh (12) – 13.13
Alex Gochenour (20) – 13.32
400 Meter Hurdles semifinal
Damajahnee Birch (17) – 58.64
3,000 Meter Steeplechase semifinal
Jessica Kamilos (3) – 9:55.35Q
Devin Clark (5) – 9:58.26Q
4-x-100 Relay semifinal
Arkansas A: K. Herman, T. Ellis-Watson, D. Harper, K. Parker (8) – 43.84
4-x-400 Relay semifinal
Arkansas A: B. Swinton, D. Harper, M. Dobbins, T. Ellis-WatsonQ
Pole Vault final
Lexi Weeks (1) – 4.50m/14-9
Tori Weeks (14) – 4.05m/13-3 1/2
Ariel Voskamp – NH
Long Jump final
Taliyah Brooks (3) – 6.35m/20-10
Kelsey Herman (24) – 5.71m/18-8 3/4
Q denotes final section qualifier.
For more information on Arkansas track and field including in-meet updates, follow @RazorbackTF on Twitter.