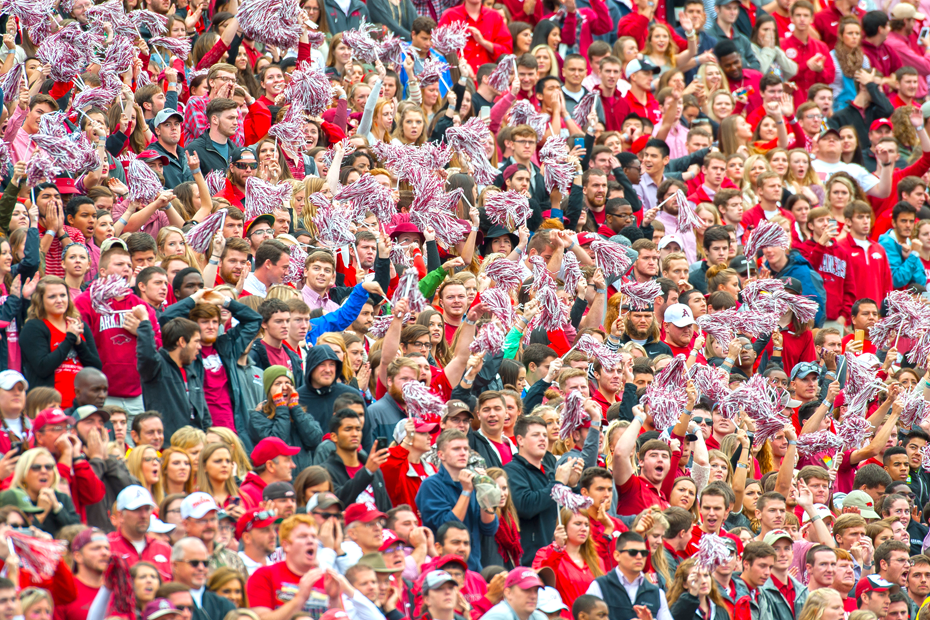 UT-Martin Game Day Information
Kickoff: 3 p.m. CT
TV: SEC Network
Radio: 92.1 FM, 99.5 FM, 105.3, FM/1290 AM, 107.9 FM; Sirius 212, XM 199
Promotions: Homecoming Parade & Pep Rally, Alumni Spirit & Band to game, Game Sponsor: Downstream Resort, Halloween Student Costume Contest
Friday, Oct.30
ALL DAY: Razorback Friday: Wear Cardinal and White!
6:30 p.m: Homecoming Parade from CUMC down Dickson Street to Greek Theatre
7 p.m: Volleyball hosts Auburn at Barnhill Arena – Razorback Foundation Member Appreciation Night
7:30 p.m: Pep Rally at Greek Theatre
Saturday, Oct. 31
9 a.m: Broyles Center Museum opens till 12:15 p.m.
11 a.m: Pregame traffic flow patterns begin & public shuttles begin operating from Road Hog Park and Baum Stadium East (Silver Route). Shuttles also begin from Lot 56 (Gold Route).
Noon: Hog Heaven in Bud Walton Arena opens.
The AT&T Fan Zone, which is free to the public and located in The Gardens just south of Bud Walton Arena, opens. The AT&T Fan Zone offers inflatable games for kids, televisions and food and drink vendors. As part of the AT&T Fan Zone, fans have access to the large "Holding Pen" pavilion in the Gardens on game day.
Hog Heaven Trailers open. Locations include the Bud Walton Arena lawn and the Northeast corner of DWRRS.
Guest service centers (Gates 1, 13 & 16) and public Will Call (Gate 1) open.
12:45 p.m: A pep rally featuring the Razorback Marching Band and Spirit Squads will take place in the AT&T Fan Zone, and a DJ will be on site to provide music following the pep rally. Arkansas Football Buses will be moving down Razorback Road in preparation for the Hog Walk.
12:45 p.m: Hog Walk in Lot 44
1 p.m: Gates to DWRRS open (Please note specific bag and conduct policies below)
Pep Rally at Alumni House
Pep Rally begins in Victory Village
2:31 p.m: Tusk IV enter Donald W. Reynolds Razorback Stadium.
3 p.m: Kickoff vs. UT Martin
Five Things You Need to Know
*How to get to Donald W. Reynolds Razorback Stadium
If you are parking north of Donald W. Reynolds Razorback Stadium, officials strongly encourage you to utilize exit I-49 on AR-112 S/Garland Ave. (Exit #66).
If parking south of the stadium, including at Baum Stadium, fans should use the AR-112/265 Cato Springs/Razorback Rd. exit (Exit #60).
*New Traffic Flow Maps (PDF)
Razorback Athletics working with UAPD and local law enforcement agencies have made several changes to the pre-game and post-game traffic flow for Razorback football games. The changes have been made to help improve the flow of traffic to and away from Donald W. Reynolds Razorback Stadium and help make game day shuttles more efficient. So click above to review how those changes might impact your game day commute.
*Priority Parking Lot Entry and Exit Changes
As part of the new traffic flow, the entries and exits for some priority parking lots assigned by the Razorback Foundation may have changed. If you have any specific questions regarding the changes to your specific lot, contact the Razorback Foundation at (479) 443-9000.
*Victory Village Expanded
Based on its popularity and in response to fan requests for more reserved tailgating spots, Victory Village has been expanded for the 2015 University of Arkansas football season. Click above to learn about the new Victory Village South area.
*No Selfie Sticks
Please feel free to take plenty of photos on your Razorback Game Day, but leave your selfie sticks in the car. No selfie sticks are allowed in Donald W. Reynolds Razorback Stadium