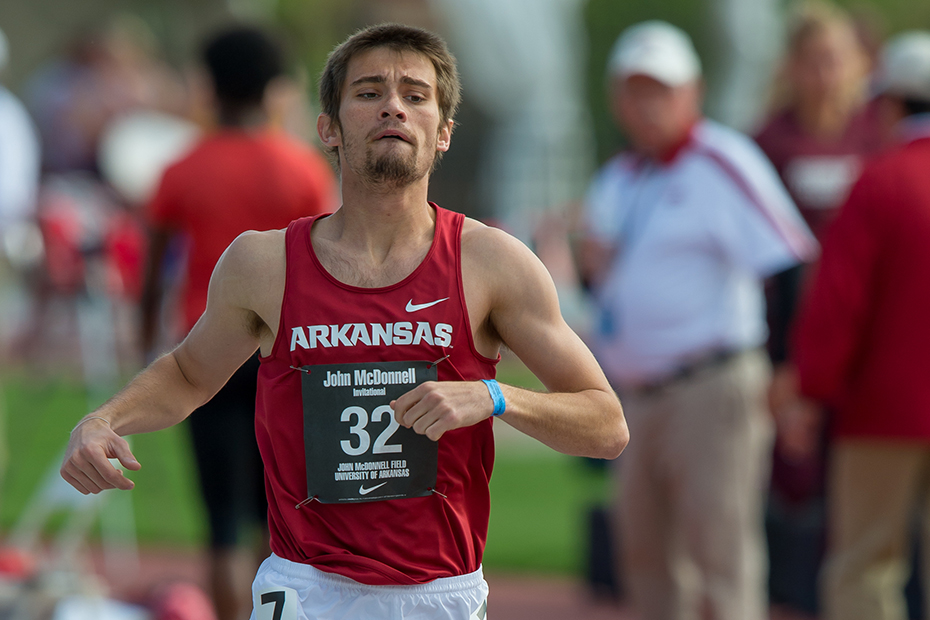 Wallace Leads Razorbacks At Payton Jordan
STANFORD, Calif. – Arkansas men's track and field faced off against top collegians and professionals at the prestigious Payton Jordan Invitational on Sunday afternoon in Stanford.
Known for consistently producing some of the best distance performances of the outdoor season, the 2016 Payton Jordan Invitational delivered as _ Razorbacks collected season's best marks at Cobb Stadium.
Top Performances
All-American Cale Wallace kicked off the day for the Razorbacks with a lifetime-best performance and Southeastern Conference leading time of 8 minutes, 44.09 seconds in the 3,000-meter steeplechase (3KSC). Wallace's new PR in the event bettered his previous best by 17 seconds and ranks the Texan among the top-10 collegians in the 3KSC this season.
Iowa Central transfer Frankline Tonui also had an exceptional day in the 3KSC running a season's best 8:46.94 – 1 second shy of his PR from last year. Tonui checks in as the second-best performer in the SEC behind Wallace.
Arkansas had three Razorbacks run sub-14 minute performances in the 5,000 with Alex George (13:54.93), Gabe Gonzalez (13:56.03) and Jack Bruce (13:56.48).
Gonzalez's time was an outdoor PR as the Northwest Arkansas native entered the event with a prior outdoor best of 14:22.32 from the 2014 season.
The Razorbacks capped the weekend in phenomenal fashion off an SEC-leading performance in the 10K from Iowa Central transfer Andrew Ronoh.
In his outdoor debut Ronoh raced to a new 10K PR of 28:36.20 to earn a spot inside the NCAA top-five.
Results – Payton Jordan Invitational
1,500 – A. Dalquist 3:44.77, E. Moehn 3:44.97, C. Griffith 3:46.36
5,000 – A. George 13:54.93, G. Gonzalez 13:56.03, J. Bruce 13:56.48
10,000 – A. Ronoh 28:36.20
3KSC – C. Wallace 8:44.09, F. Tonui 8:46.94
The Razorbacks will host their final regular season home meet during the Arkansas Twilight on Friday, May 6 at John McDonnell Field.
Tickets are just $5 for adults and youth 17 and under get in free. Visit arkansasrazorbacks.com or call 800-982-HOGS and get your tickets today.
For more information on Arkansas track and field including in-meet updates, follow @RazorbackTF on Twitter.