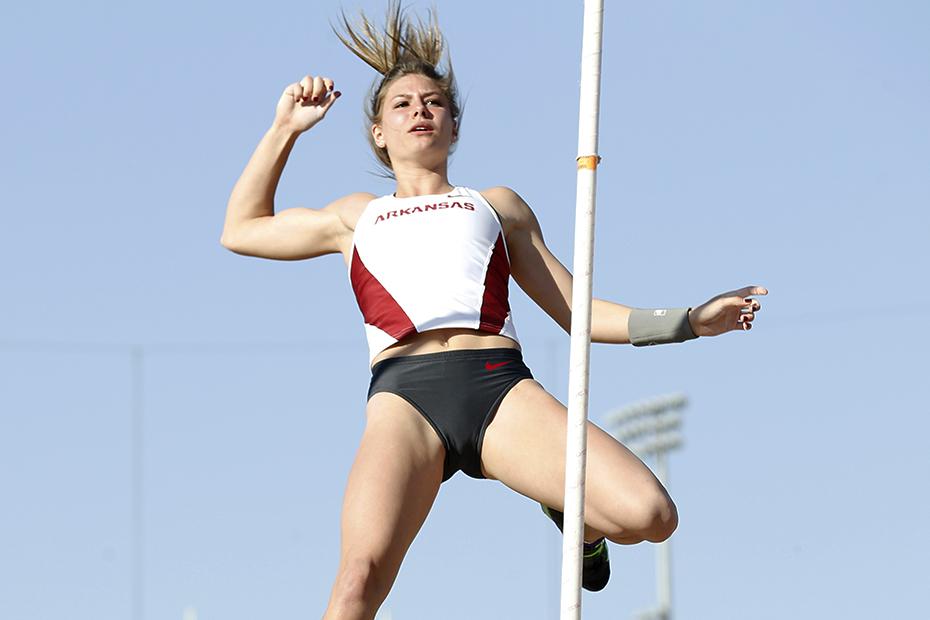 Weekend Success Leads to Awards
BIRMINGHAM, Ala. – Two Razorbacks from the No. 3 ranked Arkansas women's track and field team were recognized by the Southeastern Conference on Tuesday afternoon for their efforts this past weekend at the Arkansas Spring Invitational. Senior Dominique Scott and freshman Lexi Weeks were selected as the SEC Runner and Field Athlete of the Week respectively giving Arkansas claim to two out of the three conference awards available.
An Arkansas program record-holder in three outdoor events, Scott has won SEC weekly honors several times during her illustrious career during the cross country, indoor and outdoor seasons.
The 2015 SEC Triple Crown Runner of the Year opened up her final outdoor campaign with an NCAA-leading time of 4:15.61 in the 1,500-meter run. Controlling the race from beginning to end Scott took off at the sound of the gun distancing herself from the competition. The three-time national champion crossed the finish line well over 50 meters ahead of the event runner-up to place first.
Although just a freshman Weeks distanced herself from her competition in the pole vault in similar fashion.
Adjusting to competition outdoors Weeks was consistent in her attempts through 4.30m/14-1.25. The only competitor to clear 4.40m/14-5.25 the Cabot, Arkansas native pressed on sailing over 4.50m/14-9 on her first attempt to earn a new outdoor PR and claim a share of the NCAA lead. Weeks now has seven winning clearances that equal or exceed 4.40m/14-5.25. She is undefeated in collegiate competition.
Scott will be in action in Palo Alto, California at the Stanford Invitational in the 10,000-meter run this weekend while Weeks will journey to Austin, Texas for the Clyde Littlefield Texas Relays.
2016 Outdoor Top 10 (1,500m)
1. Dominique Scott – Arkansas (3) 4:15.61
2. Paige Kouba – Harvard 4:16.46
3. Jen Owen – Arizona State 4:19.62
4. Shannon Osika – Michigan (22) 4:20.08
5. Bethan Knights – California 4:20.83
6. Chelsey Totten – Arizona State 4:21.26
7. Elizabeth Whelan – North Carolina 4:21.32
8. Laura Addison – Michigan (22) 4:21.90
9. Millie Paladino – West Virginia 4:21.93
10. Aynslee Van Graan – Coastal Carolina 4:22.11
2016 Outdoor Top 10 (Pole Vault)
1. Lexi Weeks – Arkansas (3) 14-9
1. Alysha Newman – Miami (21) 14-9
3. Annie Rhodes – Baylor (19) 14-7.25
3. Demi Payne – Stephen F. Austin 14-7.25
5. Tori Weeks – Arkansas (5) 14-1.25
5. Madison Heath – Duke 14-1.25
5. Mackenzie Shell – Oklahoma (12) 14-1.25
5. Megan Clark – Duke 14-1.25
5. Morgan Leleux – UL-Lafayette 14-1.25
10. Kally Long – Texas (7) 14-1.25
For more information on Arkansas track and field including in-meet updates, follow @RazorbackTF on Twitter.