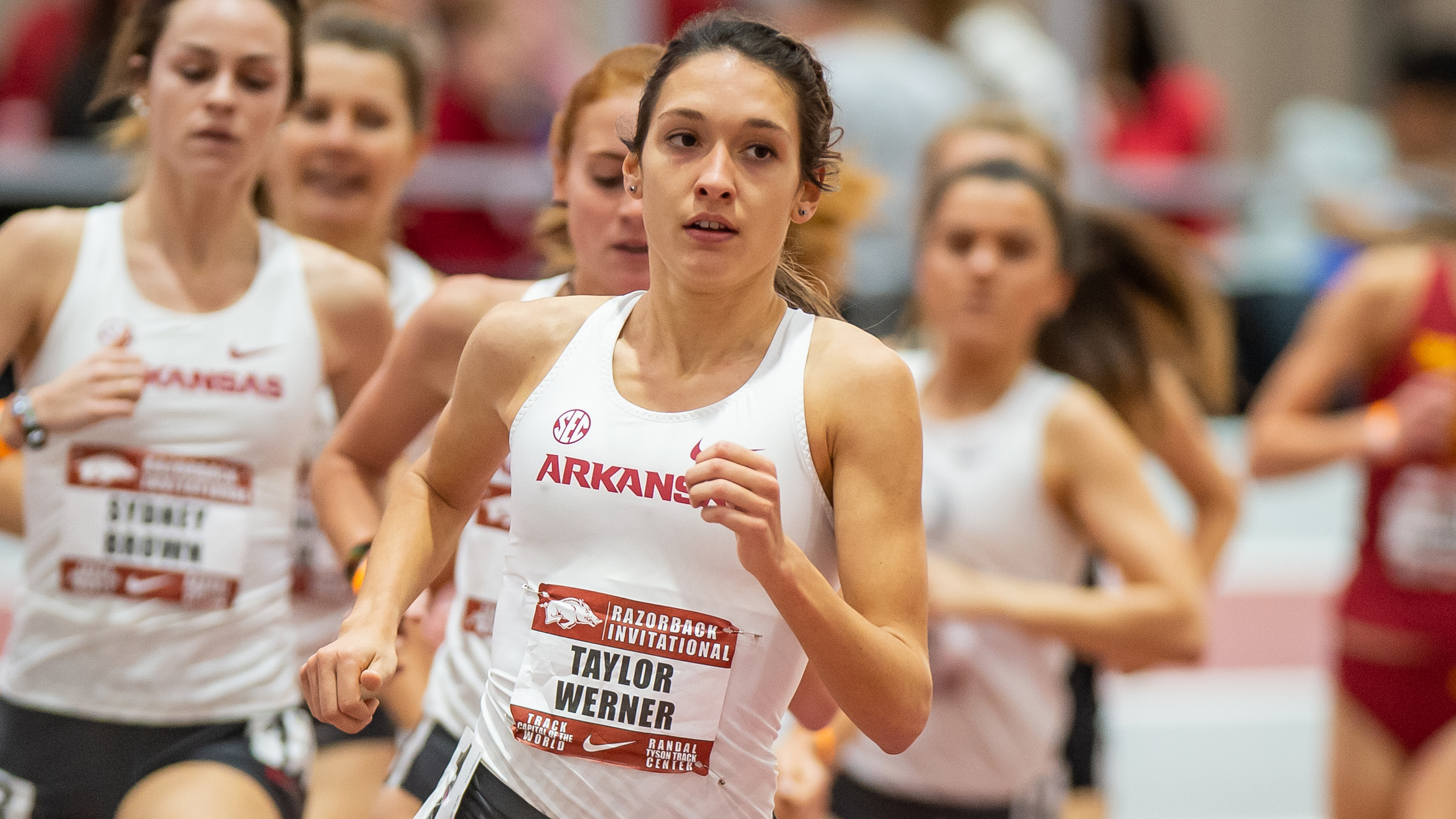 Werner, Izzo, Viljoen turn in blazing times in Boston
BOSTON – Taylor Werner, Katie Izzo and Carina Viljoen turned in blazing times in their first indoor races of the season on Saturday afternoon at the Sharon Colyear-Danville Season Opener in Boston.
Werner – running unattached – and Izzo were involved in an incredible 5000-meter race that saw Werner take the top spot with the eighth-fastest time in American indoor history, stopping the clock in 15:11.19 for the fastest 5000 meters in the world this year. Werner joins an impressive list of American runners in the top 10, including the top three of record-holder Shalane Flanagan, Molly Huddle and Emily Infeld.
Izzo was not far behind taking second and running 15:13.09 for the second-fastest collegiate indoor time in history. Her run also set the Arkansas school record and is the 11th-fastest time in American indoor history. Only former Providence All-American Emily Sisson's time of 15:12.22 set in 2015 is faster than Izzo's 5000 on Saturday. Izzo's performance smashed the school record and lowered the 5000 school record by an incredible 33 seconds, passing Amy Yoder Begley's 15:46.89 set in 2000.
"Both Taylor and Katie feel that track is their favorite compared to cross country, so for the first time we went to the early indoor track meet to test ourselves off their cross country fitness," head coach Lance Harter said. "The collegiate record was never in the conversation but both had huge lifetime bests, qualifying for the USA Olympic Trials and they threw in the collegiate record as a bonus."
Viljoen turned in an all-time Arkansas performance in the 3000-meter race, clocking a personal-best 9:12.43 to finish third and turn in the eighth-fastest time in Arkansas' storied history. Viljoen's run lowered her best time by 18 seconds from her run (9:30.85) at the Razorback Invitational in 2018. Newcomer Kennedy Thomson – running unattached – finished eighth in the 3000 with a time of 9:39.56.
The Razorbacks return to action at the Arkansas Invitational inside the Randal Tyson Indoor Track on Jan. 17. The Arkansas Invitational will be the first of four indoor meets hosted in Fayetteville this season.